Lakes Brew Co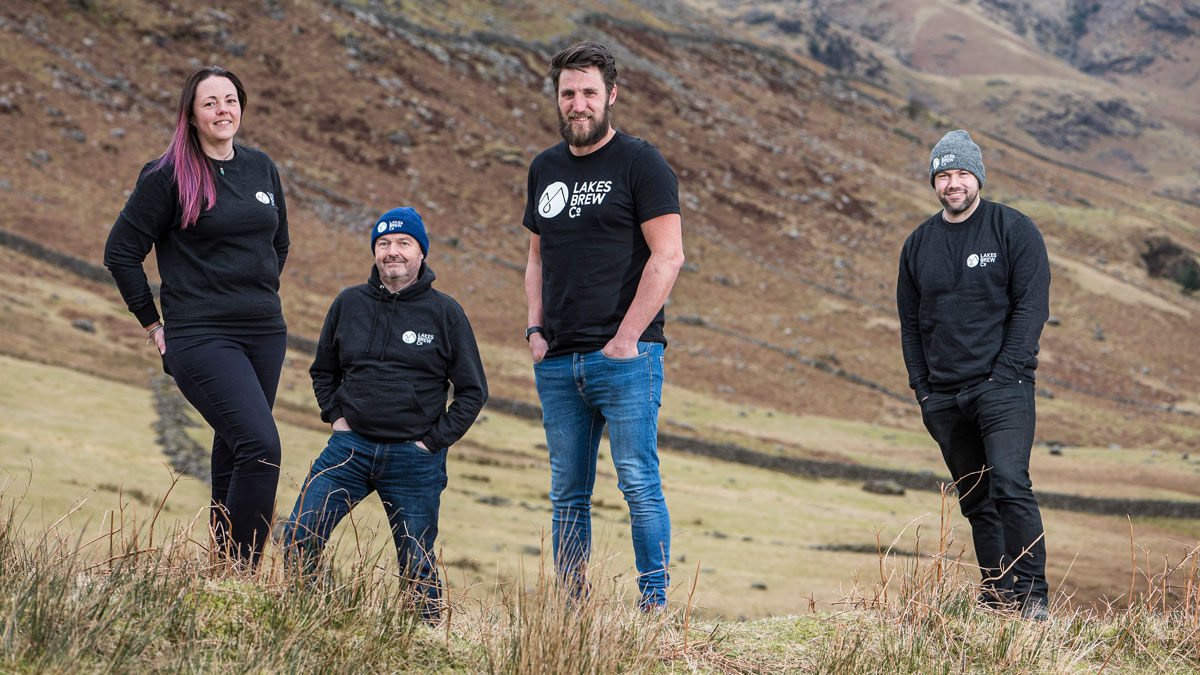 Lakes Brew Co began when fate brought Matt, Michelle, Steve and Paul together at their previous employment. In a short time, it became clear they had a shared passion for great beer, and many ideals in common.
After being made redundant at the beginning of lockdown restrictions in March 2020, the friends reunited as Lakes Brew Co. They brought together a combined 60 plus years in the beer and drinks industry, plus the shared ambition to build one of Cumbria's most progressive and sociably innovative breweries. With a strong ethos of support and collaboration, through the beers they produce and the team they surround themselves with, engrained in their locality.
Lakes Brew Co. is in the heart of Kendal on Mintsfeet Industrial Estate, housing a bespoke designed 16hl SSV brew kit, MicroCan CL5 canning line and a pop-up tap room, providing fresh off the line beer to the craft beer scene in the Lake District. They are passionate about quality and consistency, controlling every aspect of production from brewing to packaging on site. All their beers are packaged at the brewery and canned on their own canning line (with recyclable materials wherever possible), where they can constantly check and control the quality of the beer.
Although they've been going just a short while, Lakes Brew Co. are already award winners. Winning Branding of the Year in the National Brewers Journal – Brewers Choice Awards 2021, and scooping a Gold and two Silvers for their beers at the Society of Independent Brewers Regional awards after only 5 months of brewing.
Lakes Brew Co.'s unique and distinctive branding came about through a local partnership with Kendal based graphic design company Scratch Creative. Together they created a clean, concise and easily recognisable brand, which was born from their love of the local surroundings and inspired by the Lakes landscape. A modern yet accessible (and now award-winning) brand which truly represents the Lakes today.
In selected stores you'll find the following vegan friendly brews:
DDH Pale 4%, Double Dry Hopped Pale
A juicy, bold and balanced pale with intense tropical and citrus impact. Hops: Citra, Mosaic, Idaho 7 and Simcoe. Pair this beer with ramen, bao buns, arancini or risotto.
NE Session IPA 4.7%, New England Session IPA
Hazy, Hoppy & Tropical. Hops: Equanot, Mosaic Cryo, Citra, Eldorado & Amarillo. Enjoy it with loaded fries, fish tacos or low and slow BBQ pork.
NZ Pilsner 4.5%, New Zealand Style Pilsner
A Crisp Lager, dry hopped with Motueka. Hops, Motueka & Green Bullet. This would pair well with Thai Green Curry, Masala or fish and chips.
West Coast IPA 5.6%
A West Coast IPA throwing citrus, tropical and piney resinous notes with a clean crisp finish. Hops, Simcoe, Mosaic, Amarillo & Cascade. This brew can handle big flavours — try it with big smoky flavours, an indulgent burger or burritos.
To read more about our products, click here.