LEON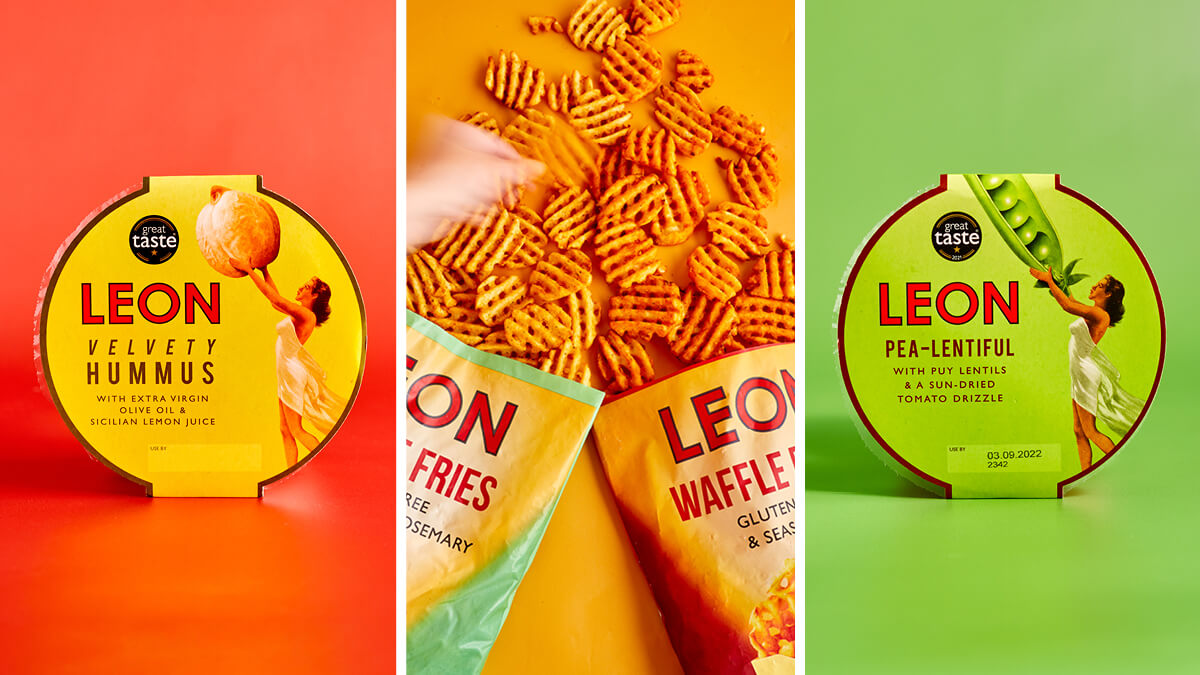 Founded by John Vincent and Henry Dimbleby with chef Allegra McEvedy, LEON was named after Vincent's father. They opened their first restaurant on Carnaby Street, London, in 2004 and now have over 80 restaurants across the UK with a menu inspired by the flavours, variety and natural healthiness of the Mediterranean diet.
Since their first restaurant hit the high street, LEON has gone from strength to strength and with a mission "for everyone to eat well and live well". They have gone on to launch a range of their most loved accompaniments from the restaurants to be enjoyed at home. The range includes plant-rich dips and restaurant favourite Waffles Fries.
All products are created with LEON's flavour-first philosophy using no artificial ingredients and aim to bring a little bit of LEON to you at home and a lot of joy to your food.
Helping plants taste good has been at the heart of LEON since we began, and we believe our delicious plant-forward dips are another brilliant way of doing this. Like all the LEON groceries the dips have been made with LEON's flavour-first philosophy using no artificial ingredients – the Pea-Lentiful and Hummus dips are all naturally vegan too! We're really excited for LEON Grocery to now be available to Booths customers and help even more people enjoy tasty, convenient and naturally fast food at home.

Ashley Davis, Managing Director of LEON Grocery
You'll find LEON in our fridges and freezers!
In our fridges:
LEON Velvety Hummus, 150g
A blend of extra virgin olive oil, tahini, cumin and Sicilian lemon juice create layers of flavour. The addition of aquafaba creates a velvety texture with each pot finished off with whole chickpeas, a drizzle of oil and a sprinkle of paprika.
LEON Pea-Lentiful Dip, 150g
Packed with peas, lentils and spinach, and hand-topped with puy lentils & sundried tomato drizzle.
LEON Beetziki Yoghurt Garlic & Mint, 150g
A blend of beetroot, Greek-style yogurt and garlic, topped with shredded beetroot and mint.
LEON Trio of Dips, 3x150g
A trio of vegan dips including Velvety Hummus, Pea-lentiful and Beetziki.
In our freezers:
LEON Waffle Fries, 550g
A fan favourite, the fries are criss-cut, lightly seasoned and naturally gluten-free. They're a source of fibre and contain natural ingredients that you would find in your cupboard at home: potatoes, sunflower oil, flours and some spices for seasoning.
LEON Aioli & Rosemary Waffle Fries, 550g
LEON have taken their best-selling criss-cuts and tumbled them in a seasoning lightly infused with garlic and a hint of rosemary!