Thursday Cottage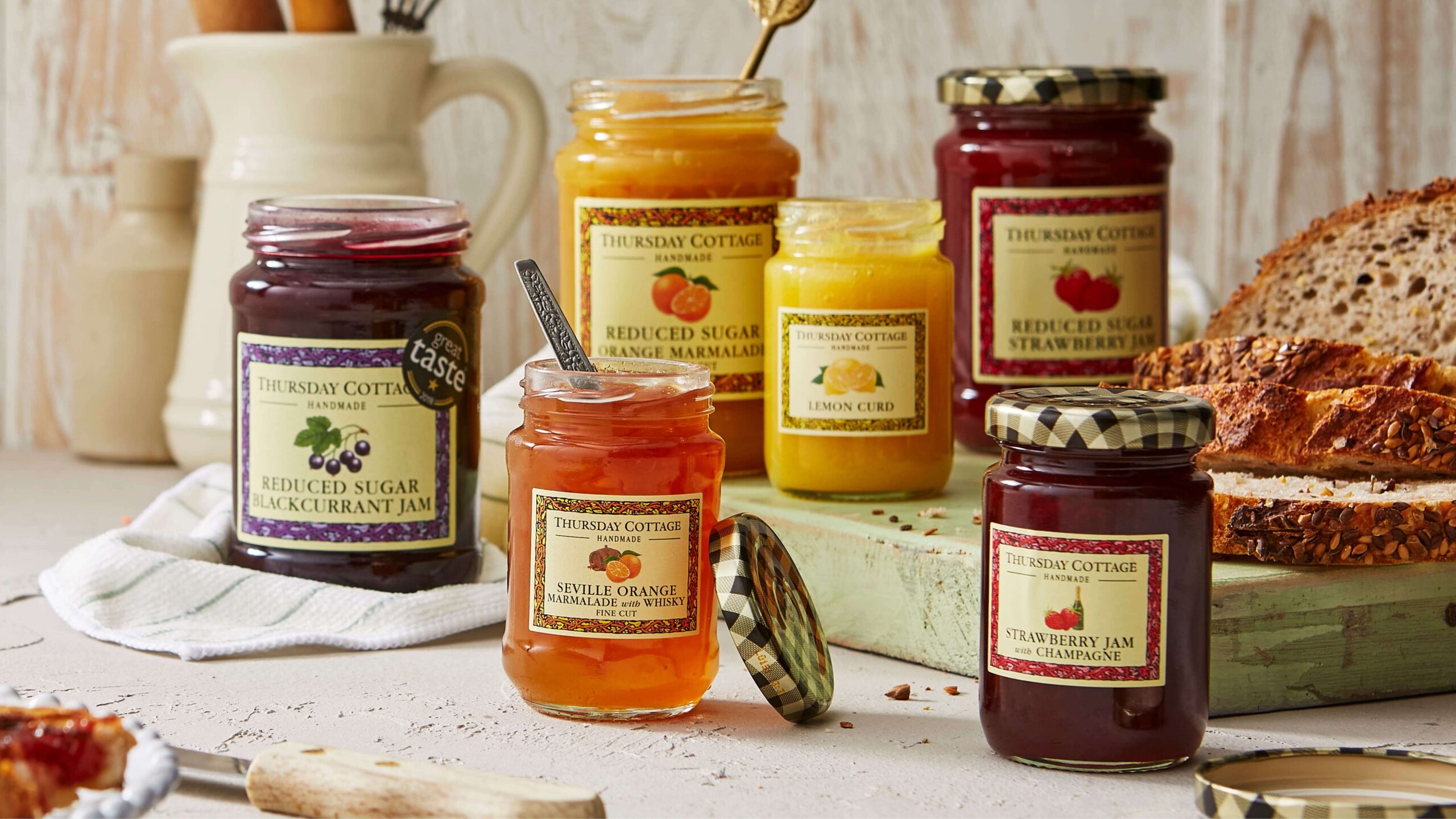 With over 50 years of experience, Thursday Cottage have created an award-winning and delicious selection of artisan preserves and spreads to suit all tastes. Originally based in a little thatched cottage of the same name, they've held on to their traditions by cooking in small batches and hand pouring into traditional jars. By doing so, the team are making sure that each batch is perfectly cooked and ensures the jams and marmalades contains the most whole fruit possible so they're full of flavour.
Using ingredients sourced with great care from reputable and sustainable suppliers, the Thursday Cottage range is sure to become a favourite in your kitchen. Whether served with breakfast or used to create moreish cakes and tarts, there are plenty of flavours to choose from.
NEW Reduced Sugar
New to the range you'll find a selection of Reduced Sugar jams and marmalade, containing 40% less sugar than a standard jar. They can be enjoyed by those who need less sugar for dietary or health reasons and those who have less of a sweet tooth but still want a fruity topping for their toast or porridge in the morning. There are no added sweeteners, Thursday Cottage simply add less sugar!
Reduced Sugar Blackcurrant Jam, 315g
Reduced Sugar Strawberry Jam, 315g
Reduced Sugar Orange Marmalade, 315g
NEW Smaller Jars
This new range of miniature curds, jams, marmalades and spirit infused preserves are ideal to use for picnics, as part of a personalised hamper or simply to try something new.
Including traditional fruit jams, smooths curds, and indulgent preserves enhanced by the addition of popular spirits, there's a jar for everyone.
Cherry Curd, 110g
Lemon Curd, 110g
Raspberry Jam, 112g
Strawberry Jam, 112g
Strawberry Jam with Champagne, 112g
Orange Marmalade, 112g
Blood Orange Marmalade, 112g
Fine Cut Marmalade with Whisky, 112g
Marmalades
Made with a variety of citrus fruit from all over the world and using traditional open pan methods to produce a really home-made style of marmalade.
Blood Orange Marmalade, 454g
Pink Grapefruit Marmalade, 454g
Curds
Made with fruit, sugar, fresh free-range eggs and country butter, these smooth curds are cooked slowly and mixed gently in the Thursday Cottage curd kettle until they are ready to be filled into jars.
A delicious addition to your kitchen these can be spread on toast or used in baking for a tasty pop of flavour.
Blood Orange Curd, 310g
Cherry Curd, 310g
Spreads
These deliciously indulgent spreads are the perfect additions to desserts and puddings. Thursday Cottage recommend gently warming the jar before drizzling them over pancakes, ice cream, doughnuts and waffles.
Caramel Spread, 210g
Chocolate Spread, 205g
Christmas
Keep an eye out for the Thursday Cottage Christmas range which will be in store in October. You'll find a delicious Amaretto Butter which is the perfect pairing for a mince pie, alongside a traditional Mincemeat and Brandy Butter.
Mincemeat, 340g
Amaretto Butter, 110g
Brandy Butter, 210g
Christmas Cracker Gift Pack, 3 Pack