Baked Rhubarb and Orange Cheesecake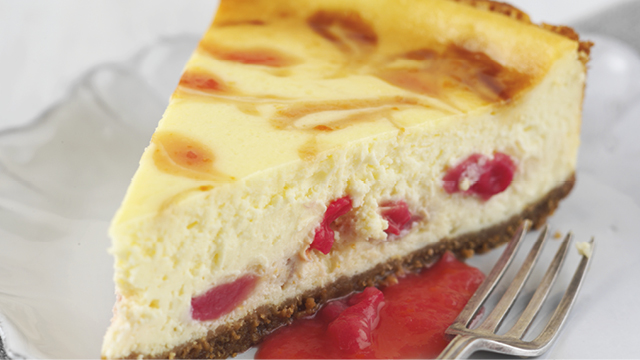 10 servings
90 mins to prepare
Ingredients
400g rhubarb cut into 2cm pieces
50g caster sugar
1 zest and juice of 1 Toracco blush orange
200g ginger biscuits
50g unsalted butted, melted
FOR THE FILLING
600g cream cheese
200g sour cream
150g caster sugar
3 medium eggs, beaten
2 egg yolks, beaten
2 1/2 tbsp cornflour
1 tsp vanilla extract
Instructions
You will need a loose bottomed 24cm cake tin lightly buttered and lined with a disk of non-stick parchment paper.
Pre-heat your oven to 180ºc, gas mark 4.
Place the rhubarb into a roasting tray with the caster sugar, orange juice and zest, cover with foil and bake for 10 minutes until the rhubarb starts to soften. Remove from the oven and leave to cool. Save half of the rhubarb for later and puree the rest along with the juices. Add a little more sugar if needed.
Crush the ginger biscuits into a fine crumb, either in a plastic bag using a rolling pin or in a food processor. Mix the crushed biscuits with the melted butter then spoon into the prepared cake tin, pressing gently to ensure a compact even layer. Pop into the oven for 10 minutes to crisp a little, remove and leave to cool.
For the filling beat the cream cheese and caster sugar together for 2 minutes until smooth. Now add the cornflour, vanilla and rhubarb and beat again. Add the eggs a little at a time, beating as you do. Finally stir in the sour cream.
Bake for about 40-45 minutes until golden but with a slight wobble in the centre. Turn the oven off and leave the cheesecake to cool in the oven. This will stop it cracking. Pop into the fridge to chill for a couple of hours before removing from the tin.
Serve with the rhubarb sauce.
The optimum time and temperature varies by individual ovens – these are guidelines only. Some products may only be available in our larger stores. All content © Booths 2014.