Sicilian Style Sardines with Orange and Fennel Salad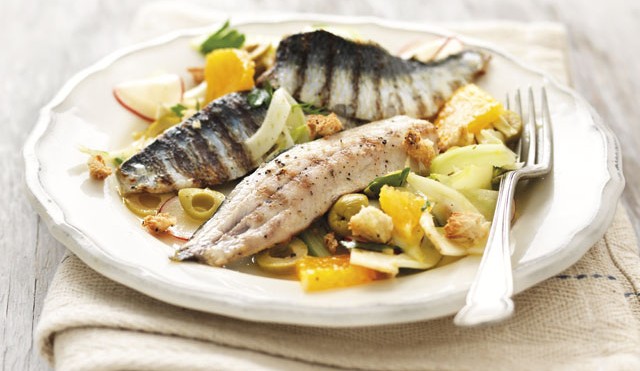 4 servings
40 minutes to prepare
Ingredients
FOR THE SARDINES
12 sardines, head and guts removed
1 tbsp olive oil
Zest of a lemon
Salt and milled pepper
FOR THE ORANGE AND FENNEL SALAD
2 oranges, peeled and sliced
1 bulb fennel, very thinly sliced
100G ciabatta, torn into croutons
1 tbsp olive oil
Juice of an orange
Juice of a lime
1 tbsp cider vinegar
1 garlic clove, crushed
3 tbsp extra virgin olive oil
150g radish, thinly sliced
Handful green olives, roughly chopped
1 tbsp flat leaf parsley roughly chopped
1/2 tsb dill, torn
Salt and milled pepper
Instructions
HOW TO DO IT
FOR THE SARDINES
You could ask the fishmonger to butterfly the sardines or try doing it yourself, but do ask for the head and guts to be removed when purchasing.
Place each sardine onto a board skin side up and open out the belly end. Gently press with the palm of your had to flatten out. Turn the fillet over and carefully remove the bone from each side.
Place all the sardines onto a tray, drizzle over the olive oil and sprinkle with the lemon zest, salt and milled pepper. Leave to one side.
FOR THE SALAD
To make the croutons gently warm a frying pan over a medium heat. Toss the torn pieces of ciabatta in 1 tbsp of olive oil, season with salt and milled pepper and cook until golden and crunchy.
In a large mixing bowl whisk together the orange juice, lime juice, cider vinegar, garlic and extra virgin olive oil. Add the fennel, radish, green olives, parsley and dill. Mix well.
Place the salad onto a serving platter, leaving any excess dressing. Scatter over the orange slices and croutons.
Cook the sardines for about 2 minutes on the skin side and 1 minute on the flesh side. Serve with the orange and fennel salad.
The sardines can either be cooked on a BBQ, griddle pan or simply under a hot grill.
If sardines aren't available you can make this recipe using mackerel instead.