Christmas Decorated Red Sponge Cupcakes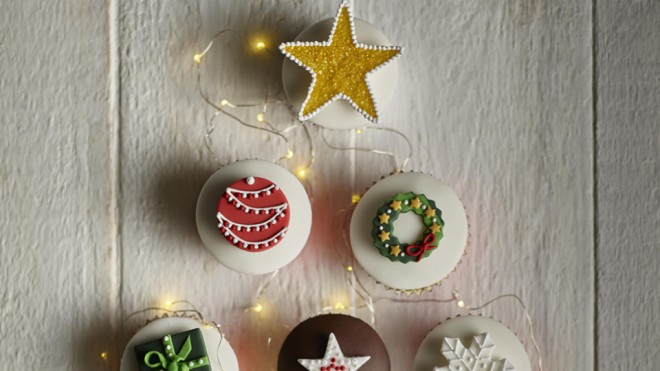 12 servings
1 hour to prepare
Ingredients
For the red sponge filling
150g salted butter, very soft
150g caster sugar
3 large eggs, lightly beaten
1tsp vanilla extract
150g self-raising flour
1.5tsp red gel paste food colouring
For the buttercream topping
125g slightly salted butter, very soft
250g icing sugar
1tsp vanilla extract
2-3tbsp milk
For the decorations
2x500g packet white fondant icing
200g dark chocolate
1 pack green and red pre-coloured fondant icing
Red gel paste food colouring
250g royal icing sugar
Assorted star sprinkles / edible gold and red glimmer sugar / edible glitter
Instructions
These gorgeous little cupcakes are perfect to make – and eat – with the children. The decorations on top can be made up to a week in advance and left to dry.
1 Preheat the oven to 180°C/fan 160°C/gas mark 4. Fill a 12-hole muffin tin with 12 cupcake cases. Place the butter, sugar, eggs, vanilla and self-raising flour into a large bowl. Beat together with a whisk until thoroughly mixed. Add the food colouring and mix until completely coloured. The mixture should be thick and creamy but should drop easily from a spoon. If it's too thick, add a little milk and beat briefly to mix. Using a tablespoon or ice cream scoop, divide the mixture evenly between the muffin cases.
2 Bake for 18–20 minutes until the sponge is golden brown, risen and springs back when pressed lightly with a finger. Allow to cool in the tin for five minutes, then remove the cakes and leave on a wire rack to cool completely.
3 For the buttercream topping, place the softened butter and icing sugar in a large bowl and gently mix until combined. Then add the milk and vanilla extract. Using an electric beater, whisk the mixture for 2–3 minutes or until the icing is pale, light and creamy.
4 Ice the tops of each cupcake with a generous spoonful of buttercream, then use a small palette knife or butter knife to create a smooth, gently-domed top.
5 Generously dust the work surface with icing sugar and roll out one of the white fondant packs until 4-5mm thick. Keep turning the icing as you roll to prevent it from sticking. Using an 8cm circular cutter, cut out six circles from the fondant icing. Any scraps of fondant can be kneaded together, wrapped in cling film and used for decorations. Melt the dark chocolate, mix with the second pack of white fondant icing to create chocolate fondant icing and repeat the above, cutting out six more circles.
6 Gently place a disc of fondant on top of each cake and use your hands to gently smooth the icing into shape. Set aside ready for decorating.
To decorate: make up the royal icing according to pack instructions. Colour half of it with red food colouring, leaving the rest white. Spoon into two piping bags fitted with small round nozzles (no 2, ideally). Generously dust the work surface with icing sugar. Roll out the green and red pre-coloured fondant icing 3-4mm thick, along with any remaining white icing, turning frequently to prevent sticking. Then cut it into your preferred festive shapes: stars, snowflakes, baubles, parcels and wreaths. (To cut a wreath, use two different-sized fluted pastry cutters.)
For a glittery bauble or parcel: lightly dampen the surface of the fondant using a pastry brush dipped in boiled water. Sprinkle generously with edible glitter. Pipe on small polka dots (for a spotty bauble) or 'ribbon' (for a parcel) using royal icing in a contrasting colour. Alternatively, cut thin strips from the contrasting colour of fondant icing to create a ribbon and bow.
For a star or snowflake: to gild, dampen the surface as above before sprinkling with gold glimmer sugar, brushing away any excess. Pipe polka dots of royal icing in alternate colours along the edges.
For a garland bauble: Pipe four gently curved lines across the circle of fondant from one side to the other. Add dots of white icing to create little 'lights' dangling from the lines.
For a wreath: use the green fondant. Pipe on white polka dots and a red bow. If you like, you can use tiny amounts of royal icing to attach gold star sprinkles in between the polka dots.
Allow all decorations to dry. Then attach to the top of the cupcakes with small blobs of piped royal icing.