Christmas Frangipane Tart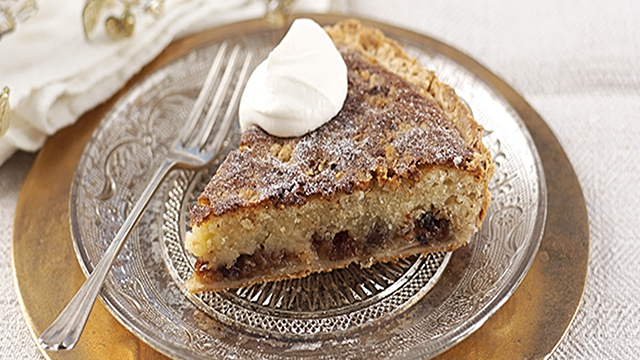 8 servings
50 Minutes to prepare
Ingredients
200g plain flour
1tbsp icing sugar
125g chilled unsalted butter, cubed
1 medium egg, yolk beaten
1/2 tbsp chilled water
200g Christmas mincemeat
175g unsalted butter, softened
175g caster sugar
3 medium eggs
175g ground almonds
1tsp almond extract
1tsp vanilla extract
30g chopped walnuts
Instructions
You will need a 24cm loose-bottomed cake tin.
Firstly make the pastry by popping the flour, icing sugar and chilled cubed butter in a food processor and blend until you have a mixture that resembles breadcrumbs. Transfer to a large bowl, mix the egg yolk and chilled water together and then pour into the flour and with a palette knife or blunt knife work the mixture until it comes together. With your hands, roll the dough into a ball, wrap in cling film and pop in the fridge for about 30 minutes. If the dough feels too sticky just add a little more flour or if it feels too dry just add a little more water.
Roll the pastry out on a lightly floured surface to the thickness of a pound coin. Line the tart case with the pastry leaving an overhang and prick all over with a fork. Pop the pastry case in the freezer for 10 minutes to firm up.
At this stage preheat the oven to 180°c / gas 4.
Line the pastry case with non-stick baking paper and cover with baking beans or uncooked rice and bake for 15 minutes, remove the beans and baking paper and return to the oven for a further 10 minutes until the pastry is golden. Trim the edges with a sharp knife. Leave to cool.
Meanwhile beat together the softened butter and caster sugar until light and fluffy, add the eggs one at a time with 1tbsp of the ground almonds making sure each egg is completely incorporated. Stir in the almond and vanilla extract and finally the remaining ground almonds.
Spread the mincemeat all over the bottom of the cooled pastry case, pour over the almond sponge and level off. Finally sprinkle over the chopped walnuts and bake for 35-40 minutes until golden (and when a skewer inserted into the centre comes out clean). Cool for a few minutes and then carefully remove from the tin. Cool completely on a wire rack before slicing and eating.