Clementine & Cranberry Eccles Cakes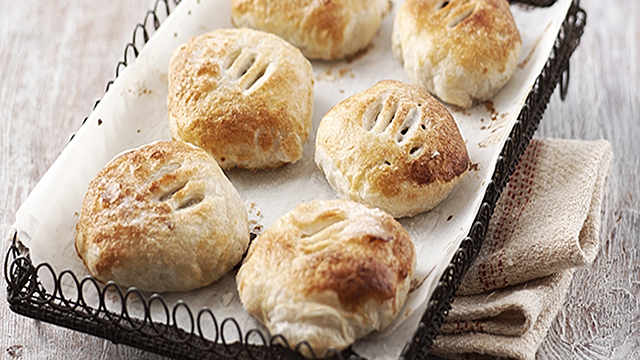 8 servings
20 Minutes to prepare
Ingredients
1 packet of thawed puff pastry
20g butter
150g dried cranberries
2tbsp candied mixed peel, chopped
50g demerara sugar
2 grated zest of clementimes
1 egg beaten
3tbsp caster sugar
Instructions
Preheat your oven to 200°c / gas 6.
In a small pan melt the butter. Once melted add the cranberries, mixed peel, demerara sugar, clementine zest and mixed spice. Stir until all the sugar has dissolved. Remove from the heat and leave to cool completely.
On a floured surface roll out the pastry to the thickness of a pound coin. Cut out eight circles using a small saucer as a template. Divide the fruit between the pastries leaving a 1cm rim around the edge of the pastry. Brush that edge with water and pull the edges to the centre, pinch to seal in the filling. Turn the pastry over on the floured surface and roll it out a little wider so you have a flatter circle, trying not to break the pastry.
Place the Eccles cakes onto a baking sheet, brush with the beaten egg and sprinkle generously with the caster sugar. Make 3 little slits across the top of each cake and bake for about 15 minutes until golden, cool slightly before eating. Also great served cold and can be stored in an airtight container for a day or two.