Cumbrian Chimney Pot Pie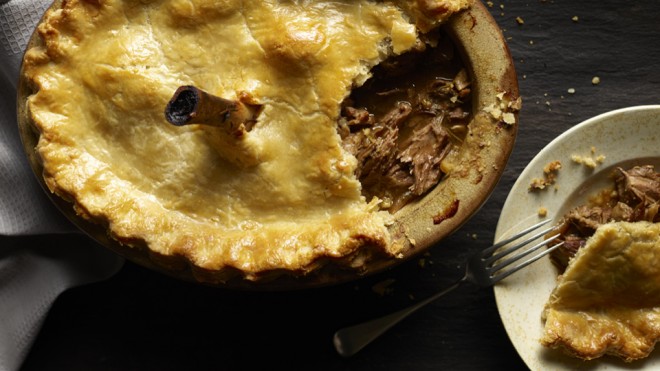 8 servings
3 hours 55 minutes to prepare
Ingredients
For the shortcrust pastry
200g butter placed in the freezer
350g plain flour
Pinch salt
6tbsp chilled water
For the Filling
50g plain flour
2-2.5kg dry-aged Cumbrian Herdwick mutton or lamb (with or without the shank bone)
2tbsp olive oil
4 onions, quartered
8 cloves garlic
2tbsp finely chopped fresh rosemary
600ml dark Cumbrian Ale
300ml beef stock
Instructions
Hearty, honest, warming and filling, it's no wonder pies are considered a northern speciality. We think this spectacular recipe for a Cumbrian Chimney Pot Pie, made with our flavoursome, melt-in-the mouth Herdwick mutton, takes some beating. Cooked slowly until the meat is so tender it falls apart, it is topped with a crisp, rich pastry, and for a real talking point, we've used the mutton shank bone as the 'chimney' pie funnel – but it tastes great with a simple hole sliced in the top too.
For the filling:
Season the flour with a pinch of salt and freshly ground
black pepper. Cut the mutton into large pieces and dust in
the seasoned flour. Heat the olive oil in a large casserole
dish and brown the pieces of mutton well all over. Remove
from the dish after browning, add a little more oil and cook
the onions for a few minutes then add the garlic and fresh
rosemary and cook for just a minute. Tip in any remaining
flour and cook for another minute then pour in the ale and
stock and bring to a simmer. Return the mutton (including
the bone) to the dish, turn down the heat and cover and
cook over a very gentle heat for about 2½–3 hours until the
meat falls apart and the sauce is rich and thickened. Remove
the shank bone from the dish, reserving it for the pie and
flake the meat into pieces. Leave to cool.
For the pastry:
Sift the flour and salt in a mixing bowl. Hold the frozen
butter using a piece of greaseproof paper and grate it on a
large coarse grater straight into the flour. Working quickly,
stir the butter and flour together and then sprinkle on the
chilled water and mix together to make a dough. Wrap in
cling film and place in the fridge to chill.
Prepare the pie:
Fill a 2½ litre pie dish with the cooled mutton filling. On
a lightly floured surface, roll out the pastry to about 3mm
thick and about 2.5cm wider than the dish. Cut a 2cm strip
from the pastry. Brush the rim of the dish with a little water
and place the pastry strip around the rim, pressing it down.
Sit the reserved shank bone in the centre of the pie filling:
this will act as a pie funnel, releasing the steam when the pie
is baking and will also stop the pastry from sinking into the
filling and becoming soggy.
Cut a slit in the remaining pastry for the shank bone. Place
the pastry lid over the top and slide it over the bone. Press
down the edges of the pastry to seal it. Trim off any excess
pastry and crimp the edges with a fork or between your
thumb and forefinger. Brush with beaten egg and bake at
180°C/Fan 160°C/gas mark 4 for 30–35 minutes until the
pastry is crisp and golden.