English Gooseberry Fool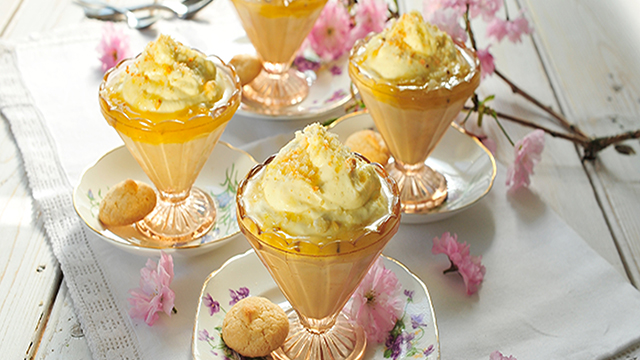 4 servings
50 minutes to prepare
Ingredients
Main Ingredients
350g gooseberries
2tbsp white wine
50g caster sugar
284ml carton of double cream
200g ready-made custard
3 amaretti biscuits
Instructions
Place the white wine and caster sugar into a medium sized pan and bring to a simmer. Add the gooseberries and cook for 5 minutes until the gooseberries are soft.
Lift out the gooseberries and pass them through a fine sieve to remove any pips and leave the puree to cool completely. You will notice that you have some liquid left in the pan, place this back on the heat and cook until you have a syrup. Place into a small bowl and leave to cool.
Taste the gooseberry puree at this stage and if it requires more sugar add a little as some gooseberries can be quite tart.
Whip the cream until soft peaks form. It is important not to over whip the cream.
Loosely fold the custard into the cream then loosely fold in the gooseberry puree so you have a marble effect. Spoon into you glasses or cups and chill.
When you're ready to serve drizzle over some of the gooseberry syrup and scatter over some crushed amaretti biscuits.