Festive Gingerbread House 8 servings
1 Hour 40 Mins to prepare
Ingredients
250g unsalted butter
200g dark brown sugar
7 tbsp golden syrup
600g plain flour
2 tsp bicardonate of soda
4 tsp ground ginger
3 boiled sweets
200g caster sugar
60ml water
100g hard pretzel sticks
50g unsalted butter
100g granulated sugar
1 tsp cinnamon
100g bitesize Shredded Wheat
1 tub Renshaw Royal Icing
Sprig thyme
Dusting icing sugar
Instructions
Create the Booths Gingerbread House
For the gingerbread, heat oven to 200C/fan 180C/gas 6. Melt the butter, sugar and syrup in a pan. Mix the flour, bicarbonate of soda and ground ginger together, then stir in the butter mixture to make a stiff dough.
On a sheet of baking paper, roll 1/4 of the dough to 5mm. Cut out the front of the house, then slide the gingerbread, still on its baking paper, onto a baking sheet. Repeat with remaining dough, re-rolling the trimmings, until you have two side walls, a front and back wall and two roof panels.
Cut a window into each side panel, and a window and door into the front piece. Place a boiled sweet inside each window. The sweets will melt to form the glass! Bake the sections for 12 minutes or until firm. Leave to cool for a few minutes, trim the sides to give clean edges. Leave to cool completely.
To make the sugar glue, put 200g caster sugar and 60ml water in a low-sided pan over a medium-high heat. The syrup is ready when the sugar has dissolved and it turns a light golden colour.
Take the pan off the heat and leave to cool to the consistency of honey. Using a paintbrush, coat the edges of the gingerbread and glue together. This will set quickly, be careful to get everything in the correct position before leaving it to dry. If the syrup begins to harden, put it back over the heat until it returns to a honey consistency.
To decorate the house, preheat the oven to 125C/Gas mark 1. Melt the butter, add the sugar and cinnamon and stir. Spread the pretzels out onto a lined baking sheet and pour the cinnamon mixture over. Bake in the oven for 20 minutes. Leave to cool completely before use.
Spread a thin layer of icing over the front panel of the house, add the pretzels to create a log cabin effect, repeat with the sides. Spread the icing over the top of the house and add rows of Shredded Wheat to create a thatched roof. Pipe dots of icing around the window frames and edges of the house. Pipe a circle on the door and stick on a little thyme to create a wreath. Dust the house with icing sugar.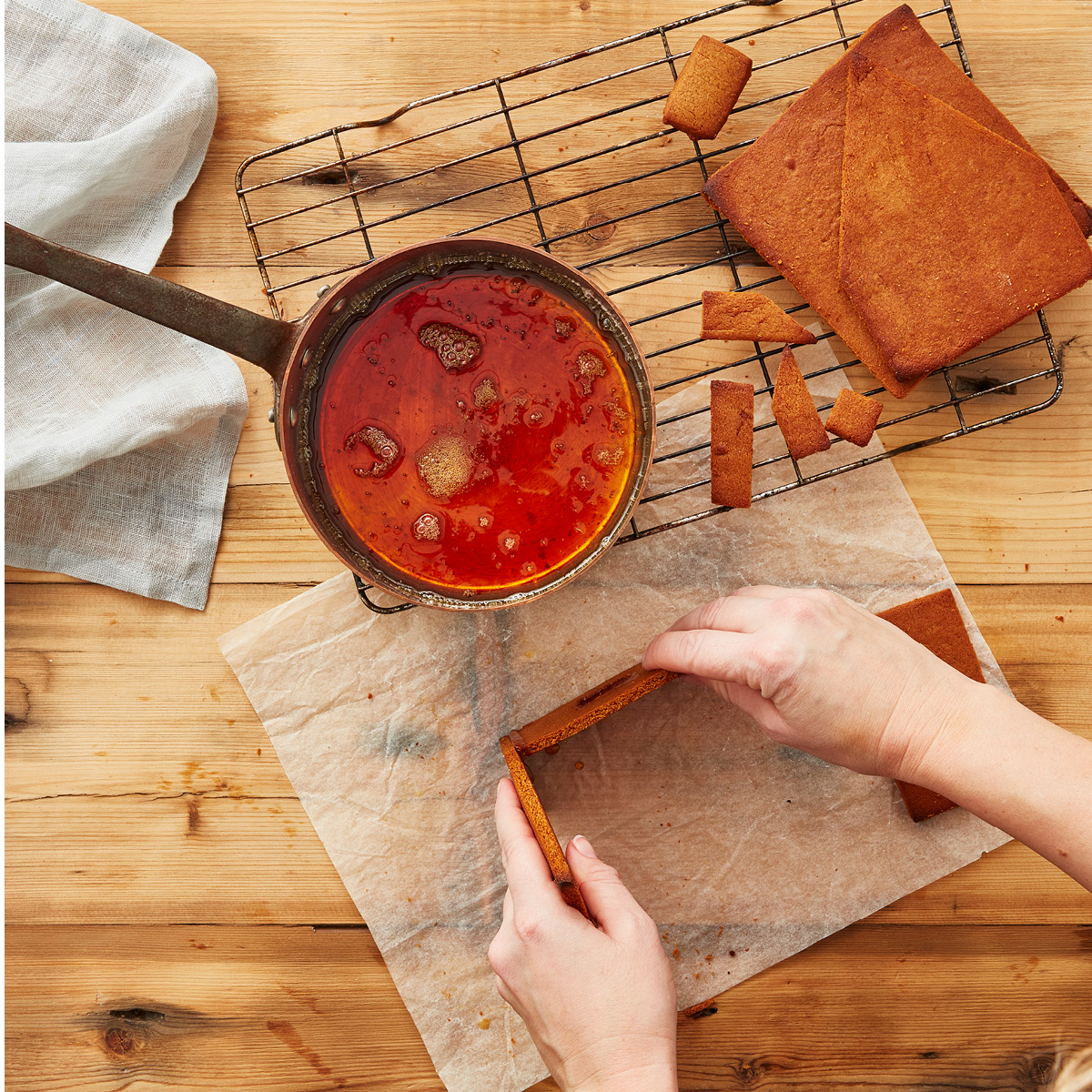 The caramel glue
TEMPLATES:
You can print these using the 'Print This' button under the image at the top of the page. Or download by clicking here.