Feta, Cherry Tomato and Roasted Shallot Galette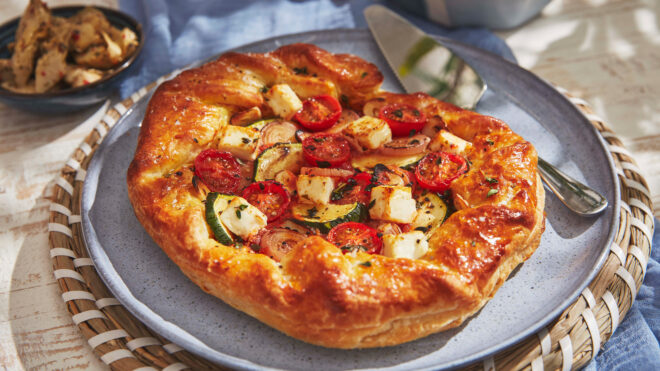 4 servings
20 minutes to prepare
Ingredients
1 pack puff pastry
100ml passata
12 cherry tomatoes, sliced
1/2 courgette, sliced
4 cloves garlic, sliced
150g Feta, diced
4 shallots, sliced
25ml olive oil
1 handful fresh oregano leaves
Salt and pepper, to taste
1 egg, beaten
Instructions
Method:
1. Preheat the oven to 220°C/200°Fan/425°F/ Gas Mark 7.
2. Roll out the puff pastry keeping it on the parchment it comes on and place onto a large baking tray.
3. Spread the passata onto the pastry leaving a 3-4cm edge of pastry.
4. Top with the cherry tomatoes, slices of courgette, sliced garlic, diced Feta and sliced shal-lots.
5. Drizzle with olive oil, scatter with oregano leaves and season to taste with salt and pepper.
6. Fold over the edges of the pastry and brush with beaten egg.
7. Bake in the oven for 15-20 minutes, allow to cool for 5 minutes then cut into large squares to share.
8. Serve with your favourite salads, we recommend rocket salad, coleslaw and beetroot salad.
Chef's Tip:
Give this dish a taste of Spain by adding a few slices of chorizo and king prawns. Swap out the Feta for Manchego, slice into small pieces for a great a tapas platter.