Giant Funfetti Animal Hand Print Cookies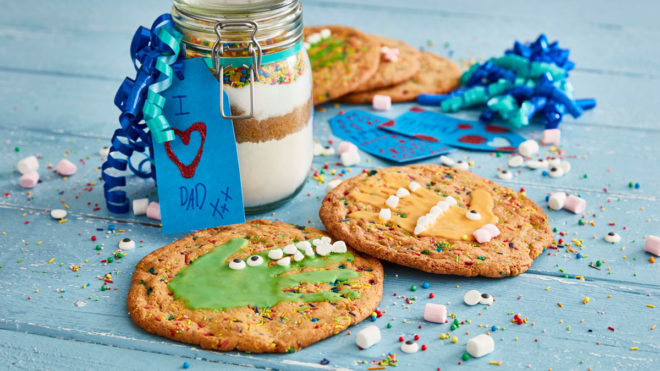 8 servings
30 minutes to prepare
Ingredients
For the Cookie
145g softened, unsalted butter
75g soft brown sugar
75g white granulated sugar
2tsp vanilla essence
1 egg
220g plain white flour
1/2tsp bicarbonate of soda
60g coloured sprinkles (we used Dr Oetker Bright & Bold)
To Decorate
400g icing sugar
4tbsp water
Orange food colouring
Green food colouring
Edible eyes
Mini marshmallows
Instructions
Our Giant Funfetti Animal Hand Print Cookies are a wonderfully creative way to spend some time with the little ones! If you'd like to create these cookies as a gift for someone, simply weigh out the dry cookie ingredients and layer them up in a clean, sterilised mason jar, decorate with ribbons and add a tag with the additional ingredients required listed, and the baking instructions. You could even make a little parcel of decorating ingredients to go alongside!
Method:
Pre heat the oven to 190ºC / 374ºf / gas mark 5. Line a baking tray with some non-stick greaseproof baking paper and set to one side.
Weigh all the dry cookie ingredients into a large bowl, or tip them into it from your jar. Make a well in the centre, add the egg, softened butter and vanilla and then mix with a wooden spoon until combined and a dough is formed.
On a floured surface take a big chunk of the dough, roll into a ball then flatten with a rolling pin to create a 1cm thick rough circle. The diameter should be about 10-12cm. Repeat until dough is used up. Add a few more sprinkles across the top and press in lightly.
Place the cookies onto the greaseproof lined baking tray, baking two at a time or if you have an additional baking tray you can double up. Bake for 8-10 minutes or until golden brown. Remove from the oven and rest on the baking tray for a few minutes, before transferring to a cooling rack.
To make the coloured icing for your animal handprints, sift 200g of icing sugar into a medium bowl and stir in 2tbsp of water to create a smooth mixture. Add green food colouring one drop at a time until you have your desired colour. Repeat with the other 200g of icing sugar, but use the orange food colouring this time.
Taking the bowl of coloured icing, dip the palm of your hand into it and then place it on to a cookie and hold still for two seconds before lifting it gently, creating a fun handprint. Use the edible eyes and marshmallows to create your own handprint animal – we made a crocodile and a goldfish!
Chefs Tip: What other animals can you make using your handprint?