Hot Cross Bun Pudding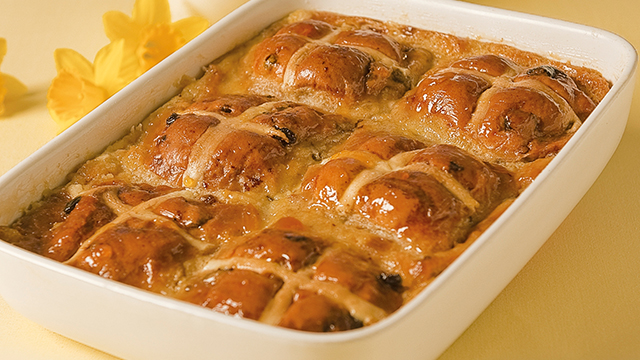 6 servings
80 minutes to prepare
Ingredients
6 hot cross buns (either Booths standard or luxury variety)
3 medium eggs
150g golden caster sugar
400ml double cream
400ml milk
1tsp vanilla extract
1/4tsp cinnamon
2tbsp apricot jam
Butter
Instructions
Lightly grease with butter a 30cm x 20cm oven dish and place the dish into a high-sided roasting tray. Pre-heat the oven to 180°C / gas mark 4.
Slice each of the hot cross buns horizontally into three then butter the cut pieces of the hot cross bun and then reassemble the bun in the greased dish, ensuring every slice overlaps slightly with the next row of hot cross buns.
In a large mixing bowl whisk the eggs, sugar, cinnamon and vanilla together. Gradually whisk in the cream and milk to the mixture.
Pour the eggy milk mixture over the hot cross buns gently pressing to ensure all the bread absorbs the liquid. Cover the dish with tin foil.
Place the pudding dish inside the roasting tin and carefully pour cold water into the roasting tray so it comes one-third up the oven dish. Bake in the oven for 45 minutes to one hour until the pudding has puffed up and set.
Remove the pudding from the water, taking care, then whilst the pudding is still warm brush all over with warmed apricot jam to glaze the pudding before serving.
To finish serve with lashings of custard.