Raspberry Crème Brulee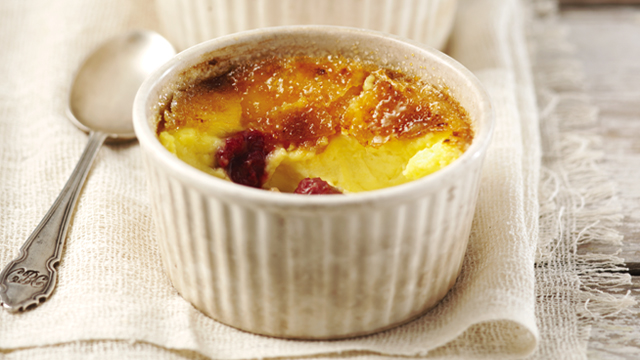 6 servings
80 minutes to prepare
Ingredients
1 punnet of fresh raspberries
450ml double cream
100ml milk
1-2tsp vanilla extract
6 egg yolks
50g caster sugar
For the caramel
110g caster sugar
75ml water
Instructions
Pre-heat your oven to 160*c / gas 3.
Place 6 ramekins into a deep-sided tray, sitting the ramekins onto some kitchen roll, this stops them moving around in the tray.
Place the cream, milk, and vanilla into a saucepan and gently bring up to a scalding point (do not boil). Meanwhile in a large mixing bowl beat the egg yolks with the sugar until light, pale and fluffy. Slowly pour the hot cream over the eggs, whilst continually whisking, then pour into a jug. Divide the raspberries between your ramekins, top with the custard. Place the brulee into the oven and half fill the tray with hot water from the kettle and bake for about 40 minutes until the custard is just set around the edge. Remove from the oven and take the ramekins out of the water. Leave to cool and then place into the fridge for 3 hours.
To make the caramel add the sugar and water to a pan and heat until the sugar has dissolved. Turn the heat up and bring to a boil and cook until it caramelises to a chestnut brown colour, remove from the heat and spoon a thin later over the chilled custard and allow a few minutes to set.