Renshaw's Festive Fruits Christmas Cake Decoration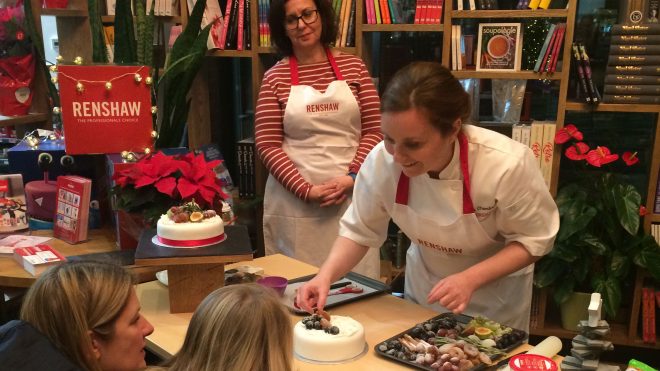 10 servings
1 hour to prepare
Ingredients
1 jar Apricot jam
1 premade christmas cake
1 pack Renshaw's ready-to-roll white icing
1 pack Renshaw's marzipan
1 pack Icing sugar to dust
Selection of fresh fruit
1 pack Caster sugar
Egg whites
1 pack Renshaw's Royal Icing
Instructions
Renshaw's have created this fabulous instructional video for us on how to decorate your festive cake. You can find Renshaw's products in Booths stores. To create a Christmas fruit cake to decorate, why not try our recipe for the easiest Christmas cake ever, which you can find here, or alternatively use a shop bought one.
Method:
Heat the apricot jam for a minute or two then sieve and brush all over the top and sides of the cake.
Roll out Renshaws marzipan to a circle large enough to cover the top and sides, and a little extra. Drape over rolling pin then drape over cake. Smooth gently over top then use side of your hand to work it down over the sides of the cake. Trim the edges. If desired, finish with a smoothing tool.
Repeat the process with the ready to roll icing, dusting the surface before you roll it out with icing sugar to prevent sticking. Drape over rolling pin and transfer onto the cake. Gently smooth over top then use the side of your hand to work the icing down the sides of the cake. Trim the excess and tidy around the base.
To make sugared fruits, choose dry skinned fruits so the sugar doesn't absorb the fruit juice (so not raspberries or strawberries). Separate an egg and whisk the white until frothy. Pour some caster sugar onto a plate. Paint the frothy egg white all over the fruits using a small brush then roll in the sugar and set aside to dry for at least half an hour.
Once the fruits are dried, prepare the royal icing as per packet instructions and stipple over the top of the cake. Use the fruits to decorate the top of your Christmas cake, then finish with some edible gold dust and a festive ribbon.
For more decoration inspiration from Renshaw's, take a look here.