Simnel Cake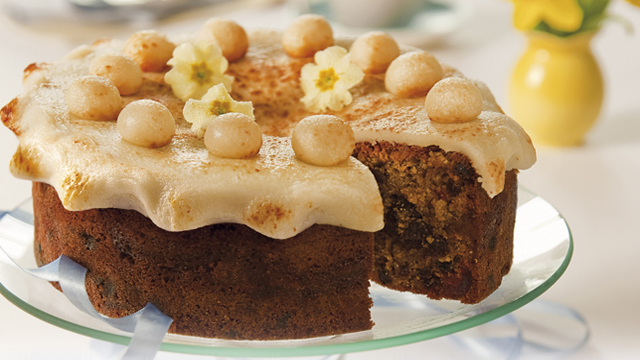 7 servings
140 minutes to prepare
Ingredients
175g butter, softened
175g light muscavado sugar
175g self-raising flour
3 large eggs
25g ground almonds
100g sultanas
100g cherries, stoned and quartered
100g dried apricots, chopped into small pieces
50g stem ginger, finely chopped
1tsp mixed spice
2tsp ground ginger
1 packet of ready to use marzipan
3tbsp apricot jam
1 egg beaten
To decorate
10 violet or primula flowers
1 egg white
1tbsp caster sugar
Instructions
Pre-heat your oven to 160°C / gas 3. Lightly grease with butter and double line a 20cm/8″ round cake tin with grease proof paper.
In a large mixing bowl beat the butter, sugar, ginger and spices until light and fluffy. Then add the eggs one at a time with a teaspoon of the flour, ensure each egg is beaten into the spiced butter cream before you add the next egg.
Now fold in the fruit and almonds, mix until well combined. Finally sift in the flour and fold until all the flour has absorbed.
Place half of the mixture into the prepared cake tin and gently smooth the surface.
Take one third of the marzipan and roll out into a circle the same size as the cake tin, place the marzipan circle on top of the mixture in the cake tin. Then spoon the remaining cake mixture onto the marzipan and smooth over.
Place in the middle of the oven and bake for about one hour 45 minutes until golden brown and firm in the middle. If towards the end of the cooking, the cake is looking too brown cover loosely with tin foil.
Once ready let the cake rest for 10 minutes before turning out onto a wire rack to cool completely.
Roll out the remaining marzipan to the size of the cake. Brush the top of the cake with the apricot jam and place the marzipan on top pressing gently, trim off any excess marzipan.
Roll the left over marzipan into 11 balls (for each apostle not counting Judas) and arrange evenly around the cake sticking them with a little dab of apricot jam.
Brush the top of the cake with the beaten egg then place under a grill until the marzipan has a tinge of brown all over and once cooled decorate with crystallised violets or primulas.
To make the crystallised flowers…
Lightly beat the egg white until foamy and carefully brush all over the flowers/petals.
Sprinkle over the caster sugar so it sticks to the egg white and leave to harden in a warm place.
These can be made before you make the cake and stored until needed.