Spiced Christmas Tree Cookies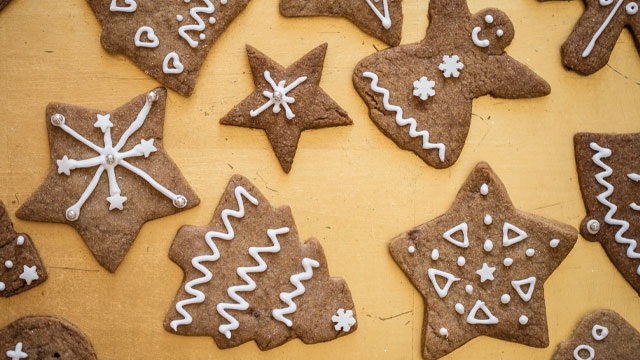 16 servings
35 minutes to prepare
Ingredients
175g unsalted butter, at room temperature
1 medium egg
350g Booths plain flour
125g Billington's golden caster sugar
125g Billington's light muscovado sugar
1/2 tsp salt
1 tsp ground cinnamon
1 tsp ground ginger
1 tsp ground nutmeg
For the icing
icing sugar sifted
1 medium egg white
Divine Deli silver pearls
Instructions
Preheat the oven to 180ºc/gas 4
The cookies
1 Beat the butter with the two sugars in a large bowl until light and creamy.
2 Beat in the eggs gradually, then sift in the flour, salt and spices and mix until everything's incorporated.
3 Press the mixture into a ball, cover with cling film and rest in the fridge for 30 minutes.
4 Flour the work surface and roll out the dough mixture to about half a centimetre thick.
5 Use Christmas themed cutters to cut out different shapes.
6 Use a skewer to make a hole at the top of each cookie to thread ribbon for the tree.
7 Line two baking trays with greaseproof baking paper and lay the biscuit shapes on them.
8 Prick them lightly with a fork and bake in the oven for 15 minutes, or until the cookies are browned and firm to the touch.
9 Cool the cookies for a few minutes on their trays, then move them to wire racks to cool down.
The Icing
1 Beat the egg white in a large bowl until really frothy, then gradually add the sifted icing sugar until you can make stiff peaks.
2 Fill a fine-nozzle piping bag with icing (Or use a sandwich bag with the corner cut off.)
3 Decorate the cookies with the icing and add the silver pearls.