Star Shortbread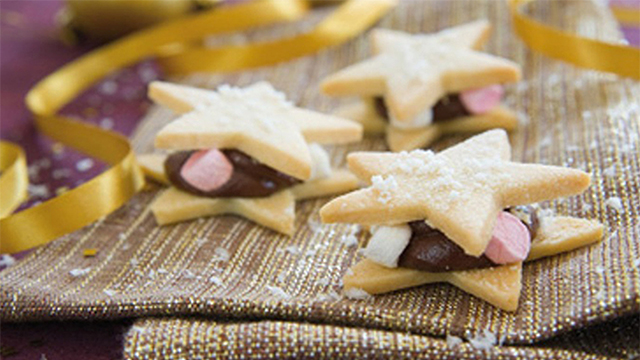 7 servings
60 minutes to prepare
Ingredients
450g plain white flour
140g caster sugar
280g butter
For the filling
250g dark chocolate (70% cocoa)
250ml double cream
Decorating
A sprinkle of icing sugar
75g mini marshmallows
100g white chocolate
100g fondant icing
Extra flour for rolling
You will need a star cutter which is available from all larger Booths stores
Instructions
The first thing you need to do is pop some fondant icing into the freezer for later use.
Sieve the flour into a large mixing bowl and add the butter (cut into small cubes) and the sugar. Rub together using your fingertips until the mixture resembles breadcrumbs. Then, bring the crumbs together to form dough, making sure not to over work. Wrap in cling film and store in the fridge for 30 minutes.
For the chocolate filling, melt the chocolate in a bowl over simmering water and once melted, remove from the heat and leave to cool slightly.
Whip the cream until soft peaks form when you lift the whisk out. Fold ¼ of the cream into the chocolate, then fold this mixture into the rest of the cream and leave in the fridge until required.
Take the biscuit dough out of the fridge and let it soften a little before rolling out on a floured surface to about 1½ cm thick. Cut out your shapes using the star cutter. Place onto a non-stick baking tray and cook for 20 minutes at 150°C / Gas mark 2 until the edges start to brown but still pale in colour, then cool on a wire rack.
To decorate, add a spoonful of the chocolate filling to half of the biscuits, then add some chopped white chocolate, marshmallows and top with another biscuit to form a sandwich.
Finally grate a little fondant icing over the biscuits to make them look snowy.
Keep refrigerated until serving.
Our top tip…
Try NOT to bake the biscuits until they turn golden brown in the oven. Shortbread should be pale and then they will melt in the mouth.