Stuffed Sweet Pointed Peppers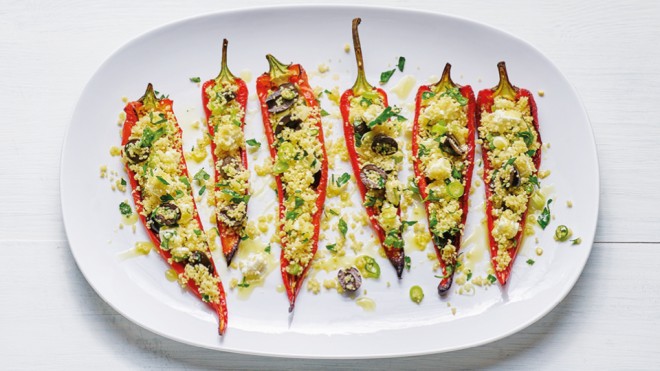 4 servings
25 minutes to prepare
Ingredients
4 red sweet pointed peppers, halved and de-seeded
1tbsp olive oil
200g cous cous
300ml hot vegetable stock
1 bunch spring onions finely chopped
200g feta cheese, cubed
100g pitted black olives, halved
1 medium bunch flat leaf parsley, chopped
1 small lemon, juice only
2tbsp extra virgin olive oil
Instructions
1 Rub the peppers all over with the olive oil. Heat a griddle pan on the hob until hot. Cook the pepper halves for about 10 – 15 minutes until lightly charred and tender, turning once.
2 Meanwhile, place the cous cous in a large bowl and pour over the hot stock. Cover the bowl with cling film and set aside for 5 minutes until all the liquid has been absorbed.
3 Fluff up the cous cous grains with a fork and stir in the spring onions, feta, black olives, parsley and lemon juice.
4 Place the cooked peppers on a serving platter and transfer the cous cous mixture into the peppers. Serve drizzled with extra virgin olive oil.
The optimum time and temperature varies by individual ovens – these are guidelines only. Please ensure all cooked recipes are served piping hot. Use separate kitchen utensils and surfaces for raw and cooked foods, or wash thoroughly in between use. Some products may only be available in our larger stores. All content © Booths 2015.