Summer Fruits Sundae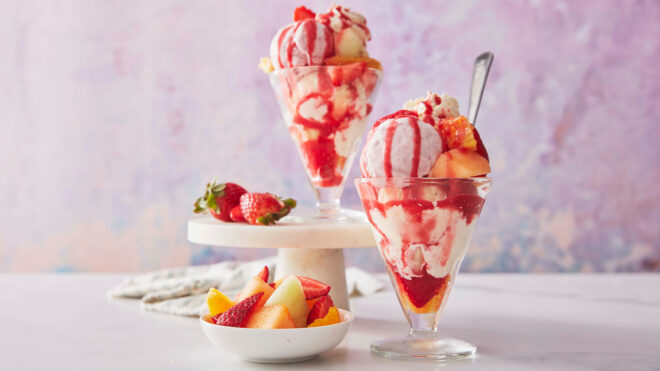 2 servings
15 minutes to prepare
Ingredients
1 pack Booths sharing fruit salad
2 scoops Booths strawberry ice cream
2 scoops Booths clotted cream ice cream
For The Orange Cream
50ml double cream
1 tbsp icing sugar
Zest of 1 orange
For The Strawberry Sauce
100g strawberries
1/2 lemon (juice only)
1 tbsp icing sugar
Instructions
Method:
1. For the strawberry sauce, liquidise all the strawberry sauce ingredients until smooth, pass through a sieve and keep to one side.
2. Place 2 knickerbocker glasses, or large strong glasses in the freezer to chill.
3. For the orange cream, whisk the cream and sugar until soft peaks then add the orange zest and keep cold.
4. To layer the dessert, place 1/3 of the fruit in the bottom of each glass and drizzle with a little strawberry sauce.
5. Add a scoop of vanilla ice cream in each glass then add more fruit and drizzle with sauce again.
6. Add the strawberry ice cream with a little more strawberry sauce then add a dollop of orange cream.
7. Top with the remaining pieces of fruit and drizzle with more strawberry sauce.
Chef's Tip:
This classic dessert works brilliantly with all of Booths prepared fruit salads. Try the summer berries and add some chocolate ice cream to the vanilla and strawberry for a classic Neapolitan glory.