The Boho Baker's Cheddar Grissini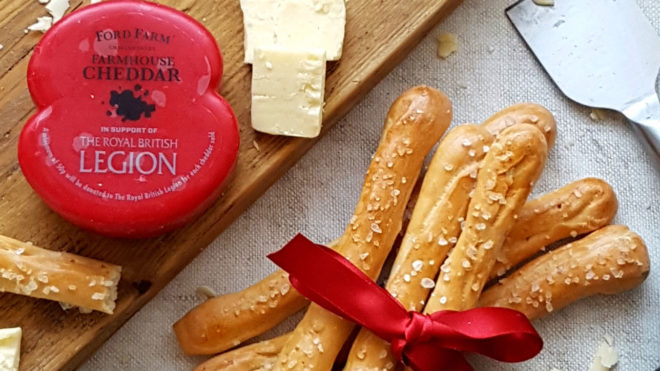 5 servings
1 hour 30 minutes to prepare
Ingredients
50g Ford Farm Poppy Cheddar
225g strong white bread flour, plus extra for dusting
150ml tepid water
7g fresh yeast
1 egg
2tsp caster sugar
1tsp salt
1tbsp olive oil, plus extra for greasing
1tbsp sea salt flakes
Instructions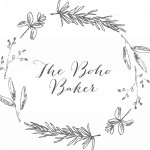 The Boho Baker describes herself as "Baker. Writer. Forager. Wanderer. Organic ingredient and edible floral Enthusiast. Member of the Guild of Food Writers." Very local to our HQ in Preston, she's kindly agreed to do a series of guest recipes for us, celebrating the best of our local produce. Follow her on instagram @thebohobaker
These easy cheesy breadsticks are a delicious way to use our seasonal favourite, Ford Farm Poppy Cheddar. 50p from each cheese sale is donated to The Royal British Legion (correct 07/11/18). If you're unable to get Ford Farm, another high quality cheddar will work.
Method:
Preheat the oven to 150C/130C(fan)/gas mark 2. Lightly oil a baking sheet in preparation.
In a small bowl, mix together the yeast and 3tbsp of water to form a paste. Stir in the caster sugar.
Finely grate the cheddar and pop it in a large bowl with the flour and salt. Add the yeast mixture, oil and remaining water, mixing it with your hand to create a slightly sticky dough.
Turn the dough out onto a lightly floured surface. Knead for 5 minutes before placing in a covered bowl and leaving it to rest for 10 minutes.
Remove the dough from the bowl and roll it out into a rectangle. Cut into even sized strips and lightly roll to create slim breadsticks. Place the breadsticks on the oiled baking tray and cover with a sheet of clingfilm. Leave to prove for 15 minutes.
Beat the egg and use it to brush the tops of the breadsticks. Sprinkle liberally with salt and bake in the oven for 45 minutes. Enjoy with cheese and dips.