The Boho Baker's Cinnamon Doughnut Cake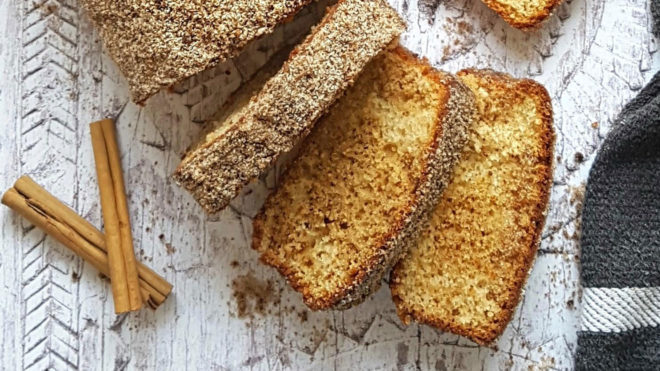 10 servings
1 hour 30 minutes to prepare
Ingredients
For the Cake
200g golden caster sugar
190g self raising flour
55g unsalted butter
120ml buttermilk
2 eggs
3tbsp olive oil
1tsp vanilla extract
1tsp baking powder
1/2tsp cinnamon
1/2tsp treacle
Pinch salt
For the coating
90g unsalted butter
50g golden caster sugar
50g light brown sugar
1/2tsp cinnamon
Instructions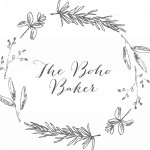 The Boho Baker describes herself as "Baker. Writer. Forager. Wanderer. Organic ingredient and edible floral Enthusiast. Member of the Guild of Food Writers." Very local to our HQ in Preston, she's kindly agreed to do a series of guest recipes for us, celebrating the best of our local produce. Follow her on instagram @thebohobaker
Who doesn't love a doughnut? This cake has all of the delicious flavours of a cinnamon doughnut but in a cake!
Method:
Preheat your oven to 180C/gas mark 4. Grease and line a loaf tin and set aside.
Combine the oil, butter, and sugar in a large bowl. Add the eggs and vanilla extract, whisking until smooth.
Stir in the flour, baking powder and salt. Add the buttermilk and give the batter a final stir to ensure no lumps remain.
Pour half of the batter into a separate bowl and stir in the cinnamon and treacle. Add the batter to the loaf tin a spoonful at a time, alternating between the the vanilla and the cinnamon mixes. Give the batter a swirl using a skewer or knife, and pop it in the oven for 45 minutes.
Whilst the cake is baking, combine the sugars and cinnamon on a tray or plate that is large enough to hold the cake. Melt the butter in a separate dish.
When the cake has finished baking, leave it in the tin to cool slightly for ten minutes. As soon as the tin is cool enough to handle, remove the cake and brush the top and sides with the melted butter. Roll the cake in the sugar coating, before sprinkling any excess over the top of the cake. This cake is best enjoyed warm, but can be stored in and airtight container for up to a week.