The Boho Baker's Ombre Crepe Cake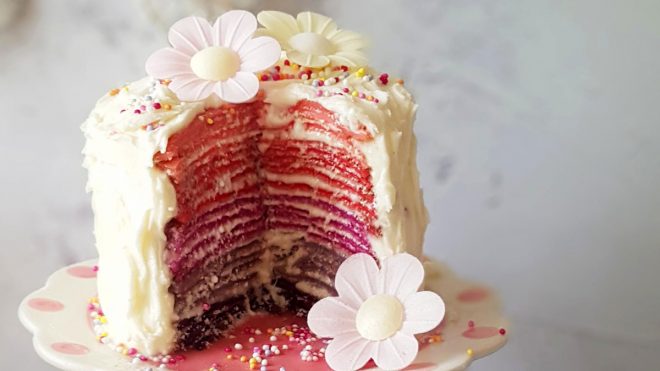 8 servings
3 hours to prepare
Ingredients
For the Crepes
210g plain flour
6tbsp unsalted butter, melte
6tbsp sugar
6 eggs
1tsp vanilla extract
Pinch salt
Assortment of food colouring
For the Filling
250ml milk
240ml whipping cream
5tbsp sugar
2 egg yolks
2tbsp cornflour
1tbsp butter
1/2 vanilla pod
Pinch of salt
To decorate
Sprinkles and wafer flours
Instructions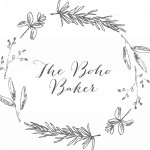 The Boho Baker describes herself as "Baker. Writer. Forager. Wanderer. Organic ingredient and edible floral Enthusiast. Member of the Guild of Food Writers." Very local to our HQ in Preston, she's kindly agreed to do a series of guest recipes for us, celebrating the best of our local produce. Follow her on instagram @thebohobaker
This fun recipe makes 1 large crepe cake or 4 small ones.
Method:
Combine all of the crepe ingredients in a large bowl and whisk until no lumps remain. Cover with cling film and refrigerate for 2 hours.
Split the batter into five bowls and add a little food colouring to each one. If you only have one colour, add slightly more to each bowl as you go to create an ombre effect.
Place a non stick pan over a medium heat. Ladle in enough batter for your first crepe and cook for 30 seconds. Flip over and cook for a further 30 seconds. Place the crepe on a piece of greaseproof paper and repeat with the rest of the batter.
For the filling, whisk together the cornflour, 3 tbsp of the sugar, and salt. Mix in the egg yolks and about a quarter of the milk.
Pour the remaining milk into a pan. Scrape down the vanilla pod and add both the seeds and the empty pod to the milk pan. Heat until it reaches scalding point.
Carefully whisk the hot milk into the egg mixture. Transfer back into a pan and whisk over a medium heat until it has thickened.
Remove the pan from the heat and add the butter. Stir until glossy and smooth, and remove the vanilla pod before leaving it to cool for half an hour.
In a separate bowl, whisk together the whipping cream and remaining sugar until stiff peaks are formed. Fold the cream into the cooled vanilla mixture.
Construct the cake by stacking up alternating layers of crepes and filling. It is easier to stack if you coat each crepe individually before adding it to the pile. Use the remaining cream to coat the outside of the cake, before decorating with sprinkles and edible decorations.