The Boho Baker's Strawberry Angel Food Cake
10 servings
20 minutes to prepare
Ingredients
120g Plain flour
200g Caster sugar
8 Large eggs whites
1/2tsp Cream of tartar
Pinch of salt
1tsp Vanilla extract
55g Icing sugar
480ml Double cream
140g Icing sugar
450g Strawberries
Sprig of fresh mint
Instructions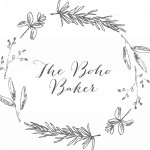 The Boho Baker describes herself as "Baker. Writer. Forager. Wanderer. Organic ingredient and edible floral Enthusiast. Member of the Guild of Food Writers." Very local to our HQ in Preston, she's kindly agreed to do a series of recipes for us, celebrating the best of our local produce. Follow her on Instagram @thebohobaker
Method:
1) Preheat the oven to 180°/160°C (fan) / gas mark 4. Line the bases of 4 20cm round sandwich tins with baking paper. Do not grease the tins or the cakes may collapse.
2) Whisk the egg whites and cream of tartar until soft, firm peaks form. Whisk in the icing sugar and vanilla extract.
3) In a separate bowl, sieve together the flour, caster sugar, and salt. Fold the dry ingredients into the egg white mixture and divide between the four tins. Bake for approximately 25 minutes before leaving to cool in their tins.
4) Take 200g of the strawberries and mash them with a fork. Whip the double cream and fold in the strawberry puree.
5) Slice the remaining strawberries. Assemble the cake by stacking the sponge, cream, and strawberries, repeating until complete. Top with the remaining cream and strawberries. Garnish with a little mint and icing sugar before serving.