The Ultimate Rainbow Cake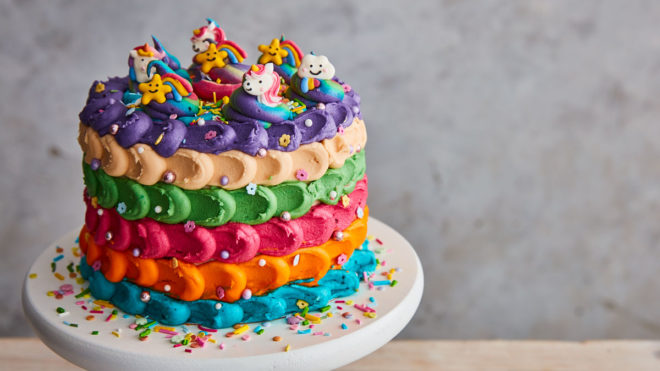 8 servings
45 minutes to prepare
Ingredients
For the Cake
225g self raising flour
225g cke margarine or butter
225g caster sugar
4 eggs
A few drops of purple, orange, pink and green food colouring
For the filling / decoration
1 tub Dr Oetker Vanilla Buttercream style icing
225g icing sugar
150g unsalted butter
2tbsp milk
1tsp vanilla extract
1 pack Cake Angels Making Magic Cake Toppers
1 tub Cake Angels Blush Sprinkles
1 tub Dr Petker Unicorn Sprinkles
A few drops of blue, orange, pink, green, yellow and purple food colouring
Instructions
Kitsch, carnival and simply fabulous – it's our version of the Ultimate Rainbow Cake! We've used our favourite sprinkles and decorations, feel free to switch these up and use yours.
Method
Preheat the oven to 160C/140C (fan)/gas mark 3. Grease and line four 15cm round sandwich tins in preparation.
Beat together the caster sugar and cake margarine until pale and fluffy. Whisk in the eggs and flour.
Divide the batter into four bowls, stirring a dash of food colouring into each. Distribute the batter evenly between the four cake tins before running a toothpick through each one to create a marbled effect. Bake in the oven for 25 minutes, or until a skewer inserted in the centre of the cake comes out clean.
When the cakes are completely cool, stir half a tub of Dr. Oetker Unicorn Sprinkles into the Buttercream Style Icing and use it to sandwich them together.
Whisk together the icing sugar, butter, milk, and vanilla extract until smooth. Split the buttercream into 6 portions and tint each one with a little food colouring.
Starting at the base of the cake, pipe a blob of frosting and smudge it to the right with a teaspoon. Repeat around the sides of the cake before moving on to the next coloured layer.
Transfer the remaining buttercreams into one piping bag. Pipe 7 swirls on top of the cake.
Decorate the top of the cake with the Cake Angels Making Magic sugar toppers and the rest of the Dr. Oetker Unicorn Sprinkles. Press some Cake Angels Blush Sprinkles into the sides of the cake and scatter the rest around the base.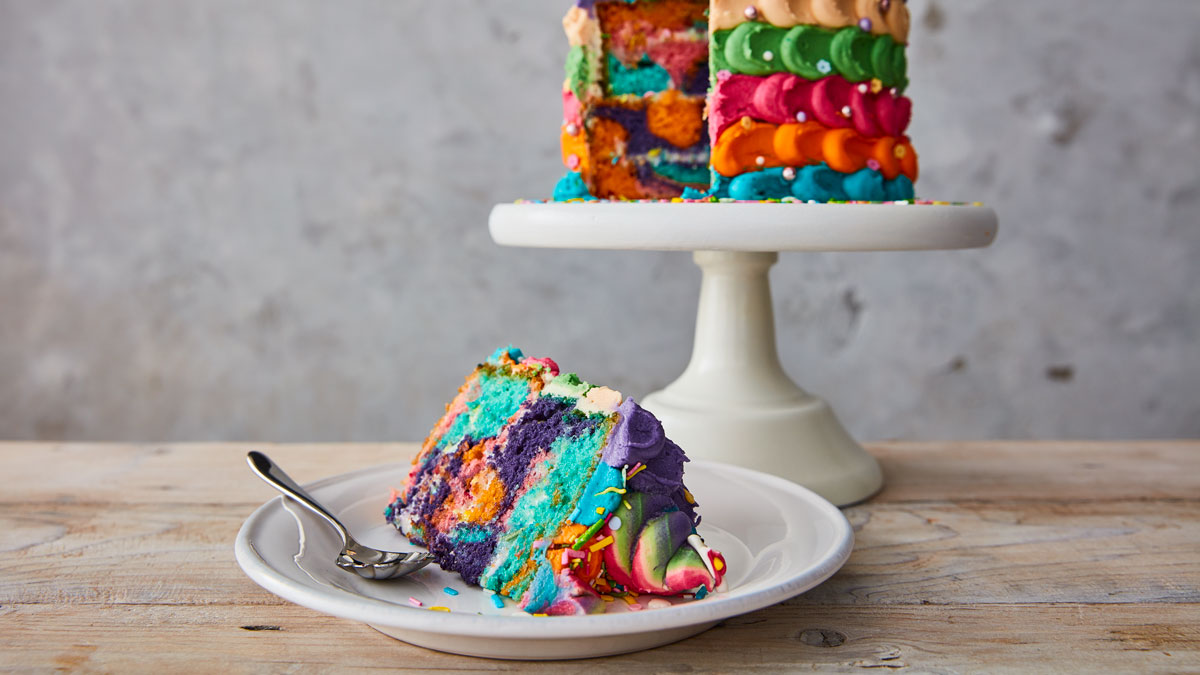 Chefs tip: To create rainbow swirls on top of the cake, lay out a sheet of cling film and pipe long stripes of each coloured buttercream on top. Carefully roll up the cling film into a sausage, twisting the ends as you go. Snip one end off and squeeze directly into a piping bag fitted with a round nozzle.