Vanilla Christmas Cookies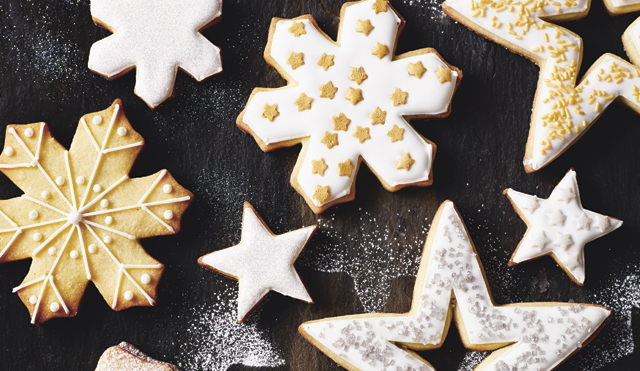 16 servings
10 minutes to prepare
Ingredients
200g unsalted butter
200g caster sugar
Pinch of salt
1 large egg, beaten
1tsp vanilla extract
400g plain flour plus extra flour for dressing
Icing sugar
Decorations of your choice
Instructions
1. Place the butter, sugar and salt into a large bowl and using an electric whisk, beat together until creamy.
2. Beat in the egg and vanilla extract until thoroughly combined.
3. Sieve the flour over the mixture and mix on a low speed until the mixture comes together to form a dough. Gather the mixture to form a ball, wrap in cling film and chill in the fridge for an hour.
4. Pre-heat the oven to 180°C / fan 160°C gas mark 4. Line two baking trays with parchment paper.
5. Put the biscuit dough on a lightly floured surface and roll out using a floured rolling pin until 5mm thick. Cut out the cookies and using a spatula transfer them onto the prepared baking tray.
6. Bake the cookies 7-12 minutes depending on size or until the edges are golden brown.
7. Carefully transfer the cookies to a rack and allow to completely cool before decorating. Simply dust with icing sugar or pipe with ready made white icing and sprinkle over Divine Deli decorations in silver and gold for added sparkle.