Vegetarian Bobotie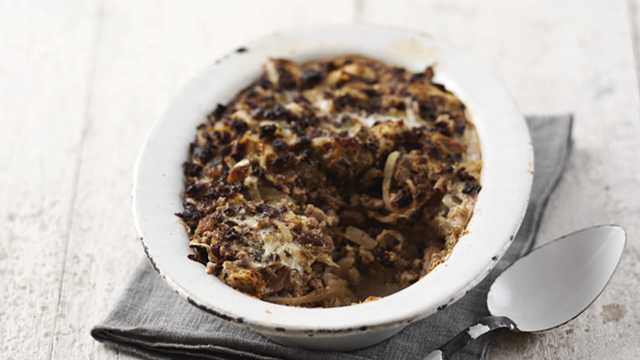 4 servings
70 minutes to prepare
Ingredients
450g Quorn mince
2 onions, finely chopped
2 garlic cloves, crushed
1tbsp olive oil
1-2tbsp medium curry powder
2tbsp sultanas
2tbsp mango chutney
300ml milk
2 slices of wholemeal bread
3 large free-range eggs
Instructions
Preheat the oven to 180°c / gas 4.
Break the bread into pieces and place into a bowl with 3tbsp of the milk and leave to soak.
In a frying pan cook the onions in the olive oil for about 5 minutes until soft but not browned. Next add the garlic, Quorn mince and curry powder then continue cooking for a few more minutes. Now add the soaked bread, mango chutney and sultanas and mix well. Transfer the mixture to an ovenproof dish, smooth over the top and leave to cool. In a bowl whisk together the eggs and remaining milk, season with salt and milled pepper. Pour the egg mixture over the top of the mince and cook for about 35 minutes until the top has browned. Serve with warm pitta bread, couscous or seasonal vegetables.
This recipe works brilliantly with beef, lamb or even pork mince. Traditionally it was made using left over Sunday lunch meats, finely chopped.