Penrith
Booths Penrith is in the heart of the Lake District, selling local produce.
On taste throughout our stores this weekend (14th & 15th November) we have:
In Grocery we have Booths Christmas Cake Bites & Pear & Chocolate Panettone.
From our Hot Counters we have a traditional Butter Pie locally produced in Accrington & our Booths Cumberland Sausage Swirl one of our original favourites from our Booths Sausage Celebration.
From the Deli Counter why not try our Booths Ricotta Spinach & Mozzarella Quiche; fresh large leaf spinach & creamy white ricotta baked in a rich pastry case with Truefoods custard, topped with grated Mozzarella & Maldon Sea salt.
Have you ever tried Cornish Yarg?  This speciality cheese was originally made by the Gray family (Yarg backwards) in Cornwall.  Nettles are harvested each spring & then frozen until needed to wrap the cheese.  The texture of Cornish Yarg is soft & creamy near the rind yet lighter & more crumbly in the centre.
In Grocery why not try our Booths Belgian chocolate Sponge Pudding, Booths Salted Caramel Sponge Pudding or Booths Extra Fruity Christmas Pudding – all of our puddings are moist and full of flavour.  With Christmas approaching we are offering our Own Label Brandy, Port & Walnut Christmas Pudding perfectly partnered with our Booths Christmas Coffee or Booths Winter Tea.  Shortbread is always a favourite and we are sampling Booths Shortbread Assortment; pale golden brown shortbread, rich buttery aroma & flavour.  A melt in the mouth treat with a light & crumbly texture.
Within Licensed why not try Puy de Dome Pinot Noir or Hidalgo Pastrana Pasada Manzanilla.
Founded in 1950, this co-operative is in the Cotes d'Auvergne appellation in central France, to the north of Languedoc-Roussillon and west of the Rhône. It is named after Saint-Verny, a popular figure in Auvergne who was canonised in the 15th century, and is the patron saint of winemakers.
From the fine Pastrana vineyard in the Miraflores region, which has long produced the finest wines in the Hidalgo cellars, this is the best Manzanilla Pasada we have tasted. Concentrated by maturation in barrels, this lightly nutty Manzanilla has the strength of character to stand up to red fleshed tuna, or a shellfish stew.
With all of these delights on offer why not pop in this Saturday or Sunday and give them a try.
In Store Facilities
Bakery
Booths Café
Butcher
Cash Point
Cheesemonger
Delicatessen
Fishmonger
Free Parking
Freshly Prepared Sandwiches
Hot Food
Juice Bar
Lottery
Olive Bar
Speciality Oils & Vinegars
Blog & Latest News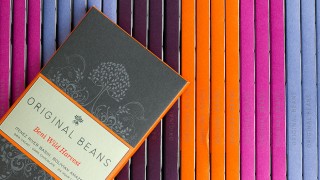 Written on April 29th, 2014
---
Many agree that good chocolate makes a bad day better. It's been said that Original Beans chocolate makes the world better. New in store, these four very special bars are made from some … Read More