Food Bank Donation Points at Booths


All year round you can find food bank donation points in Booths stores.
In a scheme pioneered by our very own Colin Porter, we're partnered with an assortment of local charities from donation hubs, who distribute donations to where they're needed, to kitchens who can make use of our surplus food. A selection of our partners even work from within the stores themselves, in space reserved for them in our warehouses. Colin says:
Supporting anybody who is in need is core to the Booths values and we want to help more people and families who are going through challenging times. Homelessness, financial issues or just circumstances that have fallen upon you can make the basics in life a challenge and I am personally delighted and proud to say; we are going to help make a difference to local people and families throughout the coming year.
Once again this Christmas we've partnered with Smooth Radio to amplify our food bank appeal and help to make someone's Christmas by boosting festive donations. Look out for our 'Christmas In Your Community' appeal with Smooth Radio in store and online.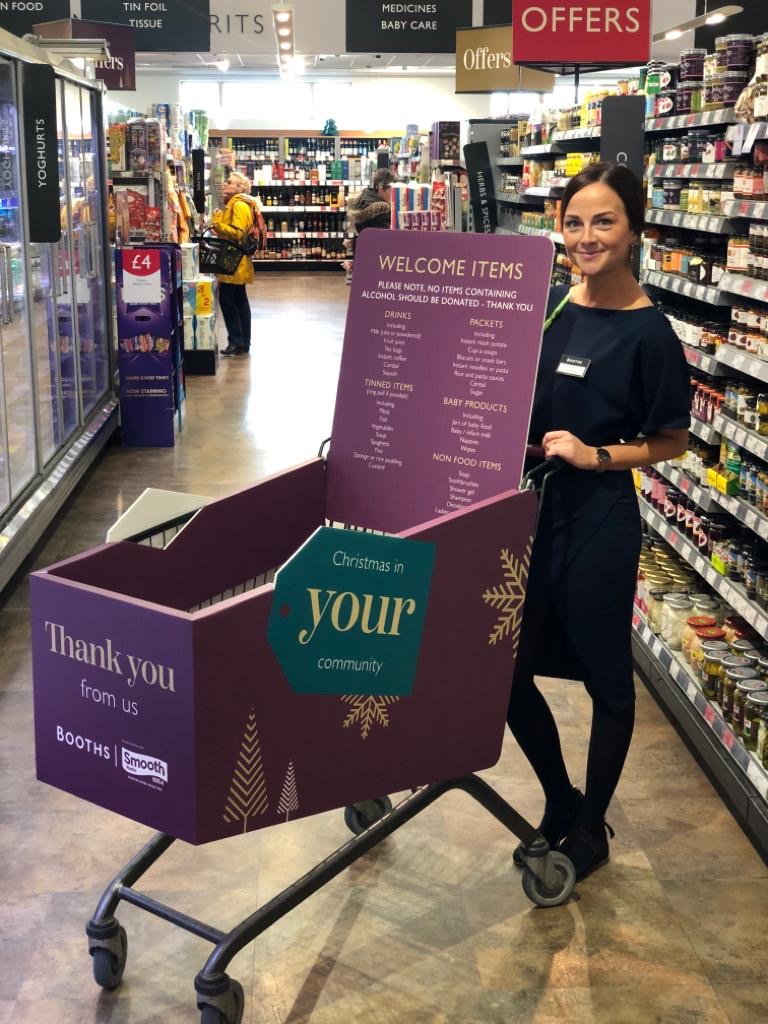 List of stores and their food bank partners:
Barrowford – Grassroots
Burscough – Grove Community Association
Carnforth – Lancaster and District Homeless Action Service (LDHAS)
Garstang – LDHAS
Kirkby – LDHAS
Milnthorpe – LDHAS
Scotforth – LDHAS
Hale Barns – Bread & Butter
St Annes – Blackpool Food Bank
Poulton – Blackpool Food Bank
Longridge – Ribble Valley
Clitheroe – Ribble Valley
Lytham – Fylde Foodbank
Ulverston – Ulverston Foodbank
Media City – Cornerstone /Bread & Butter / Food Cycle
Kendal – Kings Food Bank
Settle – Skipton Food Bank
Knutsford – Mid Cheshire Food Bank
Ilkley – CTI Ilkley
Penwortham – CTI Penwortham
Fulwood – Fairshare Preston
Hesketh – Fairshare Preston
Longton – Fairshare Preston
Chorley – Help the Homeless
Penrith – Salvation Army
Windermere – Windermere Food Bank
Ripon – Salvation Army
Keswick – North Lakes Foodbank
Suggested list of staple items to donate:
Please note, no items containing alcohol should be donated
Tins (ring pulls where possible please)
Carrots
Peas
Sweetcorn
Potatoes
Tomatoes
Spaghetti
Ravioli
Spam
Corned Beef
Stewed Steak
Ham
Tuna
Minced Beef
Hot Dog Sausages
Soup
Sardines
Mackerel
Pies
Fruit
Sponge Pudding
Custard
Rice Pudding
Packets
Cup-a-Soups
Cous Cous
Biscuits
Crackers
Instant Noodles
Instant Pasta
Cereal Bars
Pasta Mug Shots
Cereal
Rice
Sugar
Baby Products
Jars of Baby Food
Baby / Infant Milk
Nappies
Wipes
Drinks
Cartons of Juice (long life)
Tea
Coffee
UHT Milk
Cordial / Squash
Non Food Items
Soap
Shampoo
Toothpaste
Tooth Brushes
Deodorant
Ladies Sanitary Items