Foodbank Donation Points at Booths

All year round you can find foodbank donation points in Booths stores.
A scheme pioneered by our very own Colin Porter, we're partnered with an assortment of local charities from donation hubs, who distribute donations to where they're needed, to kitchens who can make use of our surplus food. A selection of our partners even work from within the stores themselves, in space reserved for them in our warehouses. Colin says:
Supporting anybody who is in need is core to the Booths values and we want to help more people and families who are going through challenging times. Homelessness, financial issues or just circumstances that have fallen upon you can make the basics in life a challenge and I am personally delighted and proud to say; we are going to help make a difference to local people and families throughout the coming year.
List of stores and their Foodbank partners:
Barrowford – Grassroots
Burscough – Grove Community Association
Carnforth – Lancaster and District Homeless Action Service (LDHAS)
Garstang – LDHAS
Kirkby – LDHAS
Milnthorpe – LDHAS
Scotforth – LDHAS
Hale Barns – Bread & Butter
St Annes – Blackpool Food Partnership
PoultonBlackpool Food Partnership
Longridge – Ribble Valley
Clitheroe – Ribble Valley
Lytham – Fylde Foodbank
Ulverston – Ulverston Foodbank
Media City – Cornerstone /Bread & Butter / Food Cycle
Kendal – Kings foodbank
Settle – Skipton Foodbank
Knutsford – Mid Cheshire Foodbank
Ilkley – CTI Ilkley
Penwortham – CTI Penwortham
Fulwood – Fairshare Preston
Hesketh – Fairshare Preston
Longton – Fairshare Preston
Chorley – Help the Homeless
Penrith – Salvation Army
Windermere – Windermere foodbank
Ripon – Salvation Army
Keswick – Ulverston Foodbank
We are partnering with Smooth Radio North West this Christmas on a mission to drive foodbank donations in Booths stores.
Partnering with Smooth Radio North West means we have the opportunity to reach a wider audience and as such help more people, we want to make a real difference to local people and families this Christmas as well as throughout the coming year.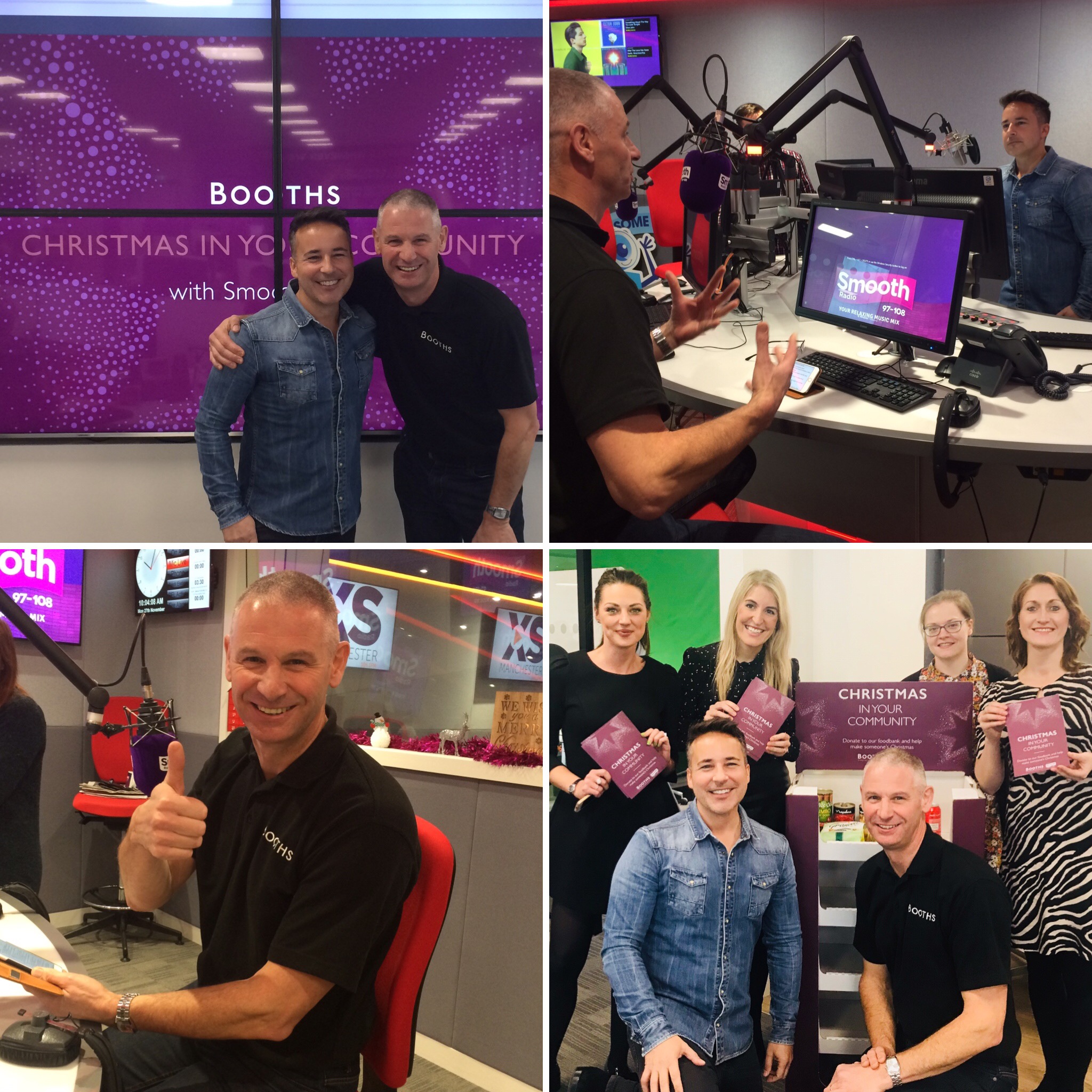 Top Left: Darren and Colin. Top Right: Darren and Colin. Bottom left: Colin. Bottom Right: Smooth Team and Booths Team with Smooth HQ's Donation Point.
Our Colin visited presenter Darren Parks to chat about the scheme. Find out more from Smooth by clicking here, they're also offering an opportunity to win a Booth Christmas hamper. Of our partnership, Colin said,
This year's Christmas appeal 'Christmas in Your Community' is just fantastic and allows us as a brand to really connect with our customers and local community centres through what we do best, FOOD. The Smooth radio appeal allows us to reach a greater audience and as such help more people.
Suggested list of staple items to donate:
Please note, no items containing alcohol should be donated
Alcohol free Christmas cake
Chocolate
Tins of biscuits
Crackers for cheese
Sweets and snacks
Alcohol free Mince pies
Tinned Items (ring pull if possible):
Alcohol free Tinned pate
Soups
Beans
Spaghetti
Tinned fish
Tinned meats
Pies
Potatoes
Tomatoes
Carrots
Peas
Sweetcorn
Tinned fruit
Rice Pudding
Custard
Pasta Sauce jars
Cereals
Cup-a-Soup
Instant Noodles
Pot Noodle
Biscuits
Crackers
Cereal bars
Instant Mash
Cartons of Juice
Tea
Coffee
Long-Life Milk
Bottled Water
Tooth Paste
Tooth Brushes
Shower Gel
Shampoo
Deodorant
Toilet Rolls
Feminine hygiene products
Nappies & wipes