10 Acre Crisps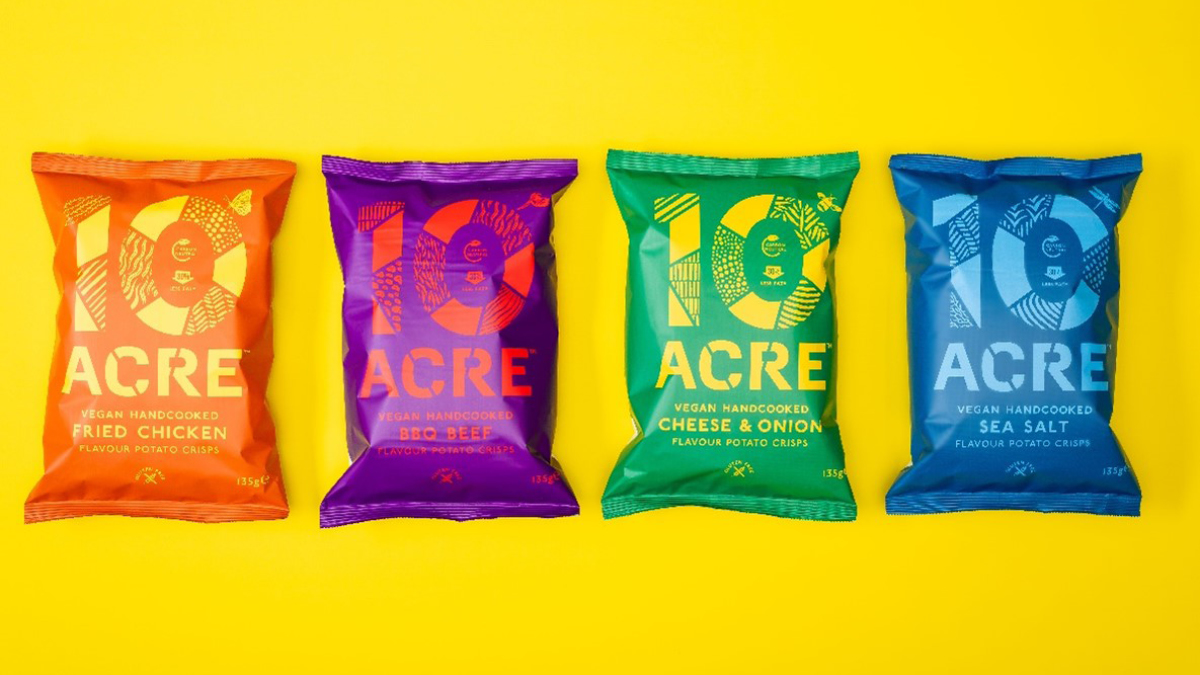 10 Acre are an independent snack company who create delicious vegan, gluten-free and carbon neutral hand-cooked crisps.
On their search for the tastiest, high quality potatoes they made the decision to grow and cook them on their own farm so each crisp has gone straight from the farm to the packet!
Although their savoury snacks are 30% lower in fat than traditional fried potato crisps, the taste is not compromised which makes for a delicious treat. While the entire range is vegan they have a variety of flavours including BBQ Beef and Fried Chicken so everyone can enjoy their delectable crisps. Their crisps are a healthier alternative to the other potato crisps wrapped in vibrant packaging and delightful flavours.
The team at 10 Acre have full oversight of their supply chain from potatoes to pack and use this advantage to understand their carbon footprint and act decisively in ways to reduce it.
During their relaunch this year the aim was to reduce their carbon footprint in the coming years through land management, kicking off in winter last year when they planted 2600 trees. They intend to plant six more acres in the next few years!
Their minimally-disruptive farming techniques and winter cropping schemes help to remove carbon from the potato production process. Alongside potato crops they grow maize and rye crops which create bio-energy, using what's left over from the process as fertilizer and planting cover crops after harvest to capture carbon and nourish the ground. On top of that, over 5% of the farm is dedicated wild bird habitat!
Their farm is LEAF marque certified which means they take extra care of their soil and the habitats around the farm. Their sustainable commitments are displayed on each individual pack of crisps with a beautifully illustrated animal and a fact about their farm.
10 Acre's co-owner Robert says, "We're only really caretakers of the land until the next generation, and I'd like to leave it better than we found it."
We're delighted to have their tasty crisps on our shelves and wish them all the success!
Available in selected stores:
10 Acre BBQ Beef Crisps, 135g
10 Acre Cheese & Onion Crisps, 135g
10 Acre Fried Chicken Crisps, 135g
10 Acre Sea Salted Crisps, 135g