Chapel Down Wines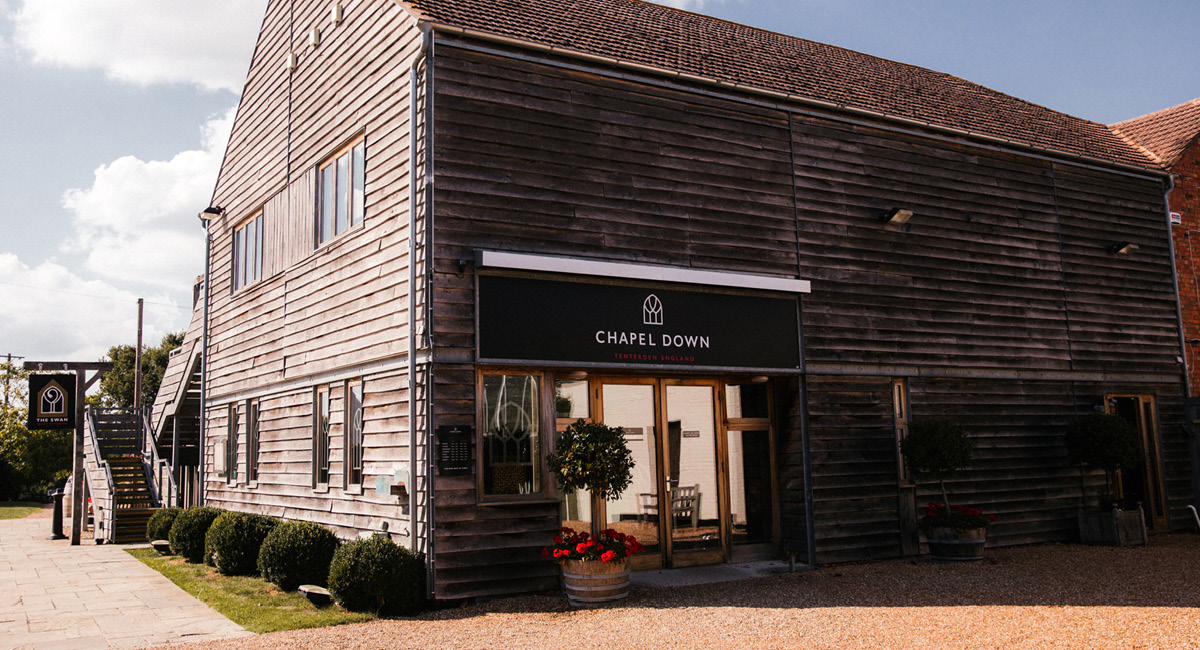 Established in 2001, Chapel Down Winery is set amongst twenty-two acres of vineyards in the beautiful Kent countryside, the first of which were planted in 1977. They've since grown to be the leading wine producer in England, making an award-winning, world-class range of English sparkling and still wines.
This picturesque area provides the finest overall conditions for grape growing in England, with the iconic chalk soil and climatic conditions being ideal for Chapel Down's principal grape varieties of Pinot Noir, Chardonnay, Pinot Blanc and Bacchus to thrive. Grapes are sourced from both their own vineyards and professional growers in Kent, Sussex and Essex, which have the perfect terroir for cool climate wines.
"By combining new viticultural techniques with the years of knowledge from our established vineyards, we are able to use the best of traditional and innovative practices to produce grapes of the highest standard. It is the evolving and dynamic approach to our grape growing that helps us to keep ahead of the game in a rapidly expanding industry in England."

Richard Lewis, Chapel Down Viticulturist
---
Grape Varieties:
Chardonnay: Grown largely for sparkling wines, plantings are increasing. Their main Chardonnay vineyard is Kit's Coty on the North Downs of Kent which produces fruit with excellent acidity and minerality and generous texture.
Pinot Noir: The classic grape variety of Champagne and Burgundy, Pinot Noir is also increasingly important for English sparkling wines. The variety thrives in cool climates and produces delicate thin-skinned grapes with low tannins and an abundance of red fruit.
Bacchus: England's answer to Sauvignon Blanc. The style can vary from punchy tropical fruit to more restrained citrus and gooseberry. Chapel Down Bacchus is often called England's Cloudy Bay.
Chapel Down's philosophy is that great wine is all about balance. They strive to push the boundaries of English wine production through innovative ways of thinking, whether that be through blending new and traditional winemaking techniques or creating different styles of wine including England's first Orange Bacchus and England's first single varietal Albariño.
Their sparkling wines are produced using the intricate Traditional Method, the same method as Champagne, where the bubbles occur naturally within the bottle. Their still wines are typified by aromatic delicacy and vibrancy of fruit from crisp, clean white wines to delicate rosés and elegant light red wines. They are continually experimenting with new varieties and winemaking styles, with the aim of surprising and delighting their customers.
"I feel very fortunate to be a winemaker in England. The industry here is still in its infancy compared to other more established regions and so with every vintage we discover more about our terroir. As a winemaker, it is fundamental to understand the vineyards and the chemistry of the fruit and wines. This allows us to maximise the potential of our vineyards and the quality of our wines.
Freshness and vibrancy are key features which I look for in wines and English fruit really delivers on this, whether it be unique aromatic white wines, classic fizz, or a twist on a rich Chablis-esque Chardonnay. Balance is at the heart of every good wine and my aim, in the vineyard and the winery, is to strive for perfect balance."

Josh Donaghay-Spire, Head Winemaker
Josh has a degree in Viticulture and Oenology from Plumpton College and gained his experience in Alsace, Champagne and South Africa.
---
Chapel Down Wines available at Booths