Condiments Range Review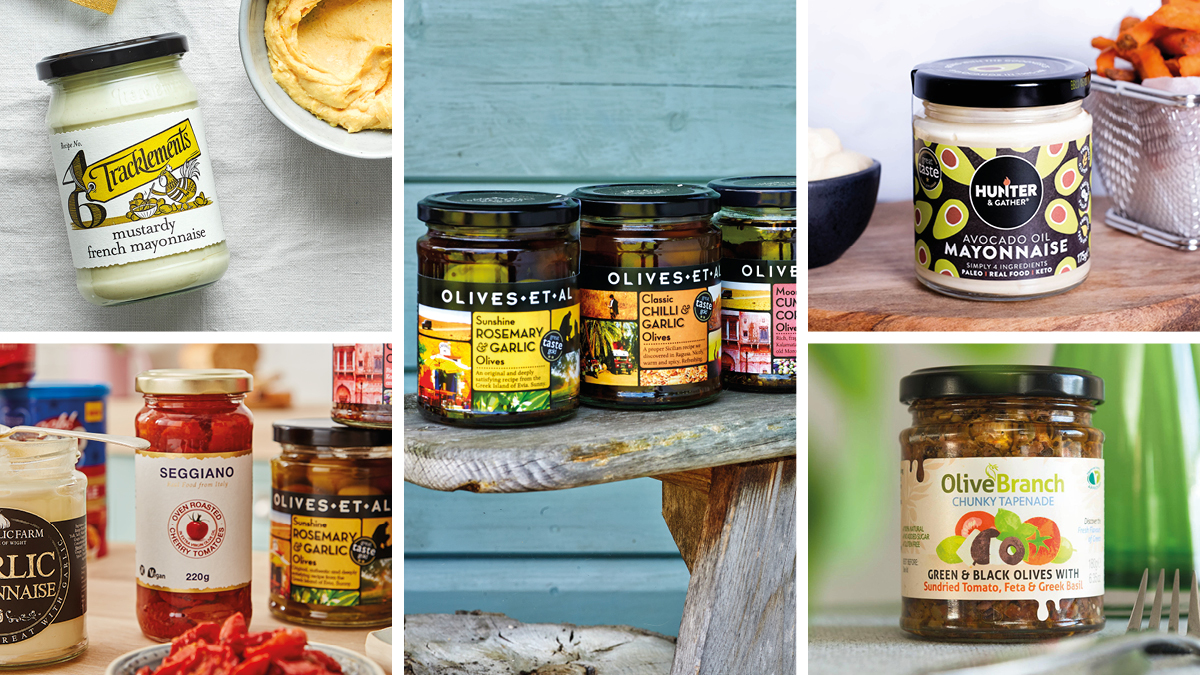 Our International Food and Condiments buyer Haris Deane has been working hard to refresh our current condiments range. We've added over 120 new products for our customers to enjoy the broadest range of quality award-winning products sourced from our supplier's specialist part of the world. From the juiciest Italian tomatoes, the finest Mediterranean olives, quality English mustard or America's hottest chilli sauces, we've searched high and low to bring you the very best.
Haris says:
I'm so pleased to say that Booths customers will be among the first to try some of our new products from brands such as Olives Et Al, Hunter & Gather and Belazu. As well as offering more variety, the range also includes some healthier options including organic, vegan, sugar free and reduced salt and sugar lines so there is definitely something for everyone.
Olives Et Al

Back in 1992, newlyweds Giles and Annie Henschel embarked on a year-long expedition across the Mediterranean, Middle East and North Africa. Travelling on motorbikes, Giles and Annie couldn't gather many souvenirs, but did gather delicious and traditional recipes, hoping to recreate the flavours of their adventure. Upon their return to England, they found themselves disappointed with the lack of good quality ingredients, in particular olives, prepared in the same way they had enjoyed on their travels.
Olives Et Al was born a mere few months later, starting with marinated olives using authentic methods inspired by the recipes from their adventure. Over time, the range has grown to include oils, speciality olives, sauces and so much more, while still maintaining the original and authentic tastes the couple fell in love with.
Serving Tip:
The olives from Olives Et Al are stored in olive oil, which once you've finished your olives, can be used for cooking or even as a salad dressing and will be infused with the flavour from the olives.
Available in store:
Olives Et Al Rosemary Olives (490g) £4
Olives Et Al Cumin Olives (490g) £4
Olives Et Al Fiery Jalapeño Olives (250g) £4
---
Tracklements

For 50 years Tracklements have been creating handmade, award-winning condiments that are made in an environment-friendly way. They started with the UK's first wholegrain mustard to jazz up some sausages and the range has now expanded to include delicious savoury jams, jellies and marmalades to bring flavour to every dish.
The Tracklements ethos consists of creating sensationally tasty condiments in a planet friendly way by using 100% green electricity and 10,000sq feet solar panels covering the roof of their Wiltshire based factory. Their ingredients are also sourced from within the UK where possible to keep their carbon footprint low, including onions from Lincolnshire, apples from Kent and horseradish from East Anglia.
As well as a saucy addition to a sandwich or a roast dinner, the Tracklements range can also be used to boost the flavour of your favourite meals such as bangers and mash, spaghetti Bolognese or even coated with your favourite meats.
Cooking Tips:
Sweet Mustard Ketchup – for a tangy taste, add this to Mac & Cheese or mix with mayo to create a zingy salad dressing.
Hot Chilli Sauce – use as a marinade for meat dishes, or to warm up your hearty spag bol or chilli con carne.
Spiced Honey Mustard – spread on thick-cut ham sandwiches, as a dip for your sausages or mix with olive oil for a delicious glaze on your favourite roast vegetables.
Mustardy French Mayonnaise – a deliciously rich and creamy mayonnaise that's perfect for homemade coleslaw, or just dunking your chips!
New to the range:
Tracklements French Mustard Mayonnaise (245g) £3.40
Tracklements Sweet Mustard Ketchup (230ml) £3
Tracklements Tewkesbury Hot Mustard (140g) £1.90
Tracklements Spiced Honey Mustard (140g) £1.90
Tracklements Hot Wholegrain Mustard (140g) £1.90
Tracklements Onion Marmalade (345g) £3.70
Tracklements Hot Chilli Sauce (230ml) £3.80
---
Belazu
Belazu's life began in 1991 by two school friends Adam and George, who noticed there was a lack of fresh authentic Mediterranean ingredients. Starting with fresh olives from Provence, the range evolved to include oils, vinegar, pastes and antipasti. As the range grew, so did the customer interest and Belazu began to stock their products in supermarkets and other retailers.
Belazu believe that everyone, regardless of cooking ability, should be able to cook flavoursome food every night of the week. Offering convenience without compromise, authentic ingredients with natural flavours straight from the Mediterranean, the products are made in small batches to ensure a perfect flavour every time.
Earlier this year, Belazu branched out to create a range of ketchups including Original, Smoked Chilli and Rose Harissa, after the popularity of their new pesto range. The high tomato content of the ketchups means less sugar is added to allow the full flavour to flow through.
Cooking Tip:
Try adding a teaspoon here or there, the range of pastes and pestos are so versatile they can be used in any number of dishes!
New to the Belazu range:
Belazu Tomato Ketchup (315g) £2.80
Belazu Smoked Chilli Ketchup (310g) £3.20
Belazu Rose Harissa Ketchup (305g) £3.20
Belazu Balsamic Semi Dried Tomatoes (330g) £4.50
---
Hunter & Gather

Founded in 2017 by Amy and Jeff, Hunter & Gather is a health and wellness brand, on a mission to provide real food products that are always free from sugars, grain, seed or vegetable oils.
All of the products from the Hunter & Gather kitchen are made with health in mind, using the highest quality ingredients with no unnecessary fillers or chemicals. Their Avocado Oil Mayonnaise is made with only 4 real ingredients: avocado oil, British free-range egg yolk, apple cider vinegar and pink Himalayan salt. That's it. The Hunter & Gather range are suitable for a variety of lifestyles and diets such as Paleo, Keto, sugar-free, low-carb, dairy-free and gluten-free. Their Mayocado is also plant-based making it suitable for vegans.
Cooking Tips:
The cold-pressed Extra Virgin Avocado Oil is a buttery emerald green oil suitable for drizzling, sizzling, dipping and high heat cooking.
The mayonnaise range is perfect for dolloping on the side of your plate, or try stirring it through a risotto for a punch of creamy flavour without the dairy.
New to the Booths condiments range:
Hunter & Gather Chipotle & Lime Mayonnaise (175g) £4.90
Hunter & Gather Avocado Mayonnaise (175g) £4.90
Hunter & Gather Avocado & Garlic Mayo (175g) £4.90
Hunter & Gather Mayocado Mayo (175g) £4.90
Hunter & Gather Smokey BBQ Sauce (250ml) £3.80
Hunter & Gather Tomato Ketchup (250ml) £3.80
Hunter & Gather Chipotle Ketchup (250ml) £3.80
---
Olive Branch

If you're a fan of olives, you'll love the brand new range of Tapenades from Olive Branch. The brand have pioneered a unique course cut recipe, allowing you to taste the flavour of each ingredient.
Olive Branch was founded by Greek native Maria Koinaki who wanted to bring the food and flavours from her home country to the UK. The result was a tasty range of olive tapenades, made in small batches with traditional ingredients sourced straight from farmers across Greece.
Cooking Tips:
As well as a delicious spread for bread, these tapenades are just as tasty in a stuffed mushroom, a pasta dish or alongside your favourite meat and fish.
Now available in store:
Olive Branch Tapenade Tomato & Feta (180g) £3.45
Olive Branch Tapenade Goats' Cheese (180g) £3.45
Olive Branch Tapenade and Chilli (180g) £3.45
Olive Branch Tapenade Kalamata (180g) £3.45
---
Seggiano

The seeds of the Seggiano story started on the slopes of Monte Amiata in southern Tuscany when founders Peri Eagleton and David Harrison started farming olivastra seggianese olives in the early 1980s. Their first bottle of extra virgin olive oil was sold is 1994 and thus began their quest for traditional artisan foods, sourced from producers with the same passion for delicious and natural tastes.
Seggiano pride themselves on the provenance of their products. Made without preservatives, everything is freshly prepared in small batches using the freshest, seasonal ingredients.
Serving Tip:
The Oven Roasted Cherry Tomatoes are delicious straight out of the jar, on a piece of crusty bread or dipped in chocolate (yes really!)
New to the range:
Seggiano Cherry Roasted Tomatoes (220g) £6.50
---
The Garlic Farm

Based in the Isle of Wight, The Garlic Farm is run by the third generation garlic farmers after Granny Norah planted a small crop of garlic in the farmhouse kitchen. The garlic thrived due to the high sunlight hours on the Island (higher than anywhere else in the UK) and the decision was made to specialise in garlic.
The mission of The Garlic Farm is to celebrate the mighty bulb and bring joy through the delicious flavour it brings. All of the condiments, sauces and mayonnaises use the garlic to do what it does best and showcase the other flavours.
Cooking Tip:
Use garlic at both the start and end of cooking! When introduced at the start, it mellows and almost sweetens the dish and when added at the end it delivers a beautiful aromatic lift.
Available now:
The Garlic Farm Toasted Mayonnaise (245g) £3
The Garlic Farm Garlic Mayo with Lemon (240g) £3.50
The Garlic Farm Garlic Chilli Mayo (250g) £3.50
The Garlic Farm Garlic Mayonnaise (240g) £3.50
The Garlic Farm BBQ Sauce & Garlic (280g) £3.95
The Garlic Farm Tomato Ketchup & Garlic (270g) £3.50
The Garlic Farm Creamy Horseradish (120g) £4.15
The Garlic Farm Horseradish Mustard (345g) £4.15
The Garlic Farm Garlic Jam & Red Chilli (240g) £3.95
The Garlic Farm Pear & Date Chutney (300g) £4
The Garlic Farm Peach & Mango Chutney (300g) £4.25
The Garlic Farm Vampire's Revenge (285g) £4.25
The Garlic Farm A Wight Little Pickle (285g) £4.25
The Garlic Farm Hot Garlic Pickle (285g) £4.25
---
All prices are correct at the time of writing. Some products are only available at certain stores, please check before you travel.

You can also get a 5% reward on the above with Your Booths Card. Keep an eye out for the gold piggy bank symbol in store!