Local Breweries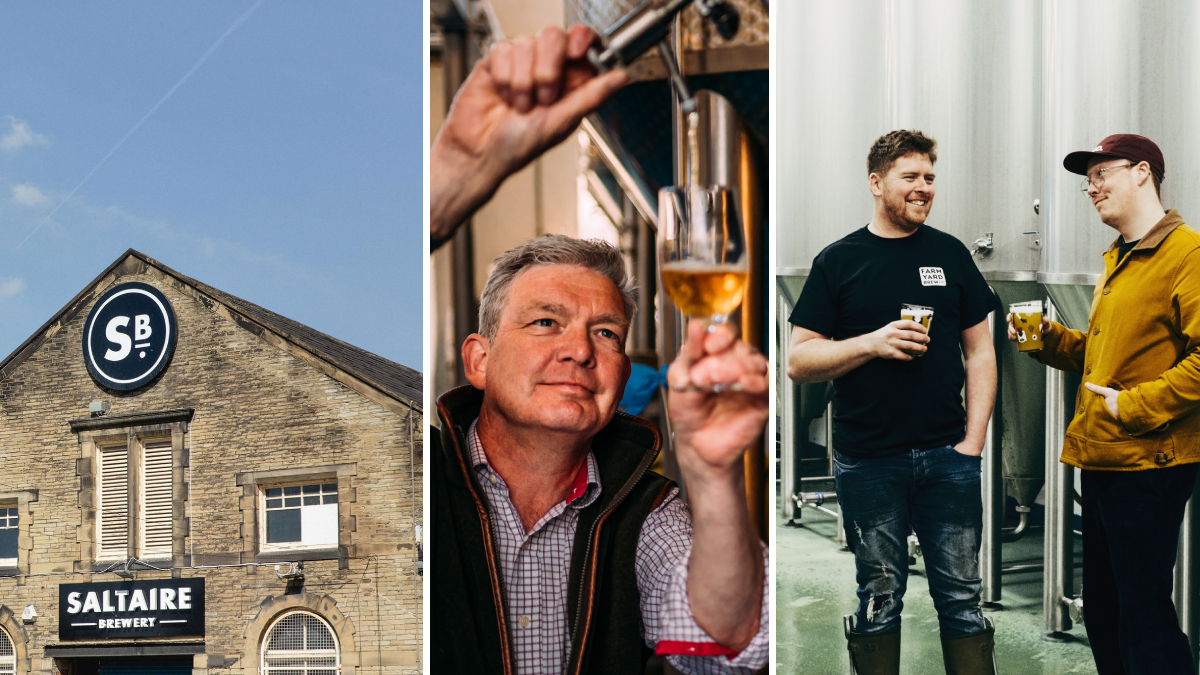 Here at Booths, we pride ourselves on bringing you the very best food and drink from our wide range of suppliers, and sometimes those suppliers are right on our doorstep! Next time you're browsing for your favourite beer or ale, why not pick up one of our locally brewed options?
Farm Yard Brew Co
Back in 2016, Steven Holmes began thinking of a way to make Moss Edge Farm more sustainable, having been in the family for 6 generations, he knew that it was going to be a big change! Having recently picked up a hobby of homebrewing, Steven turned his new found passion into a business and soon had a brew house with 40,000L of capacity, that's a lot of hops!
Ever since, Farm Yard Brew Co have gone from strength to strength and are now proud owners of a number of awards including: Great Taste Award (3 stars) for Gulf, World's Best Session IPA at the World Beer Awards for Chaff and their very own taproom in Cockerham, Lancashire being awarded UK's Best Craft Taproom from SIBA.
Continuing with their sustainability goals, in 2022 the Brewery invested in solar power which now accounts for 50% of their annual energy usage.
You'll find the following in Booths stores:
Löf Craft German Pilsner, 440ml
Hoof Coffee Milk Stout, 440ml
Chaff Session IPA, 440ml
Gulf India Pale Ale, 440ml
Sheaf Pale Ale, 440ml
Splish Splash Session IPA, 440ml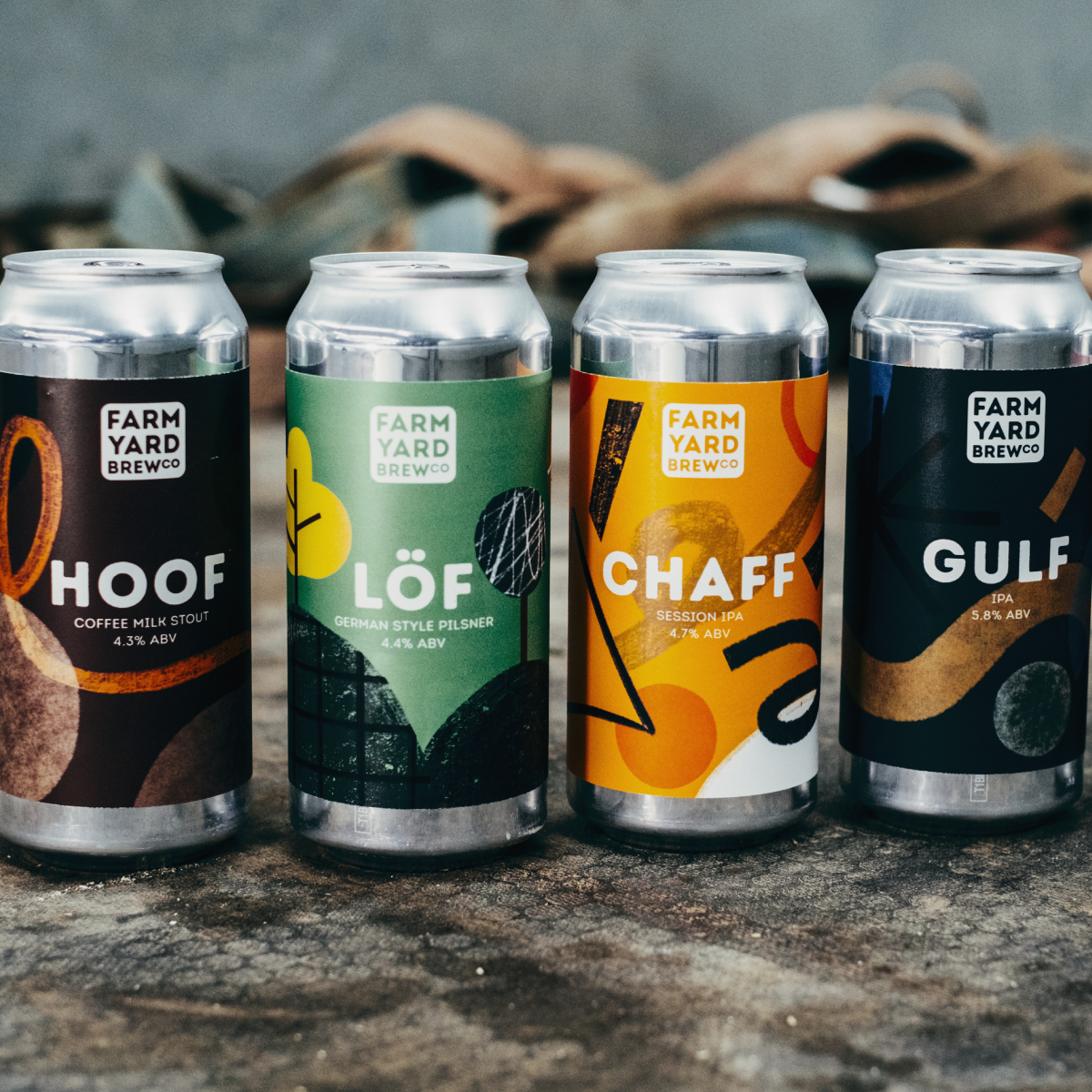 ---
Bowland Brewery
brewing and creating their quality beer range inspired by the beautiful landscapes of the nearby areas. As the reputation grew, demand quickly followed and in 2015 they made the move to Holmes Mill in Clitheroe, a former Cotton Mill that has been restored and is now a popular leisure destination.
The brewery is visible through large floor to ceiling glass windows at the back of Bowland Beer Hall, their award-winning tap house. Their dedicated team of artisan brewers craft a collection of cask beers inspired by the wildlife and beautiful landscape of the Forest of Bowland Area of Outstanding Natural Beauty.
Starting as a seasonal ale back in 2018, Bumble Honey Beer contains local sourced honey to add an edge of sweetness to the flavour of light hops. The Beer was swiftly promoted to the core range after overwhelming feedback and in 2022 Bowland purchased their own hive of bees at Little Middop Farm, Rimmington.
As well as supporting local habitats and wildlife, Bowland Brewery are also key pioneers in their local community by supporting Whalley Bell Ringers to raise funds for new bells in the church and Ribble Valley Jazz & Blues Festival, a local event which is championed by the local hospitality industry.
If you visit the Brewery, you may notice that the pump clips for the core range are all original commissioned artwork created by well-known wildlife artists based on the surrounding landscaped and local natural habitats.
Available in store:
Pheasant Plucker 4.5% – CAMRA Gold Medal award-winning copper coloured bitter with rounded berry flavours
Hen Harrier 4.5% – Top flight ale! Soft citrus and peach flavours intertwined in this golden ale.
Boxer Blonde 4.0% – A straw-coloured ale that packs a gooseberry punch.
Buster IPA 4.5% – A well-balanced IPA ale with tropical undertones.
Deer Stalker 4.5% – A rich stout full of dark fruit flavours, balanced with a chocolatey finish from roasted malts.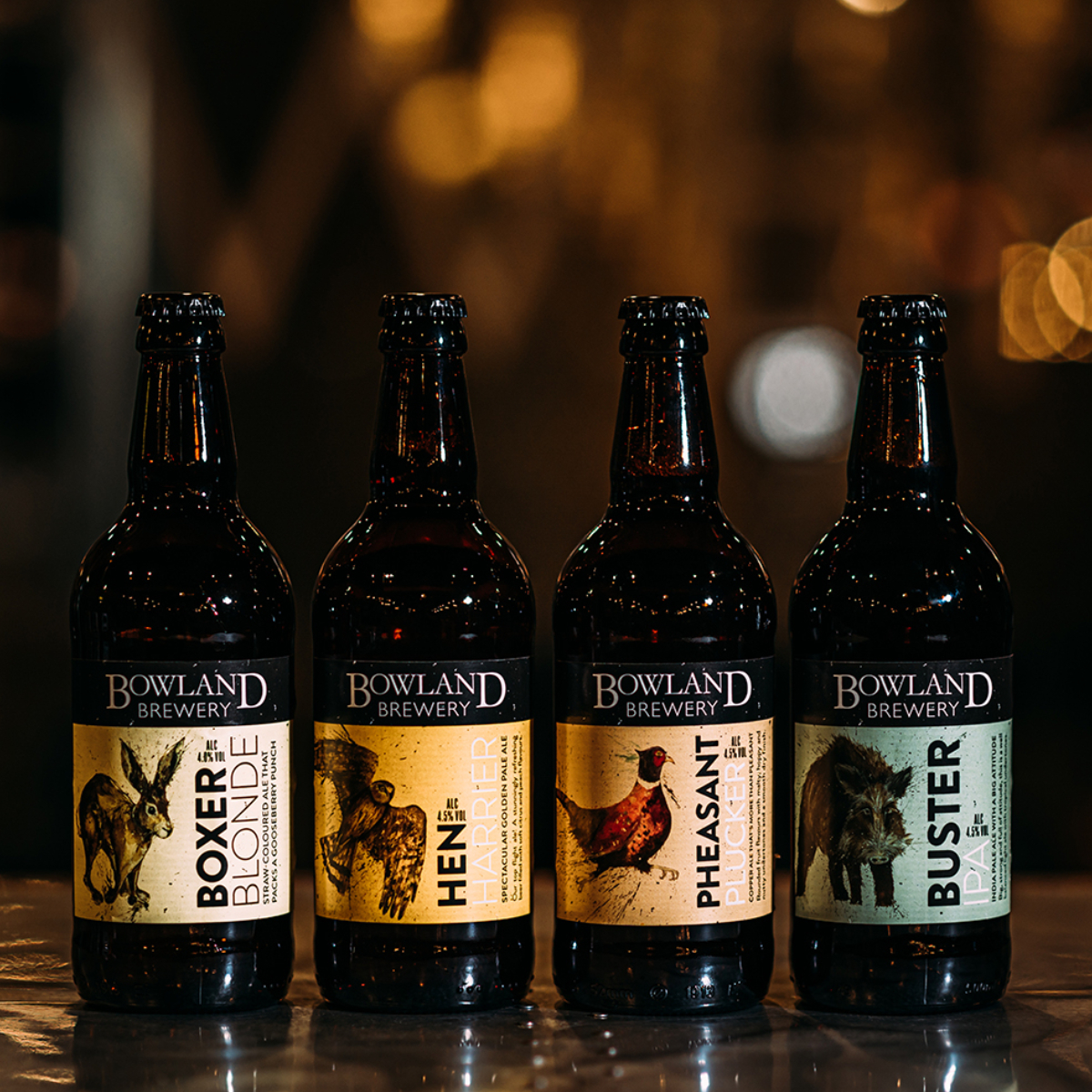 ---
Saltaire Brewery
Since 2006, Saltaire Brewery have been making internationally award-winning beer from their base in Shipley, West Yorkshire. Tony Gartland set p the brewery after discovering the beginning of 'craft beer' over in the USA and predicted the growth and popularity across the Atlantic, prompting the start of Saltaire  Brewery and growing to become what we know it as today.
Cask and bottled ale remain at the core of the Brewery and have now been joined by a range of cans of modern craft beer and bottled authentic continental lager. Well know for their flagship 'Blonde', the Brewery has a range of well loved beers including their multi-award winning speciality stout, 'Triple Choc' which won 'World's Best' at the World Beer Awards in 2021, and their vibrant American Pale, Cascade. The production team is lead by Ben Pearson, a talented brewer hailing from Rooster Brewing Co. before moving over to Saltaire back in 2018 and working his way through the ranks to continue creating honest beer with real character.
Central to their belief, Saltaire Brewery focus on making the highest quality beer, using traditional methods with a modern twist.
Available at Booths:
Blonde 4% – The signature pale ale balances soft malt flavours with subtle spice from Bohemian Saaz hops. The perfect match for classic British fish and chips. Just add a lovely sunny day at the seaside – what could be more perfect?
Cascade Pale Ale 4.8% – Featuring the iconic Cascade hop, this beer brings together punchy citrus flavour and distinctive bitterness. This vibrant American Pale has a bitterness that's just right for enhancing the flavour and saltiness of a good, juicy, burger! Now where's the BBQ?
Citra 4.2% – Fresh and zesty, the celebrated Citra hop speaks for itself in this refreshing, fruity beer.
No5 4.2% – This classic stout's creamy smoothness and roasted malt flavours will leave you wanting more. Savour this with some strong, sharp cheese and biscuits.
South Island Pale 3.5% – Punching above its weight in flavour, this is a clean, crisp beer with subtle fruitiness from Nelson Sauvin hops. Perfect with a poached chicken salad with lush, fresh greens from the garden.
Triple Choc 4.8% – Internationally acclaimed, this moreish dark beer complements English Fuggle hops with rich chocolate decadence. Have a play with the chocolate and chilli combination by pairing Triple Choc with a spicy Chilli con Carne. It's fabulous with an indulgent chocolate dessert too!
Pilsner 4% – Wonderfully light and refreshing, an authentic lager inspired by old Bohemia, the cradle of this classic style. Soft malty flavours pair with subtle earthy spice, before a long dry finish.
Helles 5% – A clean, crisp lager in the classic German style. Bright gold in colour, its full body is a perfect balance of delicate hops and malty sweetness, with a satisfyingly dry finish.
Velocity 4.1% – Light and refreshing, this is a hoppy session IPA with citrusy notes.
Zipwire 4.5% – A fresh and zesty citrus pale made with real orange and grapefruit zest.
Full Tilt 5.2% – A juicy Australian and New Zealand pale with a punchy, hoppy flavour.