Long Life Milk Range Review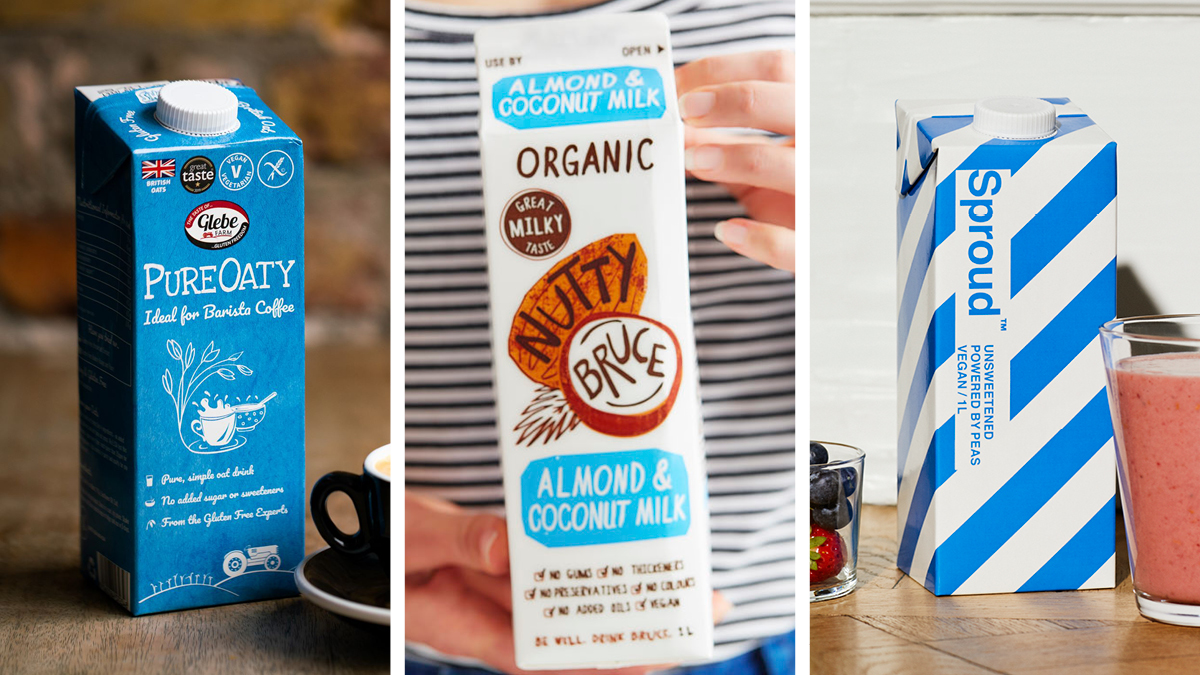 In recent years, there's been a growing interest in plant-based products as a way of looking after ourselves and the environment. To keep up with the ever expanding trends, our Long Life Milk buyer Haris has been working hard to develop and increase our range in store and bring a new selection of plant-based alternatives to our shelves.
The new range includes a varied selection of all the well-known brands along with some new producers bringing niche products to the market. Many of the drinks in our range are versatile and can be used in a variety of ways including steaming for your perfect latte or a dairy-free alternative in your favourite recipe. We've expanded on some of your favourite ingredients including almond, coconut, oat and hemp, as well as introducing a range of pea milks and combinations milks to help you find something to suit every taste and occasion."

Haris Deane, Long Life Milk Buyer
Within the range, you'll also find a number of certified brands such as Sugarwise, a certification authority for sugar claims and B-Corp, a guarantee that brands are measuring their social and environmental impacts to the highest standard.
Haris has picked out his top three favourite brands that are new to the range, which you can read about below!
Sproud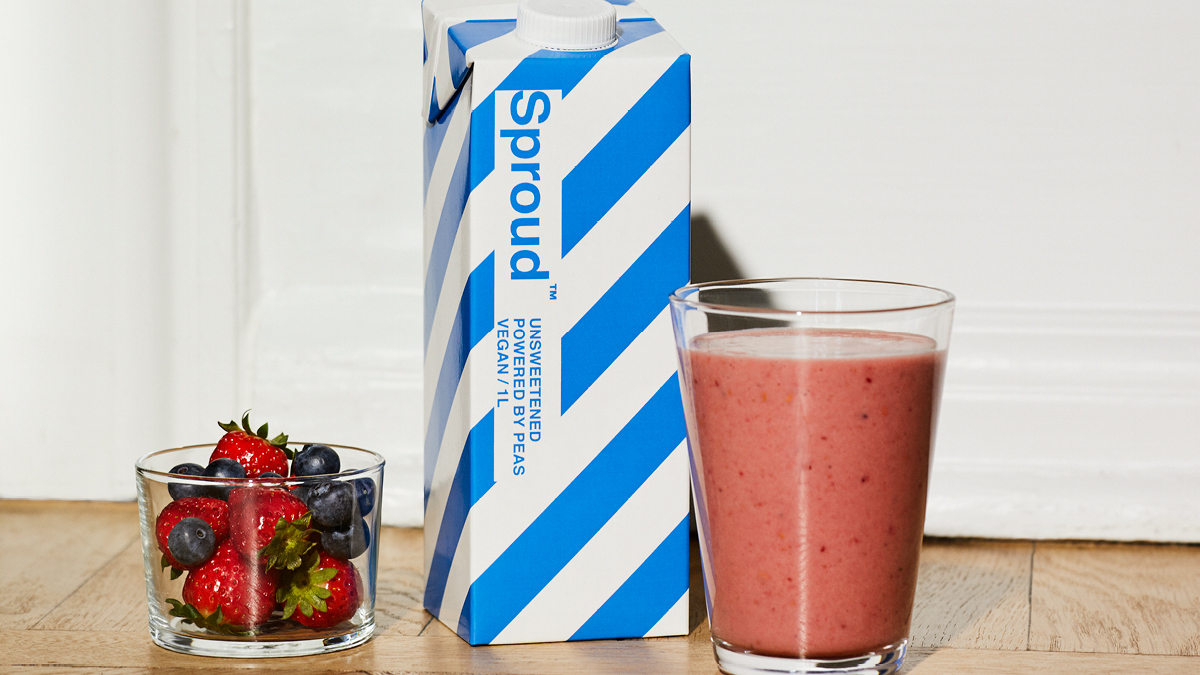 Meet Sproud, the plant-based milk brand with a mission to produce the healthiest, most sustainable long-life milk range in an eye-catching design!
Beginning the journey into creating the brand initial research made it clear that a close taste to semi-skimmed milk would attract new customers, whilst still keeping the impact on the environment as low as possible.
Exploration into different raw materials lead to the use of the yellow split pea, which is neutral in taste, offers a smooth texture and is kinder to the environment that any other plant milk ingredient.
Using yellow split peas results on the minimal use of water and the cultivation of peas adds nutrients back into the soil, making peas one of the most sustainable sources for plant-based protein. The Sproud range has a longer shelf life meaning less wastage and no need for costly chilled distributions.
Sproud were recently certified by Sugarwise, the international certification authority for sugar claims. This means customers are assured that Sproud products deliver great tasting products with no (or low) sugar and low carb, perfect for a those of use wanting a healthy lifestyle.
In the range:
Sproud Unsweetened Pea Milk (1ltr) £2
Containing zero sugar and low in carbs and calories, this is a great tasting milk that can be used hot or cold and has the closest taste to semi-skimmed milk.
Sproud Barista Pea Protein Milk (1ltr) £2
The neutral and creamy texture means it's the ideal companion for coffee. Rich and foamy but still low in sugar, makes this perfect for a vegan latte.
Sproud Chocolate Pea Protein Milk (1ltr) £2
Full of chocolately flavour and with less than 5 % sugar, this milk can be enjoyed hot or cold!
Got a Booths card? You can save 10% on all Sproud milks until 20th April 2021.
---
Nutty Bruce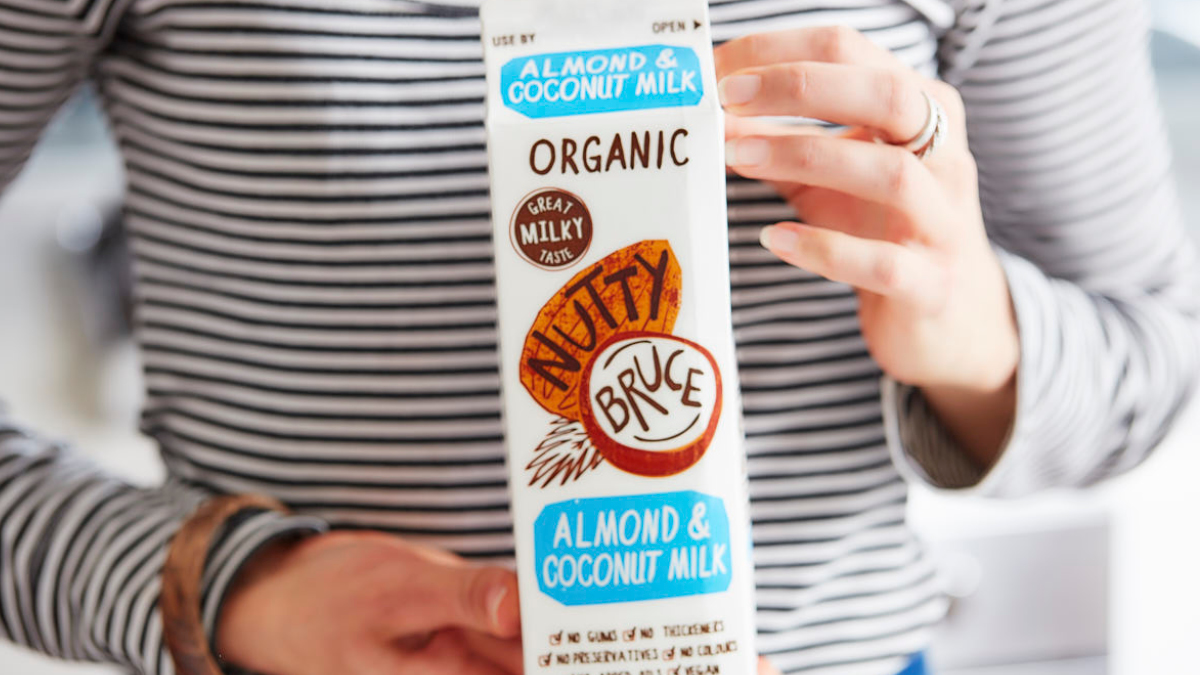 Nutty Bruce is a non-dairy m*lk made using 100% organic ingredients and is full of flavour and nutrition. You won't find any additives in Nutty Bruce m*lks, just simple and natural ingredients.
A unique process of activating the almonds for 12 hours helps to maximise the nutrient value of the almonds and results in a deliciously thick and creamy m*lk.The almonds are soaked in fresh filtered water, then carefully dried and blended with more water and organic ingredients. This makes Nutty Bruce the UK's first activated almond m*lk. You'll also find the packaging to be 100% recyclable, further reducing the impact on our environment.
The Nutty Bruce range is diverse as well as delicious. Their entire range of m*lks can be used in hot drinks, baking, porridge, hot chocolate… anywhere you would use regular milk!
Look out for:
Nutty Bruce Organic Unsweetened Almond Milk (1ltr) £2.50
The 'original' activated almond milk uses just four simple ingredients: whole organic activated almonds, filtered water, organic brown rice and sea salt.
Nutty Bruce Almond & Coconut Milk (1ltr) £2.50
Made with filtered water, organic coconut, organic brown rice, activated organic almonds and sea salt.
Nutty Bruce Organic Almond & Oat Milk (1ltr) £2.50
Ideal for frothing in a coffee, only four natural ingredients goes into this milk: whole organic activated almonds, whole grain oats, filtered water and sea salt.
Nutty Bruce Unsweetened Oat Milk (1 ltr) £2.25
Made simply with only two ingredients: filtered water and organic whole grain oats.
Got a Booths card? You can save 10% on all Nutty Bruce milks until 20th April 2021.
---
PureOaty from Glebe Farm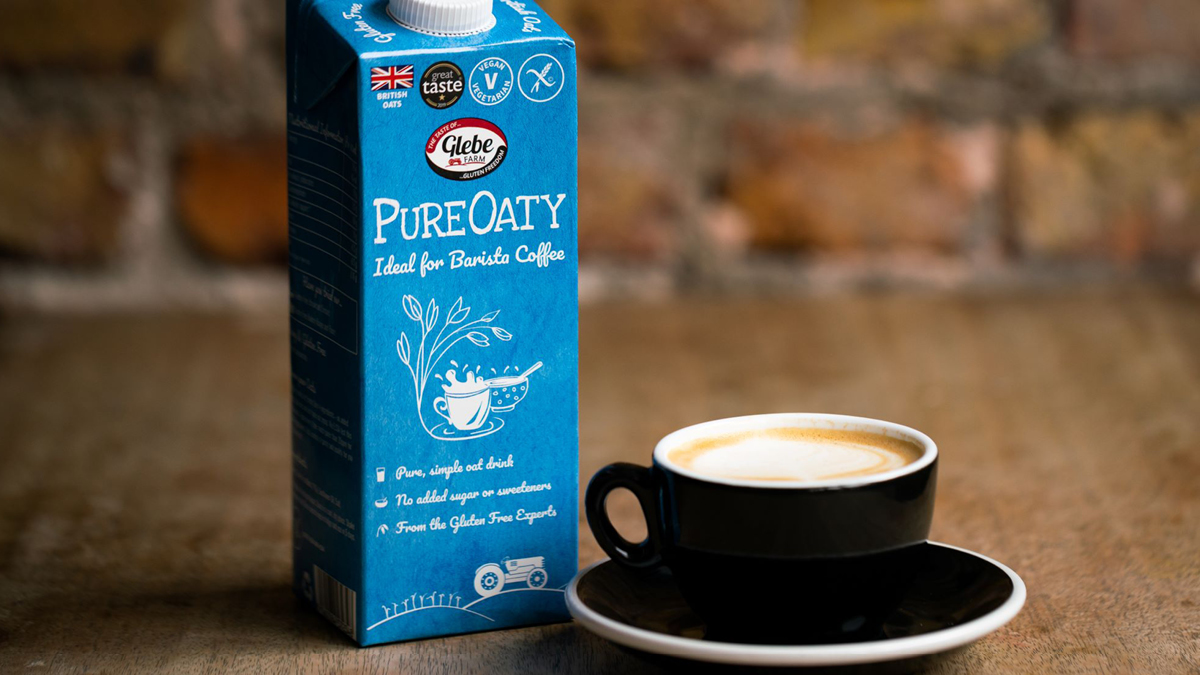 PureOaty is the latest addition to the gluten-free oat-based product range from Glebe Farm. As Europe's biggest grower, miller and producer of certified gluten-free oats, they really know their stuff! Every product contains oats that are grown within 75 miles from the farm, meaning owners Rebecca and Phillip can keep the environmental impact to a minimum, something which is very important to the brand.
As well as oats, PureOaty contain just three other ingredients: water, sunflower oil and a pinch of salt. Perfect for creating deliciously creamy coffees, making show-stopping bakes or desserts or whipping up soups and sauces! PureOaty was also the proud recipient of a Great Taste Award in 2019.
Glebe Farm PureOaty Drink (1ltr) £2
British made with just four simple ingredients; oats, water, sunflower oil and a pinch of salt.
Why not try this tasty recipe using PureOaty Oat Drink?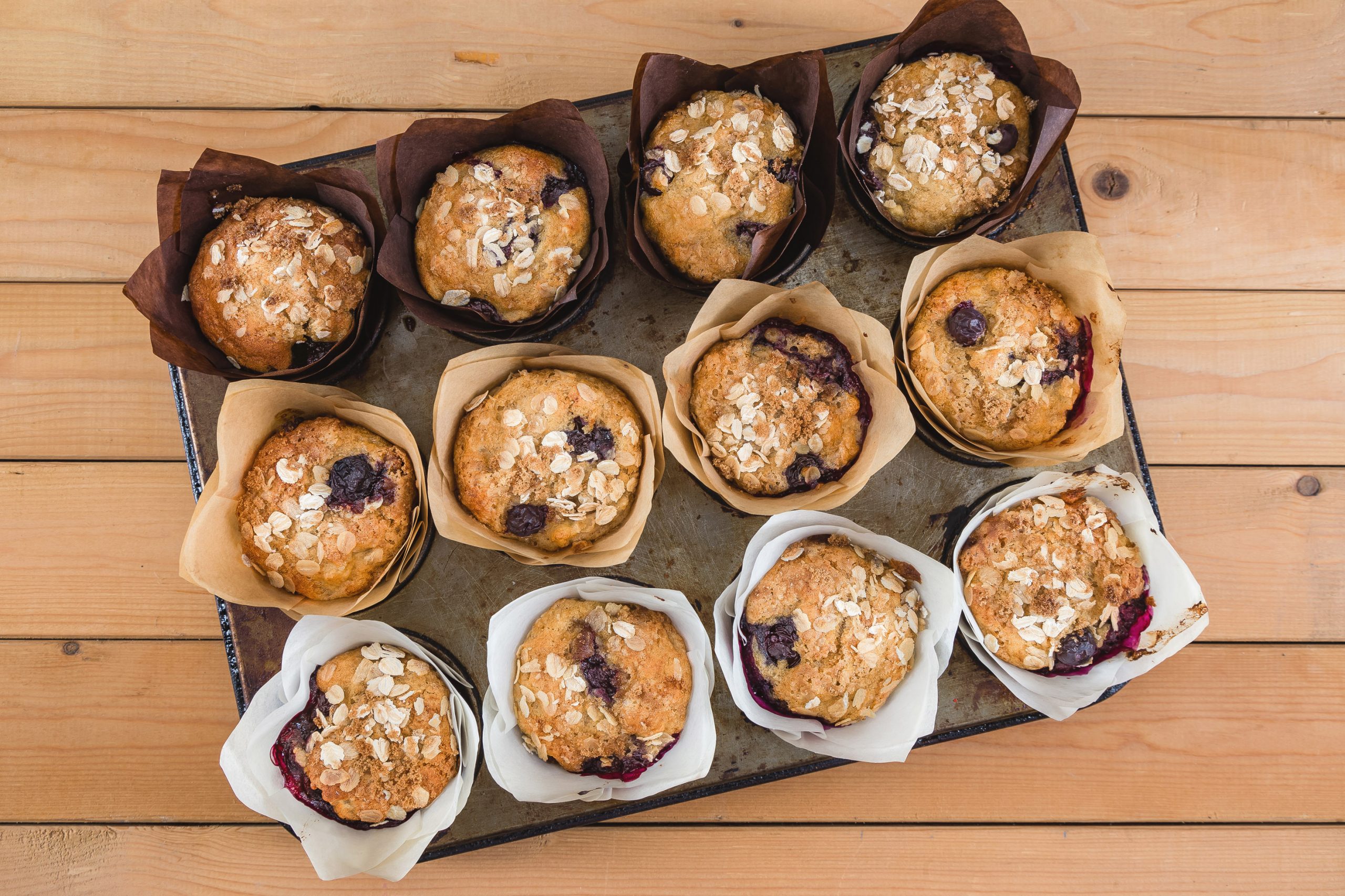 80g gluten-free porridge oats
240ml PureOaty oat drink
200g fresh blueberries
160g gluten-free flour
150g melted vegan butter
120ml agave syrup
1 tsp gluten-free baking powder
½ tsp gluten-free baking soda
1 tsp vanilla extract
Preheat the oven to 200C/180C (fan)/gas mark 6 and fill a muffin tray with 12 paper cases.
Combine the oats, and PureOaty and leave to soak for 30 minutes
Combine the remaining dry ingredients together in a large bowl. Whisk in the melted vegan butter, vanilla extract and agave syrup until combined. Add the soaked oats and blueberries and fold until fully combined.
Spoon the batter into the muffin cases and bake for 25-30 minutes or until a knife comes out clean.
---
Also new to the range:
Good Hemp Oat & Hemp Milk (1ltr) £1.85
Good Hemp Barista Seed Drink (1ltr) £2
Marvel Dried Milk Powder (175g) £3.30
Minor Figures Oat Milk Mocha (1ltr) £3
Minor Figures Chai Tea Concentrate (1ltr) £5
Minor Figures Semi Oat Milk (1ltr) £2
Rude Health Barista Almond Organic (1ltr) £2.70
Rude Health Barista Soya Organic (1ltr) £2.15
Rude Health Turmeric Latte (1ltr) £3
Rude Health Ultimate Almond (1ltr) £3.15
Rude Health Organic Cashew Milk (1ltr) £2.70
All the new and existing milks in our long-life range are part of our Booths card 5% reward offer!

To read more about our products, click here.