Mutti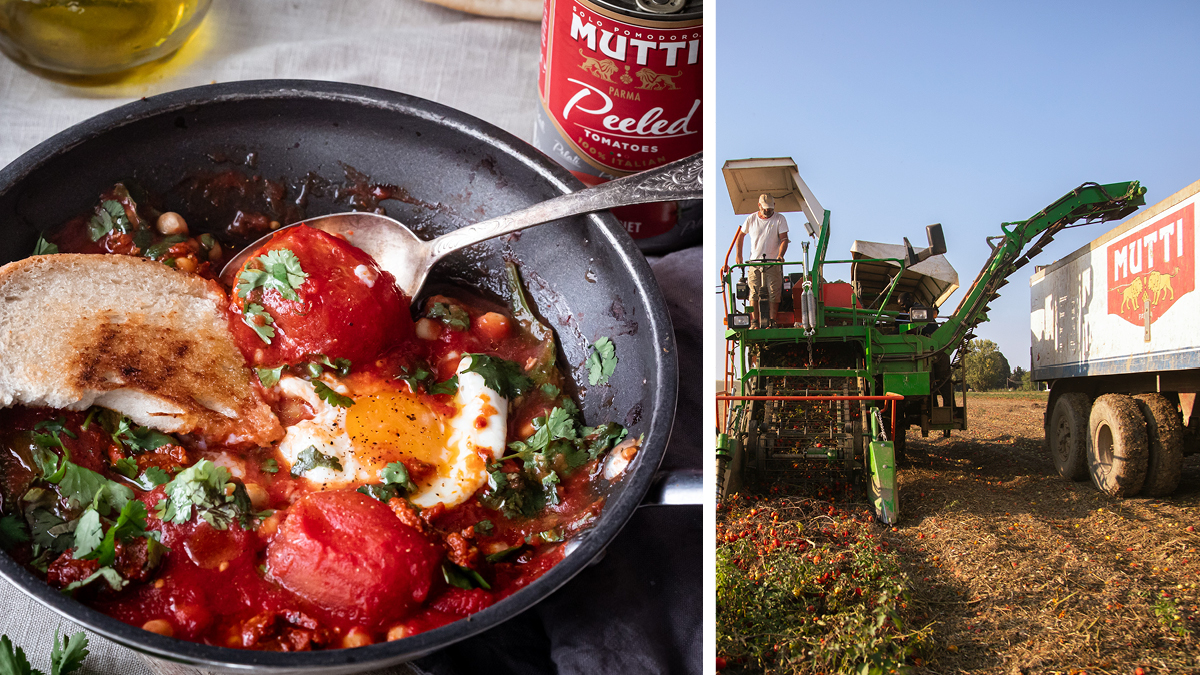 For over 120 years, Mutti have been working hard to 'raise the tomato to its highest expression' and celebrate Italy's most iconic fruit.
Back in 1850 in the Food Valley near Parma, an area best suited to tomato farming, Giovanni Mutti introduced crop rotation, a practice still in place today and 15 years ahead of modern agronomy. Some years later in 1899, Marcellino and Callisto Mutti founded Fratelli Mutti, the factory dedicated to processing the tomatoes. Today, Mutti is in its fourth generation of the original family, still made with the same dedication and attention it always was.
Another consistency throughout Mutti's history and still present in Mutti today is the company values that are evident in everything they do: sustainability, quality and respect. Mutti provides farmers the resources to ensure sustainable farming techniques, such as the use of drip irrigation and soil humidity meters. As well, in 2010, Mutti began a partnership with WWF Italy to reduce the water footprint through the supply chain of the tomato, saving 1 billion litres of water in just four years.
To ensure the highest quality and truly capture the fresh taste of just harvested, perfectly ripe tomatoes, all tomatoes are grown on average within 60 miles of the factory and are processed within 24 hours of harvest. As well, Mutti carries out over 600,000 quality checks a year – from the moment the tomatoes arrive at the factory right through the production and up to the finished product.
In 2000, Mutti introduced the Pomodorino d'Oro award (Golden Tomato) to recognise and reward the farmers who supply the highest quality tomatoes whilst using sustainable practices.Each year farmers compete to win this highly coveted prize. The prize includes a trophy and a monetary bonus and the award is an incentive for their suppliers to continuously improve and invest in their produce, which ultimately ensures the products created by Mutti are of the highest quality.
Mutti believes every great recipe deserves a great tomato and that there is a best fitting tomato for every dish. From traditional chopped tomatoes for cooking from scratch to ready-made pasta sauces created with traditional recipes and modern cooking in mind, Mutti offers inspiration for all home cooks.
Polpa, Finely Chopped Tomatoes
This unique product combines the finely cut pulpy part of the tomato with the juice – it has a fresh taste and rich texture which ensures an abundance of tomato pieces in every bite is the ideal choice in all recipes that require the use of fresh, ripe tomatoes. It can even be used straight from the tin!
Peeled Tomatoes
Whole tomatoes are gently steamed and peeled before being immersed in a smooth velvety passata. These tomatoes have a delicate flavour and a firm and fleshy texture which remains even after long and slow cooks. They are extremely versatile – use them whole, sliced, chopped, crushed or blitzed depending on your recipe.
Passata, Sieved Tomatoes
This smooth puree has a slightly sweet taste and a velvety texture. The passata adds a touch of luxury to any dish and is perfect for quick sauces straight from the bottle, in soups and stews.
Tomato Puree
Tomato puree was the first product introduced by the Fratelli Mutti company in 1899. In fact, Mutti were also the investors of the tomato purée tube with its thimble cap all the way back in 1951 – and this is still the standard way to package tomato purée. Mutti Tomato Puree uses the same perfectly ripe, top quality tomatoes as the other Mutti products and is ideal for its bold taste and intense colour which will add a hit of flavour to your recipes. Did you know you can also use it straight from the tube, without cooking, in dressings and sauces?
Pizza Sauce
Made with authentic Italian recipes and classic Italian seasoning, Mutti pizza sauce has a full bodied flavour and brings a traditional touch to your homemade pizzas, providing you with a vibrant base for your next creation.
Pasta Sauce
Based on traditional recipes, Mutti's range of pasta sauce is created for the modern cook making it easier than ever to bring an authentic taste of Italy to your meals. All the sauces are made using a tomato base from a tomato variety specifically chosen to best complement the other ingredient of the sauce – whether that is sweet Cherry Tomatoes paired with salty Leccino Olives or the Pizzutello Tomatoes paired with the kick of heat from Calabrian Chilli Peppers. Either heat up and mix with your favourite pasta or use it as a base for your own recipes. 
Speciality Tomato Varieties
Mutti also produces a range of speciality whole tomatoes. There are the Peeled San Marzano Tomatoes, grown in the volcanic soil of Agro Sarnese Nocerino between Naples and Salerno, San Marzano tomatoes have been awarded the EU's Protected Designation of Origin (PDO) for their unique nature. These premium, juicy tomatoes are covered with a velvety sauce, ready to use in a variety of recipes. There is also the Cherry Tomatoes from the South of Italy, famed for their lively flavour and firm texture as well as the Baby Plum Tomatoes, ideal for their intensely sweet flavour and juiciness.