Ready to Drink Range Review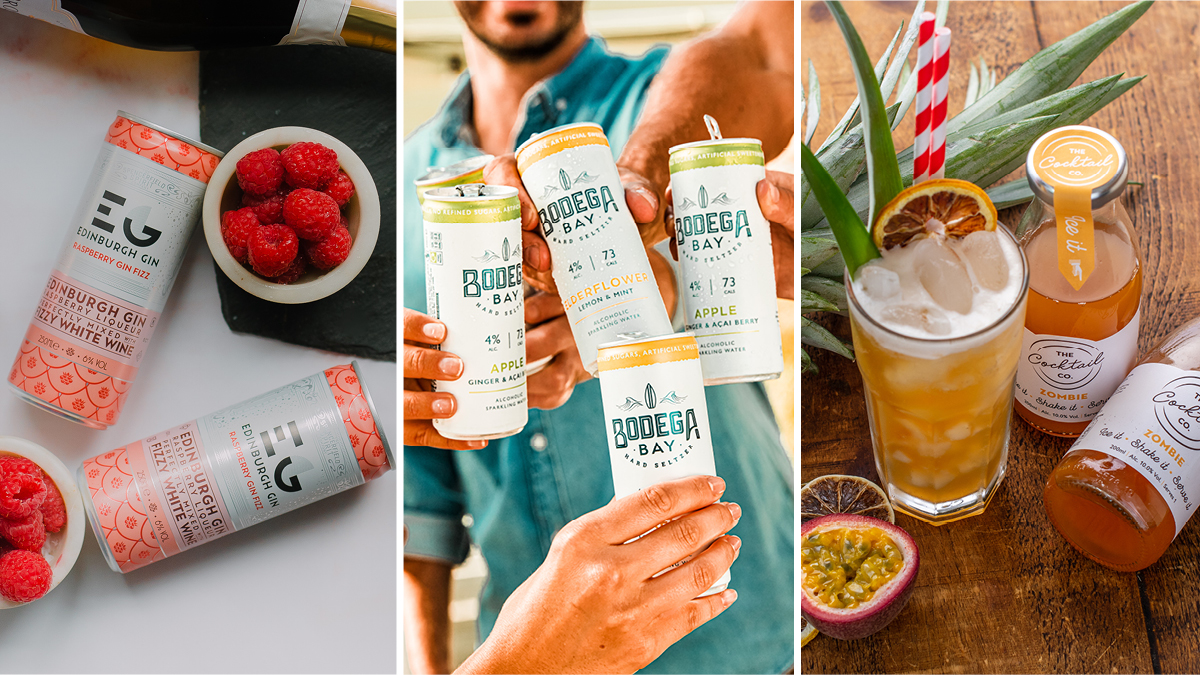 Bottles of flavour, cans of convenience!
Our well-known wine and spirits buyers Victoria and Pete have curated an impeccable range of licensed convenience drinks, meaning you can enjoy a readily, perfectly prepared cocktail, G&T or wine anytime, anywhere!
Introducing over 30 new spirit based drinks and 10 premium wines in a can, into our stores which all sit together in the fridges so you can have a good browse and easily find your new favourite. Pre-chilled and ready to take away to cool down in the summer sun.
Ready-to-drink alcohol has seen an increase in popularity with even more brands introducing ready-to-drink options available to buy on the market. Ideal for picnics, the beach or even staycations like camping, there's no hassle of ingredients, you can try a few different flavours and you get the perfect serve every single time! Also a great option for people who only fancy one drink and don't want to open a bottle.
Read more about the new range below:
BLOOM
BLOOM gin was made by a woman for women. Because when women support women we BLOOM, individually strong, bold, talented and beautiful, but together – a force to be reckoned with.
Back in 2009, Joanne Moore an award-winning Master Distiller, was getting bored with people telling her they 'didn't like gin' so she set out to create a gin that even the most enthusiastic juniper hater would love.
Using only the finest natural botanicals and flavourings, Joanne created a deliciously light London Dry gin with soft nuances of chamomile, honeysuckle and pomelo. This is what gives BLOOM its signature smoothness, a new take on an old favourite.
After crafting a collection of not only stylish but great tasting gins, the all-female team have gone on to curate a range of ready to enjoy, premixed drinks in beautiful floral bottles for the gin lovers on the go. The latest edition being Bloom Passionfruit & Vanilla Blossom perfectly mixed with sparkling soda.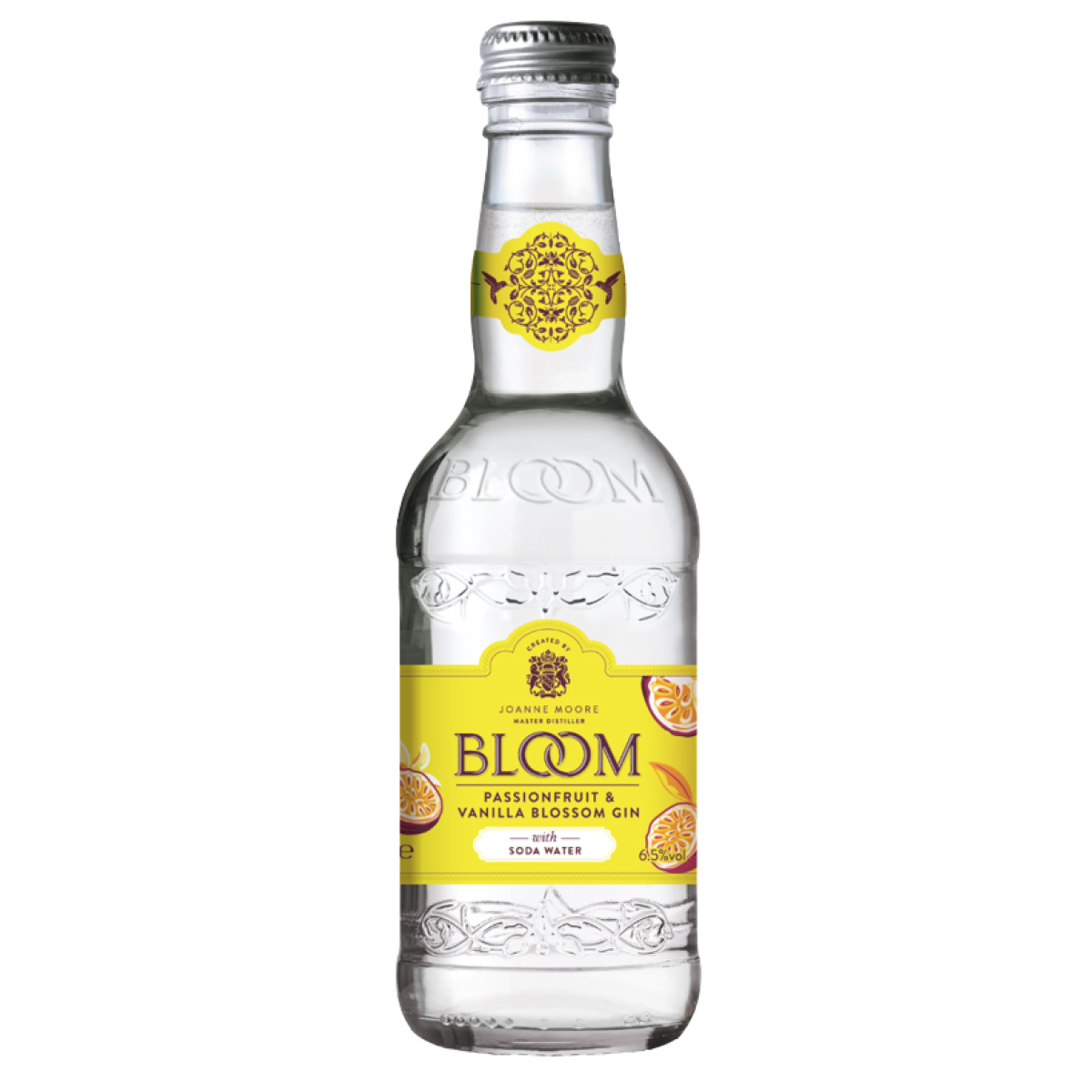 BLOOM Passionfruit & Vanilla Blossom with Soda, 275ml
Infused with the sweet exotic flavours of Bloom Passionfruit & Vanilla Gin, this ready-to-drink is perfectly mixed with sparkling soda. Creating a refreshingly light, balanced serve of zingy passionfruit and creamy vanilla blossom.
---
Bodega Bay
Whilst on a surf trip to Bodega Bay in California, founder Charlie began chatting to some happy locals in the water and discovered Hard Seltzers; an exciting, new alcoholic drink for today's Healthy Hedonists.
From there his board became his boardroom, and Bodega Bay Hard Seltzers was born, a beverage business with a mission to create quality drinks with a real social purpose at its core. Evolving how alcohol is consumed and the culture around it for the better, for the people and our planet. Made for those who want to be good, do good and have a good time.
Offering a convenient, intensely refreshing, lower calorie alternative; Bodega Bay premium hard seltzers are made with crafted clear alcohol, sparkling water and natural fruit flavours. Each flavour naturally curated to invigorate the senses, is designed to fit with the modern lifestyle without compromising on impeccable taste and excellent quality. No refined sugar, artificial flavourings or colours, gluten-free and Vegan.
Through the ambition to be a true socially conscious brand, Bodega Bay partners with the Thirst Project. Promising to invest 1% of all sales to provide clean drinking water to those most in need around the world, with the sale of a single can of Bodega Bay providing 17 litres of clean drinking water. They've also partnered up with Ecologi to be a Climate Positive Workforce, doing everything they can to minimise their footprint on the planet as much as possible. Ecologi tree planting partner The Eden Reforestation Projects plant millions of trees around the world each month, which is one of the best ways to tackle the climate crisis and keep temperatures from rising. Bodega Bay support their incredible work in Madagascar and in the last 6 months alone have invested to plant 758 trees a part of the project.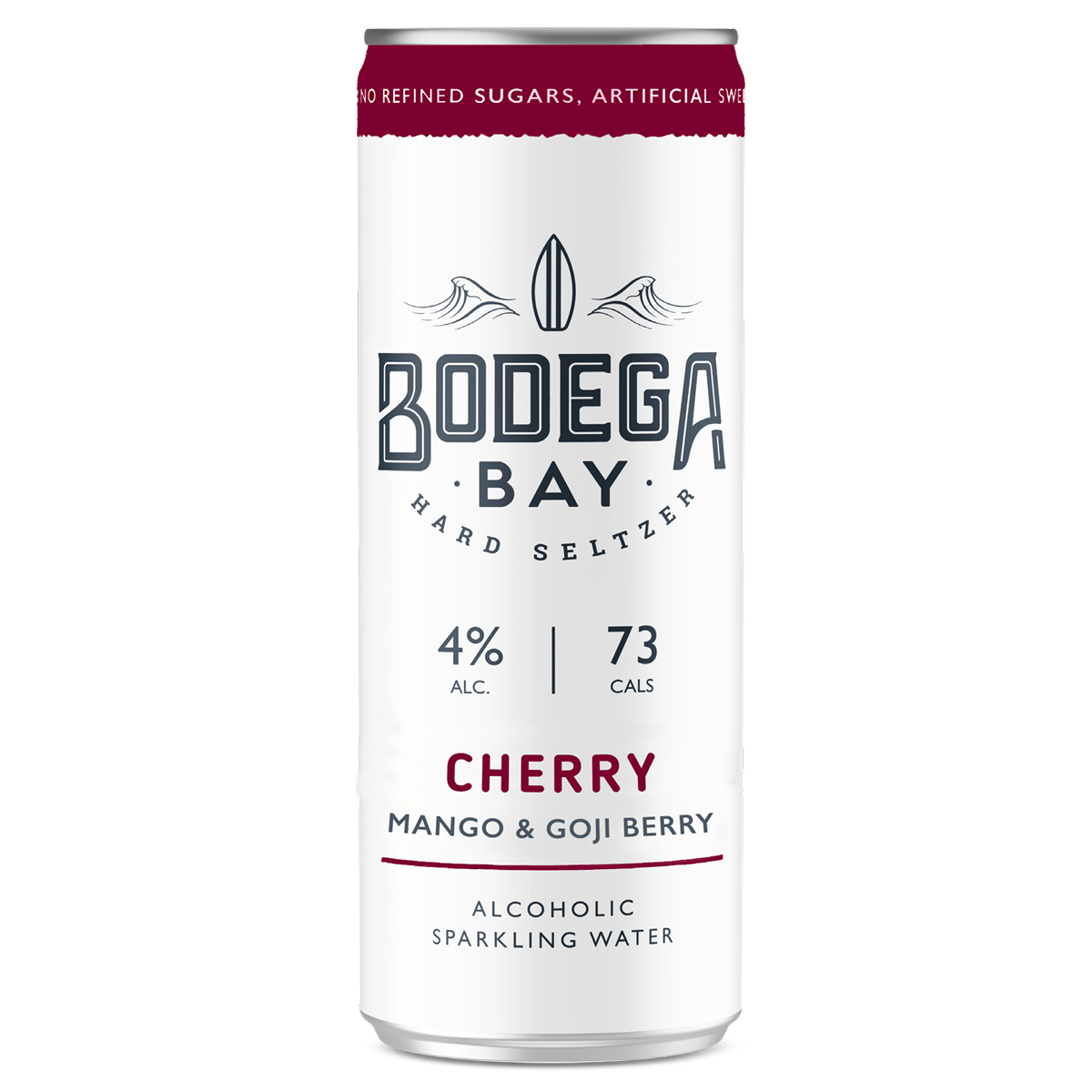 Bodega Bay Hard Seltzer Cherry, Mango & Goji Berry, 250ml
An expertly curated blend of CraftedClear™ Alcohol, Sparkling Water and natural flavours of Cherry, Mango & Goji Berry.
Bodega Bay Hard Seltzer Elderflower, Lemon & Mint, 250ml
An expertly curated blend of CraftedClear™ Alcohol, Sparkling Water and natural flavours of Elderflower, Lemon and mint.
Bodega Bay Hard Seltzer Apple, Ginger and Acai Berry, 250ml
An expertly curated blend of CraftedClear™ Alcohol, Sparkling Water and natural flavours of Apple, Ginger and Acai Berry.
---
Edinburgh Gin
Distilled in the heart of Scotland's capital, Edinburgh Gin was born in 2010 taking inspiration from the wonder-filled city that is their so proudly in their name. A charming city that celebrates history and tradition whilst welcoming modern culture, art and its people.
The Classic Edinburgh Gin is a unique, complex blend of fourteen botanicals with a nod to Scotland in its recipe, it includes native plants and botanicals to create a world class, delightfully crisp and smooth London Dry style gin.
This gin became the foundation that led the gin revolution, pushing boundaries with creative flavour combinations that intrigue and excite. Today Edinburgh Gin offer a range of beautifully crafted, 100% naturally flavoured gins including London Dry's, gin liqueurs, flavoured gins and ready to drink serves.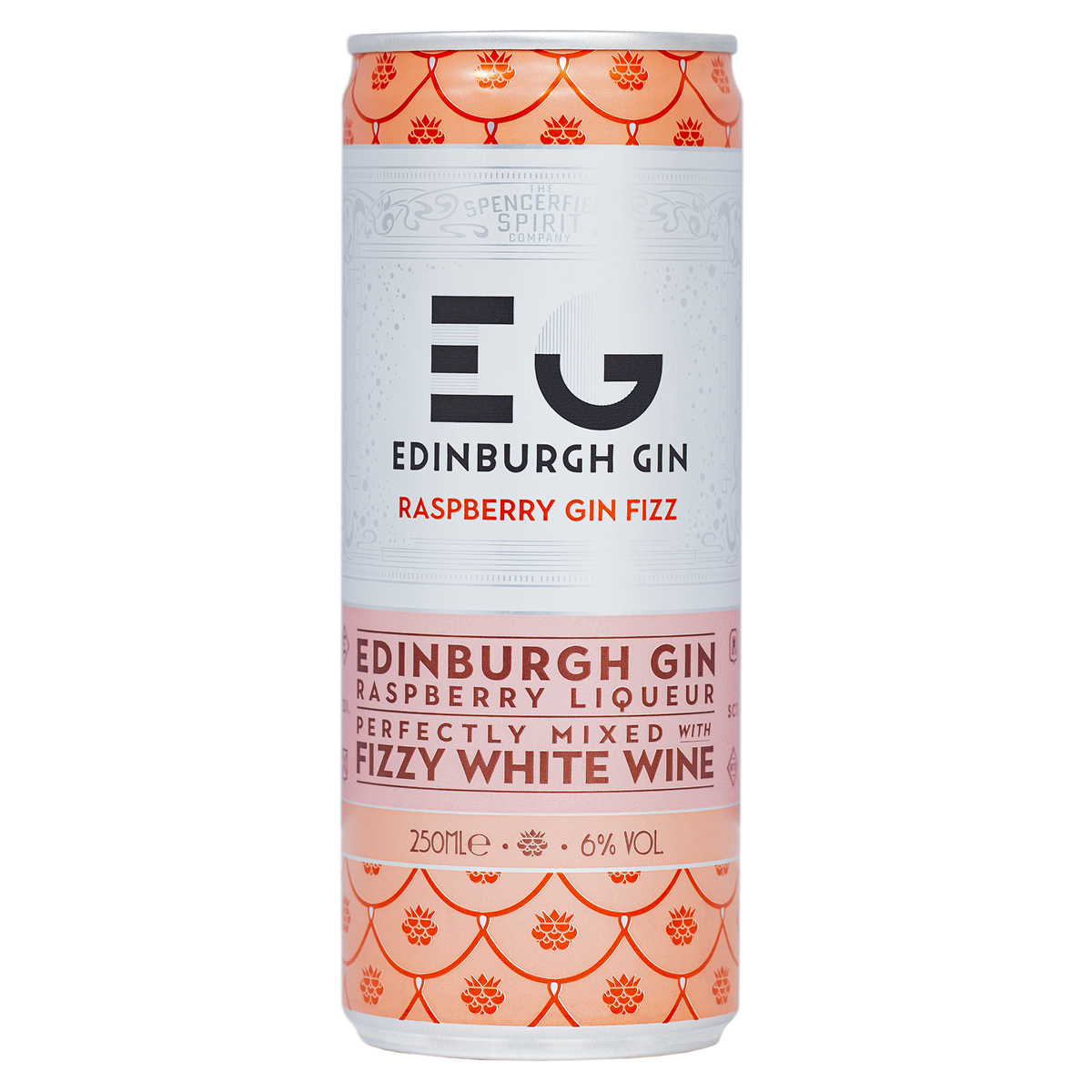 Edinburgh Gin Raspberry Fizz, 250ml
Sweet, yet a little tart and in a handy can. Let the festivities commence wherever you are! Award-winning Edinburgh Raspberry Gin Liqueur meets fresh sparkling white wine to create a taste of the summer, bursting with flavour from fresh Scottish raspberries in the Gin Liqueur.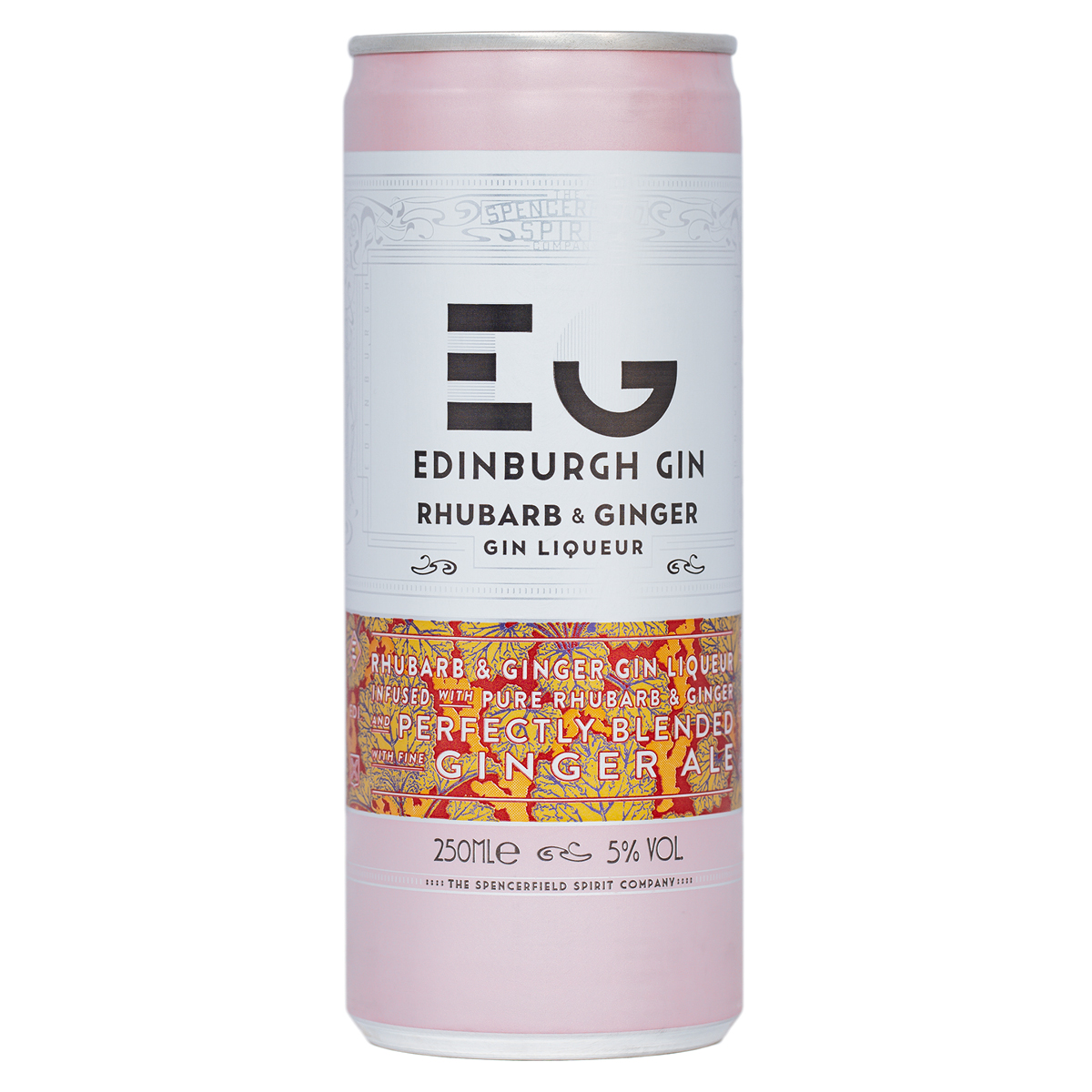 Edinburgh Gin Rhubarb & Ginger, 250ml
Sweet with a soft tang this award-winning Edinburgh Rhubarb & Ginger Gin Liqueur is fabulously and famously mixed with ginger ale – creating the perfect serve.
---
Kiss of Wine
Kiss of Wine only partner with the best artisanal, independent winemakers from across Europe. Small-batch winemakers who are forward-thinking and really care about what they create.
Discovering your new favourite wine is wonderful and trying plenty along the way with friends and family can be so enjoyable, but the traditional wine market and sheer amount of choice can be intimidating. Kiss of Wine cut through the traditional like a breath of fresh air using simple, relatable language and beautiful design.
Packaged up in convenient, recyclable cans these wines are ideal for a picnic, outdoor concert, camping or other outdoor occasions, or for those who simply want one glass. Canned wine innovation is making wine more accessible, convenient and sustainable without compromising on the quality. Kiss of Wine have chosen single-varietal, high-quality wines that work best in a can – they've done their research and tried many to definitely make sure you're only getting the best!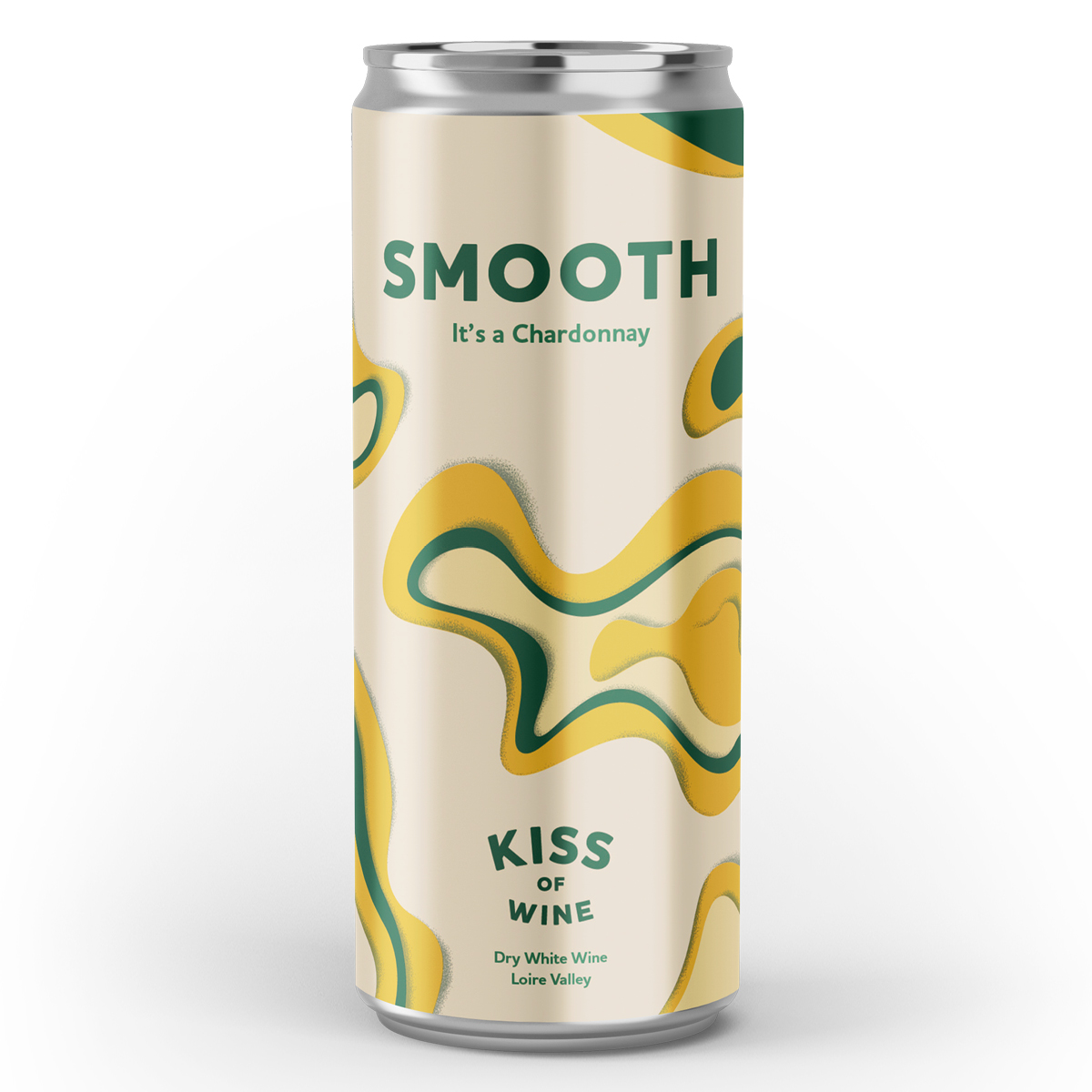 Kiss of Wine Smooth Chardonnay, 25cl
Soft citrus and fresh minerals with florals and honey on the nose, from the Loire Valley in France. Created by Nicolas, a local legend and specialist in local varietals. Pair with gorgeous goats cheese.
Kiss of Wine Zesty Riesling, 25cl
Rheingau an area famed for its dry wine, this German Riesling is different from the rest, dry with depth and elegance. Made by eco-conscious brothers Christoph and Thomas with grapes from 70 year old vines with intense and complex flavours, using sustainable and low intervention techniques.
Kiss of Wine Wild Dolcetto, 25cl
A floral and fruity wine from Piedmont, Italy, in a vineyard surrounded by meadows. Created by Corrado – a fourth generation winemaker, he's passionate about Dolcetto. It's an entire wildflower garden on the nose, with dark berries and red fruits on the palate. Great with Pizza and friends.
Kiss of Wine Fiesty Nebbiolo, 25cl
A light Italian red from Piedmont in Italy made another fantastic wine made by Corrado, whose family have tended the vineyard for generations. Full of strawberry flavour with a hint of pepper.
Kiss of Wine Crisp Sauvignon Blanc, 25cl
Crisp is a classy Sauvignon Blanc from the Loire Valley, France. On the nose, you'll notice floral fragrances with hints of quince. On the palate, it is light, with a mineral and, you guessed it, crisp finish.
This wine, canned for your convenience, pairs perfectly with seafood, however, if you really want to impress your wine-loving friends, serve with Spaghetti Vongole brimming with shellfish.
Kiss of Chill Rosé, 25cl
From the home of Rosé itself, the Caladoc is as classic as they come. Along with pink grapefruit and citrus aromas, you'll also find floral notes. To taste, there are light red fruits and and a creamy finish. Fantastic when served with grilled seafood.

---
OPIHR
Inspired by the adventurous spirit of the spice route explorers OPIHR Oriental Spiced Gin is a unique style of London Dry Gin, made using only the finest hand-picked botanicals from along the Spice Route. Including spicy cubeb berries from Indonesia, cardamom and Tellicherry black pepper from India and coriander from Morocco.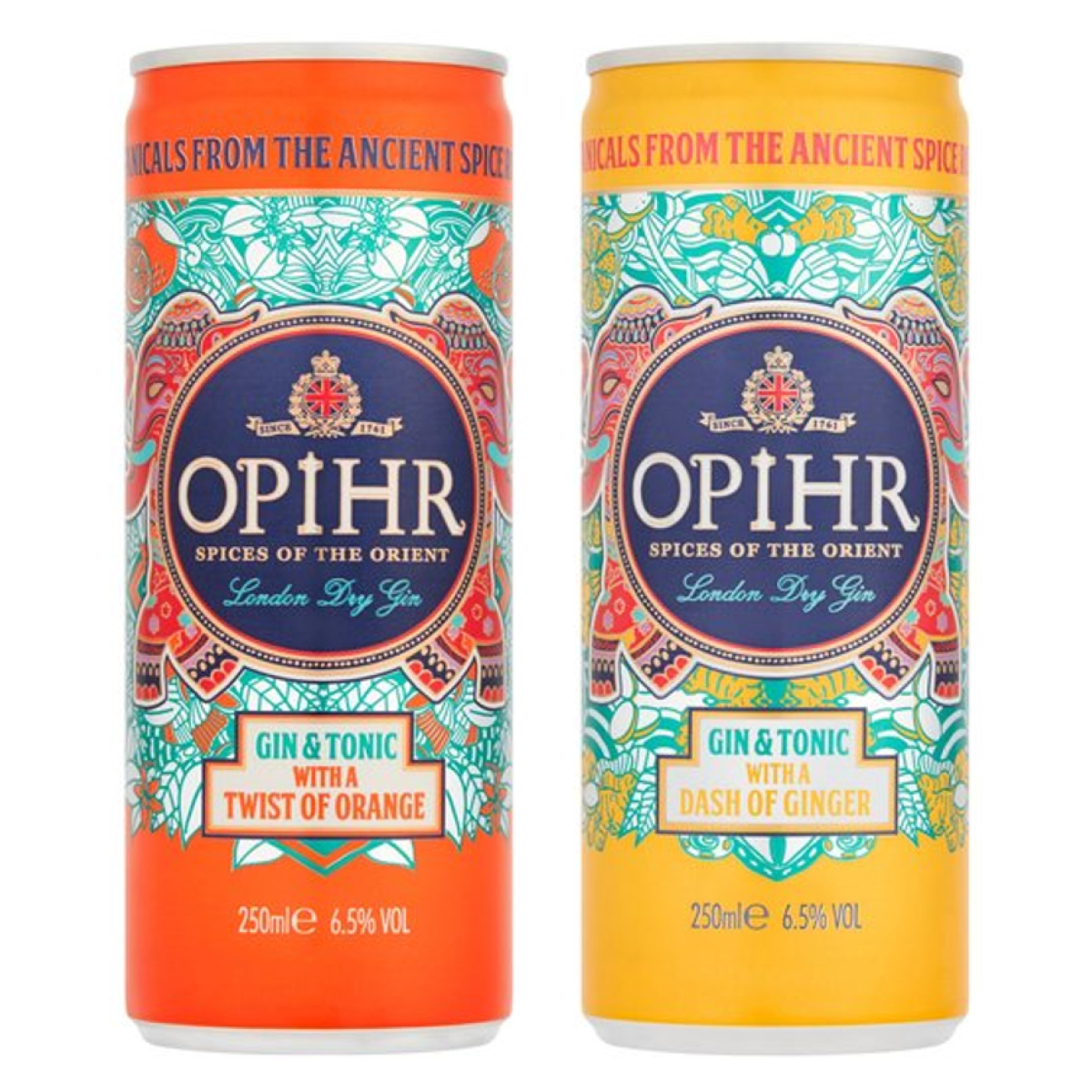 OPIHR Twist of Orange, 250ml
A zesty OPIHR pre-mix G&T with bursts of rich Spanish orange and tonic made in-house.
OPIHR Dash of Ginger, 250ml
OPIHR's ready-to-drink signature serve with elevated Indian ginger and premium tonic mix.
---
Smokehead
Founded in 2005 you could say Smokehead is the wild one of single malt whisky. Bold in taste and attitude this award-winning Islay malt is heavily peated and smoked tradition. Salty and seaweedy, peppery and peaty, the juxtaposition between smoky and sweet, Smokehead is for people who love the authentic and unusual. Smokehead recently WON GOLD at San Francisco World Spirits Competition 2021 and Smokehead Rum Rebel WON DOUBLE GOLD.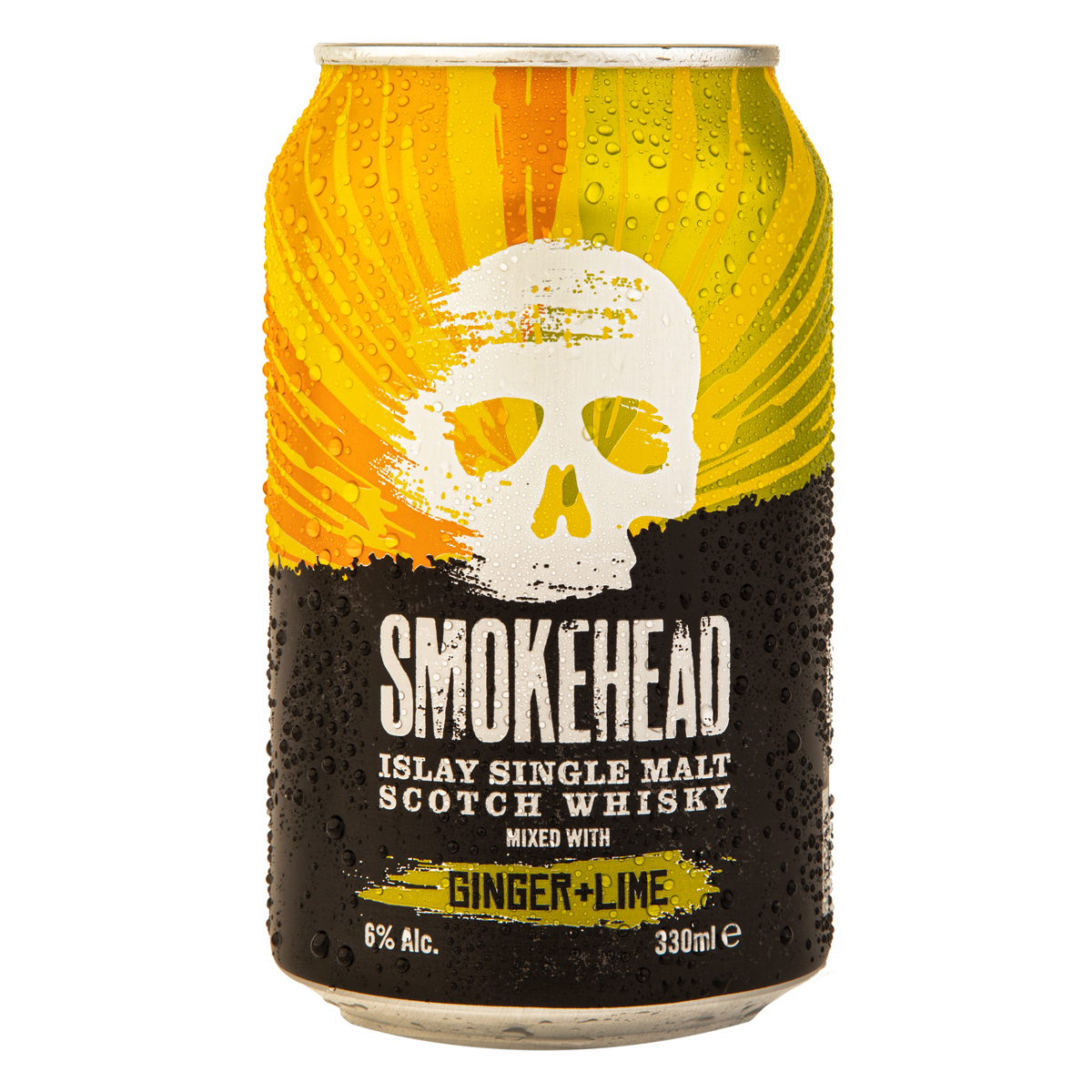 Smokehead Malt Whisky & Ginger, 330ml
The world's first single malt canned drink, Islay Single Malt Scotch Whisky mixed with invigorating ginger and lime.
Smokehead Malt Whisky & Cola, 330ml
The world's first single malt canned drink, Islay Single Malt Scotch Whisky mixed with refreshing cola.
---
Tanqueray
Tanqueray London Dry was developed over 170 years ago by Charles Tanqueray, a clergyman's son who chose not to follow in his families footsteps and instead opened a distillery in Bloomsbury, London.
Sourcing botanicals from around the world, Charles created over 300 recipes consequently inventing a gin which has stood the test of time and is still celebrated to this day. The perfect combination of ingenuity, heritage and hard work.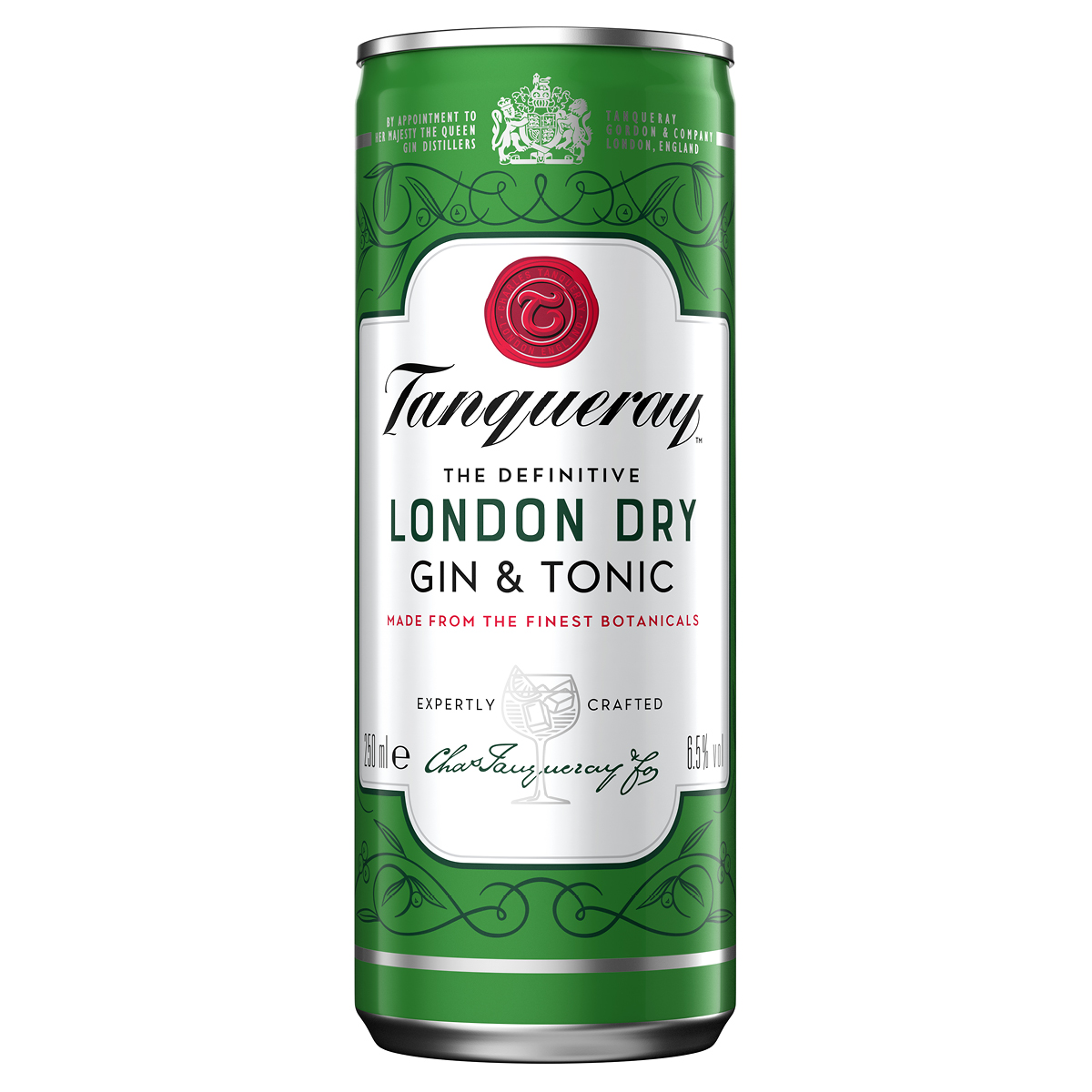 Tanqueray London Dry, 250ml
Still made today with the same combination of botanicals discovered by Charles in 1830, the gin is distilled four times for absolute smoothness allowing the flavours of the four perfectly balanced classic gin botanicals of refreshing juniper, peppery coriander, aromatic angelica and sweet liquorice to shine through. Best enjoyed with ice and a wedge of lime.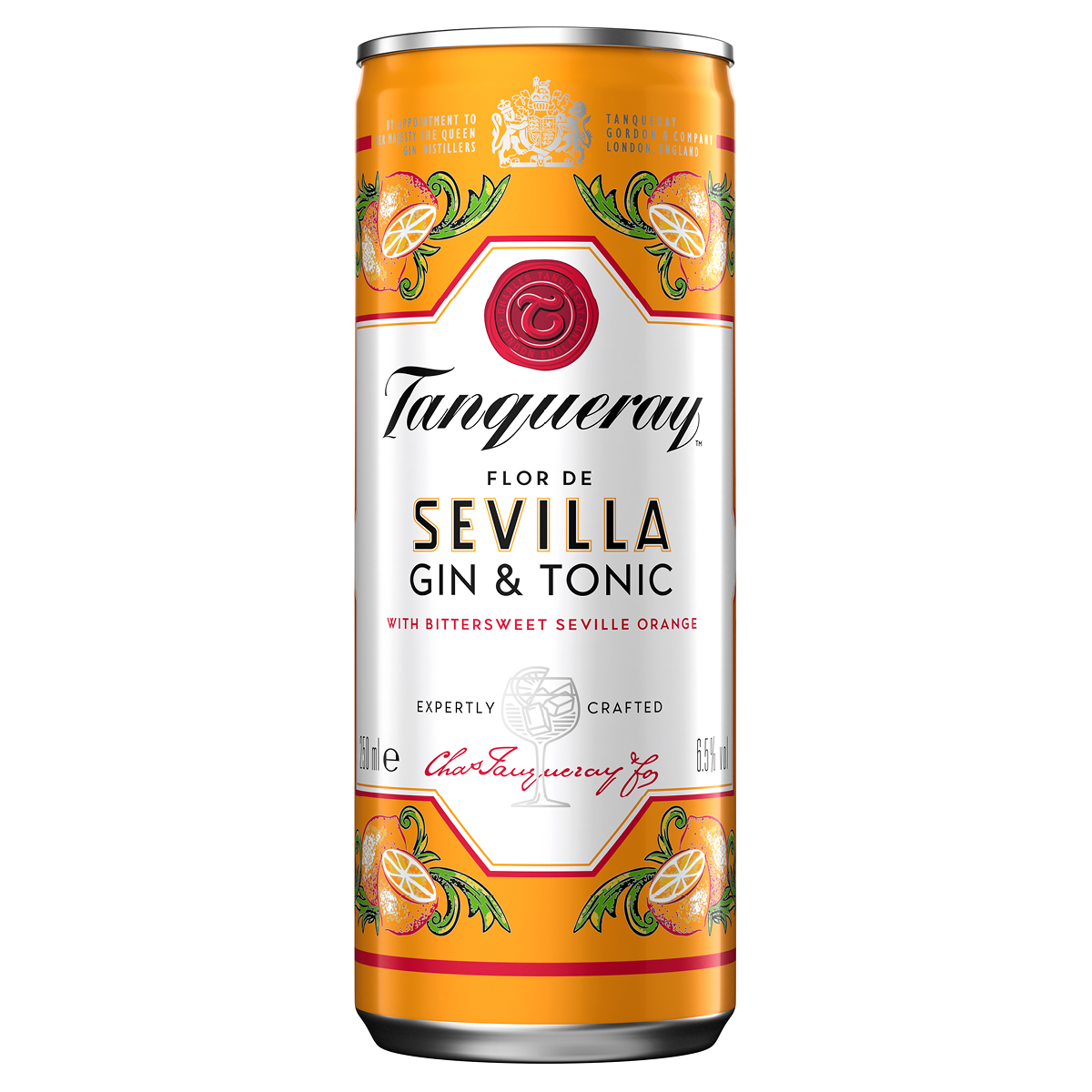 Tanqueray Flor de Sevilla, 250ml
It is thought that Charles Tanqueray's travels to the sun-soaked groves of Spain in the 1860s inspired the creation of a unique gin liqueur using Seville oranges. Tanqueray Flor de Sevilla is made with bittersweet Seville oranges to deliver a fruitful and zesty taste, balanced with the four botanicals of Tanqueray classic London Dry Gin. Best enjoyed with ice and a generous squeeze of orange.
---
The Cocktail Co.
The Cocktail Co. pride themselves on making delicious tasting, premium single serve cocktails for you to enjoy – without any of the fuss.
After nearly a decade of running a successful events company, Abby and Kyle – together, The Cocktail Co. have not only made but tried and tested their fair share of cocktails so they know a thing or two about what turns a good cocktail into a great one!
The idea was originally formed at the Manchester Christmas Markets when running an outdoor bar. The team would come home and bottle their cocktails ready for the next day, allowing them to serve customers faster without compromising on the amazing taste.
A few months later due to the global pandemic many parts of the world went into lockdown and the hospitality sector came to a halt. With events being put on hold for the foreseeable future, the team decided to put all of their energy and expertise into creating The Cocktail Co; a company that's bringing a new edge to the cocktail world. What better way to put a smile on people's faces than with a professionally made cocktail, delivered straight to your doorstep. The cocktails are packaged in small, glass milk-style bottles – you could say they're delivered just like the milkman would deliver milk but it's a delivery for grownups!
From producing their cocktails at home, for people at home, to building their own manufacturing facility and supplying Breweries and Supermarkets, The Cocktail Co. are still as determined as ever to keep the same consistent quality cocktail for every customer.
A bar quality cocktail in a bottle? We know it's hard to believe but why not try it for yourself…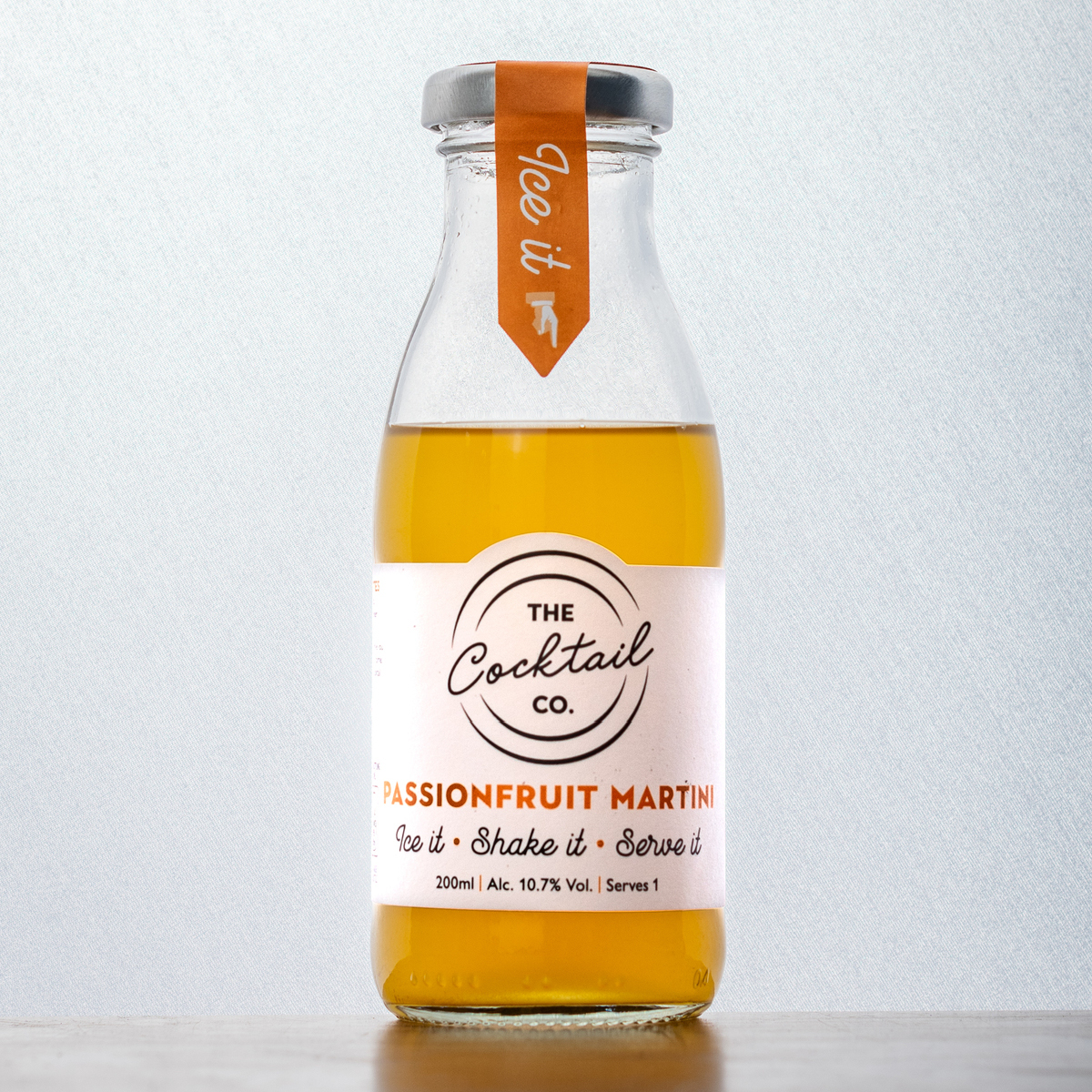 Cocktail Co. Passionfruit Martini, 200ml
An exotic classic. The perfect combination of passionfruit, vanilla, vodka and citrus. Served best with a Prosecco chaser and garnished with half a passionfruit.
Cocktail Co. Espresso Martini, 200ml
This creamy and indulgent cocktail blends locally sourced rich espresso, vodka and coffee liqueur. The perfect cocktail for all coffee lovers. Garnish with coffee beans.
Cocktail Co. Zombie, 200ml
Our secret combination of three rums mixed with tropical fruits, citrus and sugar to create a Tiki classic that never disappoints. Garnish with a slice of pineapple.
Cocktail Co. Cosmopolitan, 200ml
A sophisticated blend of vodka, triple sec, cranberry and fresh lime. Crisp and delicious. Garnish with a twist of orange.
Cocktail Co. Mojito, 200ml
The all-time favourite. A refreshing blend of citrus and mint, perfectly paired with rum and a little sugar. Garnish with fresh mint and lime.
Cocktail Co. Solero Colada, 200ml
A tropical mix of rich coconut, tangy pineapple and sweet vanilla vodka. This cocktail is paradise in a bottle. Garnish with pineapple.
Cocktail Co. Apple of my Eye, 200ml
A hidden blend of premium gins, mixed with raspberry, apple and lemon for the perfect balance of sweet and sour. Your taste buds will thank you. Garnish with raspberries.
---
Taylor's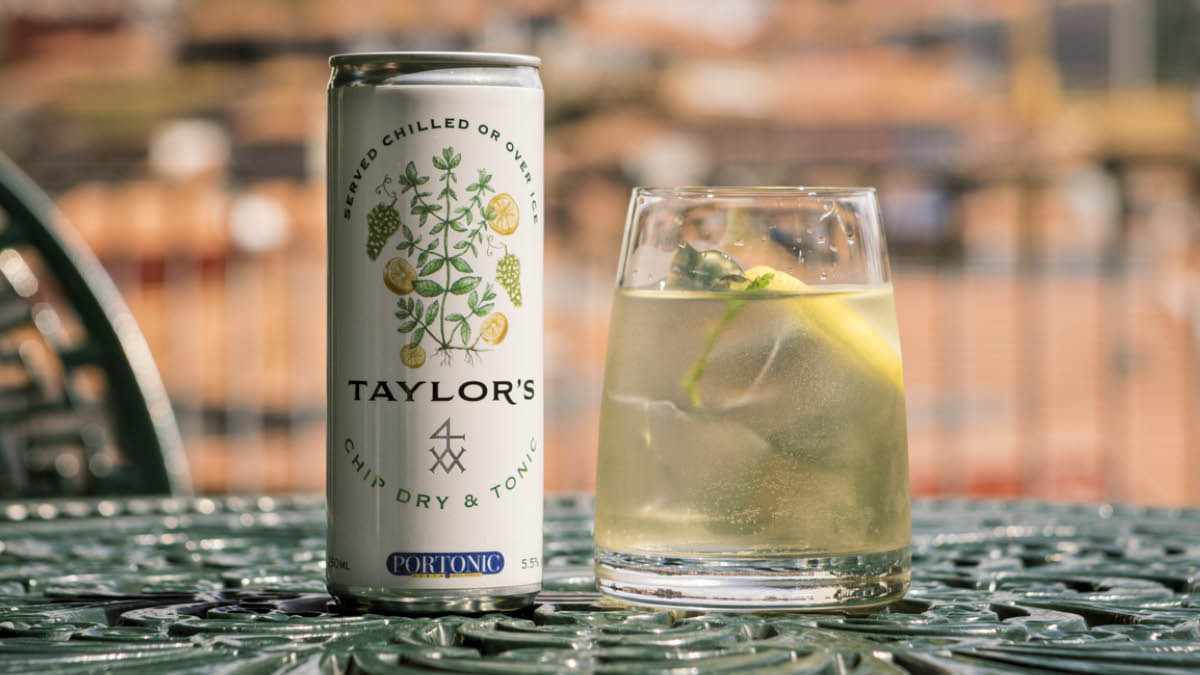 Taylor's Port is the leading premium Port brand in the UK. Back in 1934, Taylor's pioneered the first dry white aperitif port and called it Taylor's Chip Dry. Since then, it has soared in popularity and acquired an enthusiastic following around the globe. Today, it is usually served over ice in a large glass, mixed with tonic water and garnished with a slice of lemon and sprig of mint.
Preparation is key for the perfect drink, premium ingredients in perfect measures. Introducing the ready to drink and perfect serve every time, Taylor's have taken the hassle prep away and done it for you in a convenient recyclable can – all you have to do is chill! Great for socialising outdoors with friends and family, beach or park days with a picnic or even ideal served chilled at home if you just fancy one drink! If you're celebrating with food, it pairs fantastically with a handful of salted almonds, bowl of olives and air-cured hams such as Prosciutto.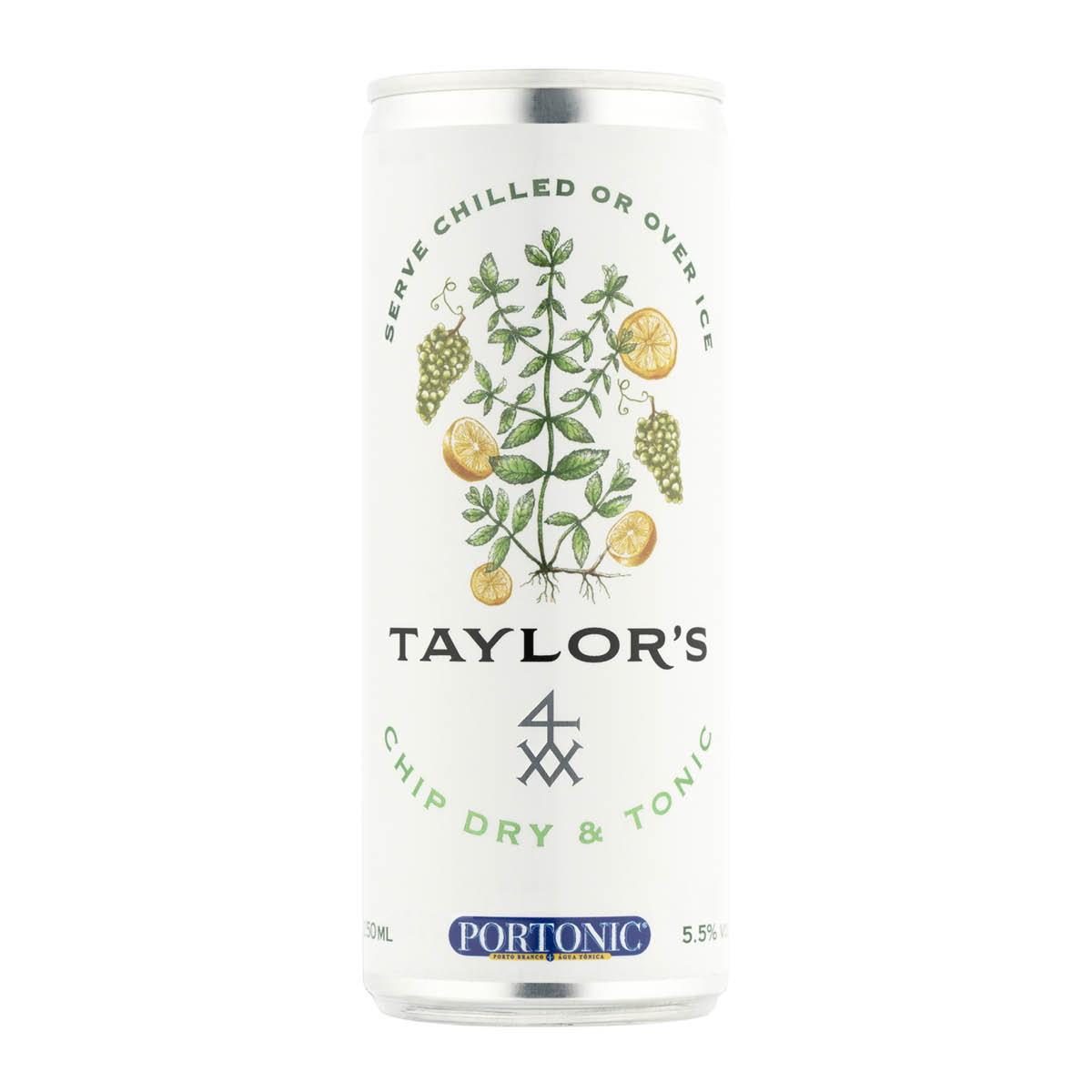 Taylor's Chip Dry & Tonic, 250ml
The first ready-to-drink port and tonic. A perfect aperitif in a crisp dry style, lightly tangy and a hint of minerality. Best served over lots of ice and enjoy!
To read all about Victoria and Pete's experiences as buyers, click here.