Almond Pork Schnitzel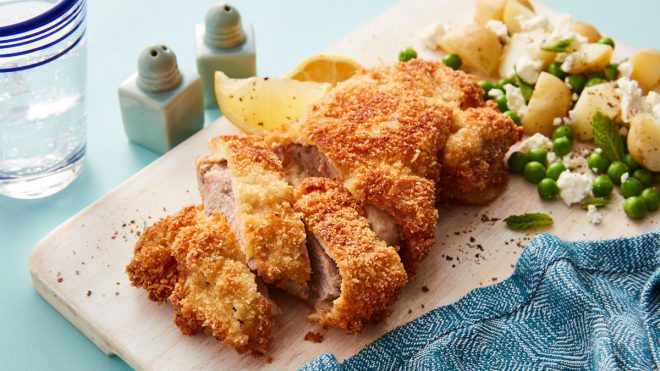 4 servings
30 minutes to prepare
Ingredients
2x pork tenderloin, approx 350g each
200g ground almonds
200g panko breadcrumbs
Salt & pepper
4tbsp dijon mustard
3 eggs, beaten
300ml vegetable oil
Instructions
You can't beat a classic schnitzel for a tasty midweek meal for all the family.
Method
Cut each pork tenderloin in half, remove any silver skin.
Batten each piece of tenderloin using a rolling pin to approximately 1cm thick.
Mix the ground almonds and breadcrumbs in a bowl, season with salt and pepper.
Brush both sides of each piece of pork with Dijon mustard.
Dip the pork in the breadcrumb mix to coat on all sides.
Dip the crumbed pork into the beaten egg then back in the breadcrumb mix to double coat.
Heat the oil in a sauté pan over a medium heat. Fry each schnitzel for 2 minutes each side or until golden brown, you may need to do this in batches.
Transfer to a baking tray lined with baking paper. Bake in a pre-heated oven for 10 minutes or until piping hot.
Chefs Tip
For an easy mid-week meal serve with a new potato, pea, feta and mint side dish. Why not swap the pork for chicken in this recipe and add a tablespoon of Piri Piri spice mix?