Aperol and Prosecco Peach Fizz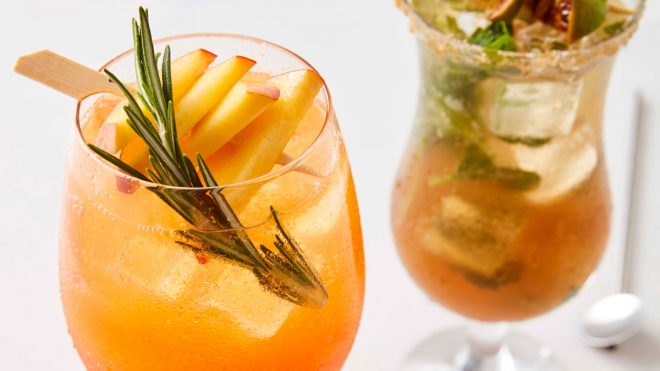 1 servings
5 minutes to prepare
Ingredients
Ice
1 tin peaches, pureed
80ml prosecco
80ml Aperol
Soda water
Garnish
Fresh peach slices
Sprig of rosemary
Instructions
A fresh fruity alternative to the traditional Aperol spritz cocktail.
Method:
To make the peach puree, open and drain canned peaches. Blend with a hand blender or food processor and set aside.
Add some ice to a large wine or balloon glass.
Spoon 4tbsp of the peach puree over the ice.
Measure and pour in the prosecco, add the Aperol and top up with soda water.
Garnish with a sprig of rosemary and a few slices of fresh peach on a cocktail stick.
Chefs tip:
Always add the aperol after the prosecco so it doesn't settle at the bottom of the glass.