Blood Orange, Beetroot & Griddled Halloumi Salad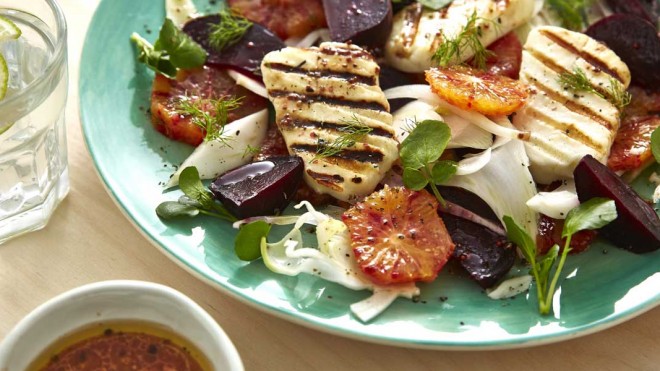 4 servings
15 Minutes to prepare
Ingredients
2 beetroots, scrubbed clean
Olive oil
4 blood oranges
1 bulb fennel
200g halloumi cheese
Handful watercress leaves
1tsp wholegrain mustard
Salt & pepper
Instructions
1 Pre heat the oven to 200°C (fan)/425°F/gas mark 7.
2 Cut a square of tin foil and place the beetroots into the centre. Drizzle with olive oil, the zest from one blood orange and season well with salt and pepper. Wrap to form a parcel. Place on a baking tray and bake for 1 hour. Insert a knife into the beetroots to ensure they are tender and cooked through. Allow to cool and slice into wedges.
3 To make the dressing, place 1tbsp olive oil, the juice of ½ a blood orange, the wholegrain mustard and 1/4tsp of salt into a small bowl. Whisk to combine. Season to taste and set to one side.
4 Using a paring knife remove the skin from 3 blood oranges. Slice the oranges into rounds approximately ½ a centimetre thick.
5 Slice the fennel bulb using a mandolin. Alternatively slice the fennel as thinly as possible. Reserve the green fronds for garnish.
6 Pre heat a griddle pan over a high heat. Slice the halloumi cheese to approximately one centimetre thick slices. Brush each side with a little olive oil and cook on the hot griddle for 2-3 minutes each side to ensure griddle marks.
7 Arrange the beetroot, fennel and orange slices onto a large serving platter. Top with the griddled halloumi cheese.
8 Spoon over the dressing and garnish with sprigs of watercress and the reserved fennel fronds.
Chefs Tip
If you are short of time use store bought cooked beetroot. This is a great fresh salad to serve for summer BBQs, simply cook the halloumi cheese on the BBQ griddle.