Falafel Scotch Eggs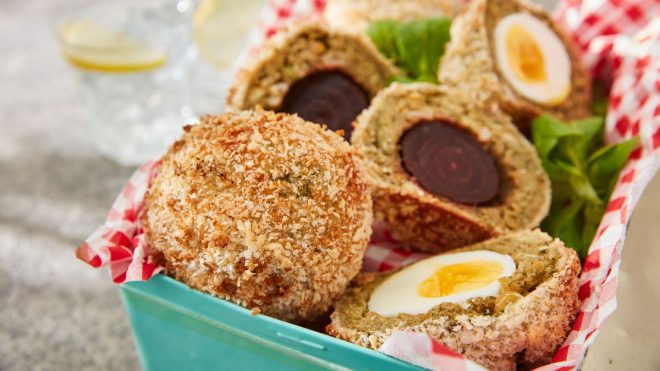 4 servings
55 minutes to prepare
Ingredients
4 eggs
2 400g tins chickpeas, drained & rinsed
4 cloves garlic
4tsp Harissa spice mix
40g coriander
50g plain flour
1tsp salt
2 eggs, beaten
100g panko breadcrumbs
Instructions
A veggie version of the classic scotch egg, made with fragrant falafel that's baked not fried.
Method
Pre-heat the oven to 180°C (fan)/400°F/gas mark 6.
Place 4 eggs into a saucepan, cover with cold water and cook for 12 minutes, remove from the heat and plunge the eggs into a bowl of cold water, set to one side.
To make the falafel, place the chickpeas, garlic, Harissa spice mix, coriander, flour and salt into a food processor, blitz to combine.
Peel the boiled eggs and divide the falafel mix into four.
Cover each egg with the falafel mixture and shape into a round using your hands.
Place the beaten egg and panko breadcrumbs into 2 bowls. Dip each falafel scotch egg first into the beaten egg and then the breadcrumbs. Repeat to double coat.
Place the falafel scotch eggs onto a baking tray lined with baking paper and bake for 30-35 minutes or until golden brown.
Chefs Tip
Ring the changes and swap the hard-boiled eggs for whole cooked beetroots, perfect for picnics and light lunches.