Booths Yorkshire Buns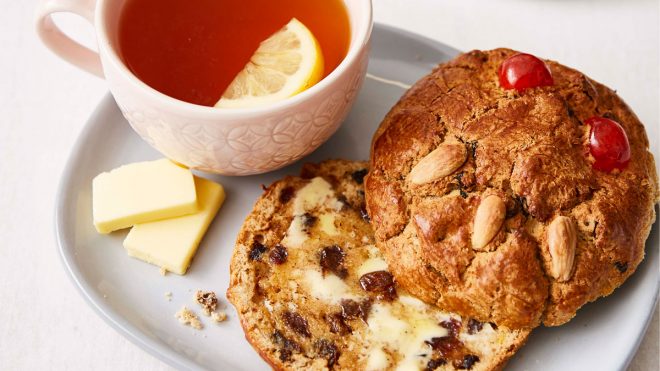 10 servings
40 minutes to prepare
Ingredients
2 Booths Earl Grey Tea Bags
300g mixed dried fruit
300g plain flour
300g self raising flour
2tsp baking powder
250g butter, chilled and grated
200g caster sugar
1 orange, zest only
1 lemon, zest only
1tsp cinnamon
1tsp ground nutmeg
1tsp mixed spiced
75ml milk
1 egg
To decorate
1 egg, beaten
10 glace cherries, halved
30 blanched almonds
Instructions
Halfway between a rock bun and a tea loaf, our Yorkshire buns are a delicious bake to celebrate Yorkshire Day with! We like them warm with butter – why not try substituting the Earl Grey for Yorkshire Tea?
Method
Place the tea bags into a mixing bowl, add 200ml of boiling water and allow to brew for 5 minutes.
Discard the tea bags and add the mixed dried fruit.
Pre-heat the oven to 200°C (fan)/425°F/gas mark 7.
Line 2 baking trays with baking paper.
Place the flours, baking powder and grated butter into a large mixing bowl and stir to combine. Rub the butter into the flour until the mix resembles breadcrumbs.
Add the sugar, orange and lemon zest and spices. Mix well.
Whisk the milk and egg in a measuring jug. Make a well in the centre of the dry mix, add the milk mix and tea soaked fruit. Using a knife slowly combine the wet and dry mixture to from a soft dough.
Tip the dough onto a lightly floured work surface and divide into 10 evenly sized pieces.
Shape each piece of dough into a round and place on the lined baking tray. Flatten each bun slightly using the palm of your hand.
To decorate, brush each bun with a little beaten egg. Top with 2 cherry eyes and 3 blanched almonds to make a mouth.
Bake in a pre-heated oven for 25 minutes or until golden brown.
Remove and allow to cool slightly before transferring to a wire rack to cool completely.
Chefs Tip
Why not swap the Earl Grey tea for Chai tea to make a Booths Spiced Winter Bun? Freeze for up to 3 months.