Chargrilled Chicory with Prosciutto & Figs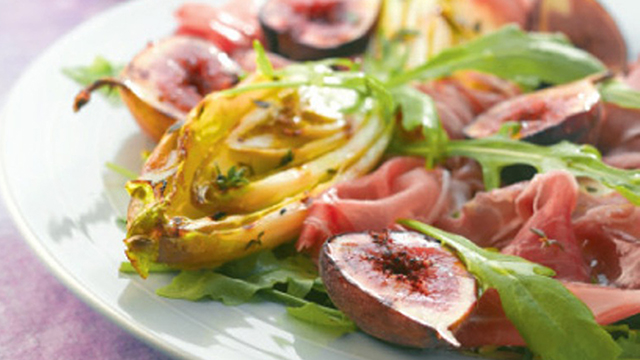 2 servings
15 mins to prepare
Ingredients
2 ripe figs, stalks trimmed off then halved
2 heads of chicory
6 thin slices prosciutto
1 sprig of thyme, leaves stripped off
1/2 tablespoon of lemon juice
1½ tablespoons extra virgin olive oil
2 handfuls wild rocket leaves
Sea salt and freshly ground black pepper
Instructions
Make a vinaigrette by placing the thyme leaves in a small bowl with the lemon juice, olive oil and seasoning. Whisk together and put half into a mixing bowl.
Carefully trim a sliver off the base of each chicory head, leaving the bulb of leaves intact. Depending on how thick the heads are, cut lengthways into halves or quarters. Gently wash and drain then put into the mixing bowl and toss with the vinaigrette.
Barbecue the chicory for 3-5 minutes on a low heat, turning regularly and basting with the vinaigrette until soft and flecked golden brown.
Shortly before serving, dress the rocket in the reserved vinaigrette and arrange in piles on 2 plates. Just as the chicory is ready, add the figs to the barbecue, skin-side down. As soon as they start to soften (watch carefully, as you don't want them to go mushy) remove and arrange on plates with the chicory and prosciutto.
Serve immediately.