Vegan Chickpea Pizza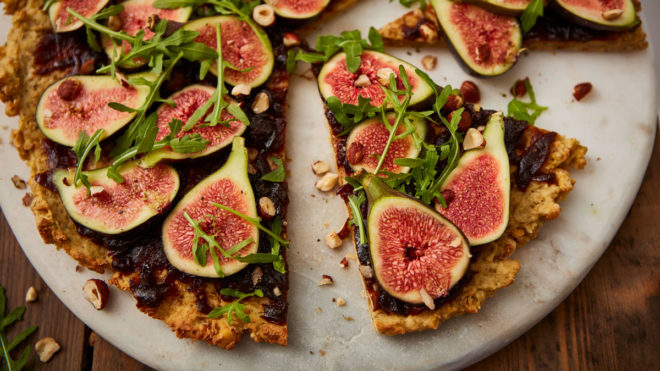 4 servings
45 minutes to prepare
Ingredients
2x400g tins chickpeas
100g plain flour
1tsp baking powder
1tbsp dried thyme
1/2tsp salt
1/2tsp pepper
For the Topping
150g onion marmalade
6 figs, sliced
1tbsp hazelnuts
A handful of rocket leaves
Instructions
The possiblities are endless with this recipe for vegan pizza – why stop at figs?
Pre-heat the oven to 180˚C (fan) / 200˚C / 400˚F / gas mark 6 and line a large baking tray with baking paper.
Drain the chickpeas reserving 4 tablespoons of liquid from the tins. Place into a food processor and add the remaining ingredients for the base. Blitz until smooth.
Tip the mix onto the lined baking tray and spread evenly to create a circle approximately 30 cm in diameter. Bake in a pre-heated oven for 25-30 minutes.
Once baked, spoon over the onion marmalade and return to the oven for 5 minutes.
Remove and garnish with sliced figs, a scattering of chopped hazelnuts and rocket leaves. Slice and enjoy!
Chef's Tip
To make this recipe gluten-free swap the plain flour for gluten-free flour and check your baking powder is also gluten-free. You could also add classic vegan pizza toppings to the chickpea base if you wish, such as a tomato sauce and vegan cheese. Simply add these at step 4 instead of the chutney.