Vegan Bento Box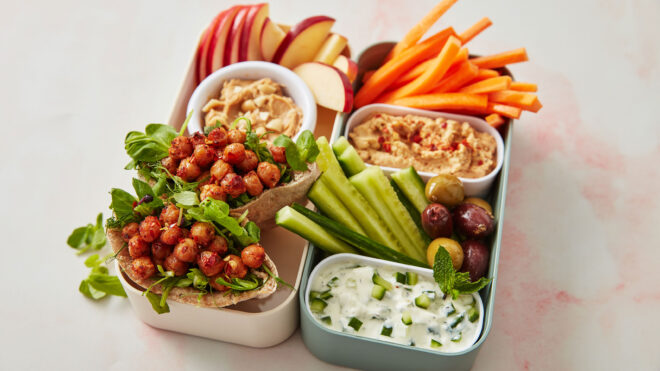 1 servings
15 minutes to prepare
Ingredients
1tsp olive oil
Handful of chickpeas
1 unwaxed lime, zest and juice
1tsp chilli flakes
1/2 tsp ground coriander
1/2 tsp paprika
Pitta bread cut in half
Handful of watercress
Cucumber cut into sticks
1 carrot cut into sticks
Handful of olives
Spoonful of Tzatziki
Spoonful of peri peri houmous
Spoonful of peanut butter
1 apple, sliced
Tzatziki:
1/2 large cucumber, unpeeled and grated
150g plain, full-fat coconut yoghurt
2 large garlic cloves, finely minced
2 tbsp olive oil
1 tbsp white wine vinegar
1/2 tsp salt
1 tbsp minced fresh dill
Peri Peri Houmous:
400g canned chickpeas, drained
3 tbsp extra virgin olive oil
2-3 tbsp peri peri sauce
2 tbsp tahini
1 lemon, juice only
1 small garlic clove
1/2 tsp salt
1/2 tsp cumin
Pepper, to taste
1/2 tsp peri peri seasoning
Instructions
Method:
Heat the olive oil in a pan and add the chickpeas along with the lime zest and juice, chilli flakes, ground coriander and paprika and cook for 5-7 minutes until the chickpeas are nicely golden and allow to cool.
Add watercress and chickpeas to each half of the pitta bread and place in the box.
Add the cucumber, carrot and olives to the box along with a little pot of Tzatziki and peri peri houmous.
Finally add the sliced apple and a pot of peanut butter.
Tzatziki Method:
Mix all the ingredients together.
Peri Peri Houmous Method:
Place all ingredients in a blender and blend until you have a nice texture.
If you prefer it to have some bigger pieces in don't blend as much but if you prefer it to be smooth blend well and add a little water if it feels a little thick.