Chicken & Pumpkin Biryani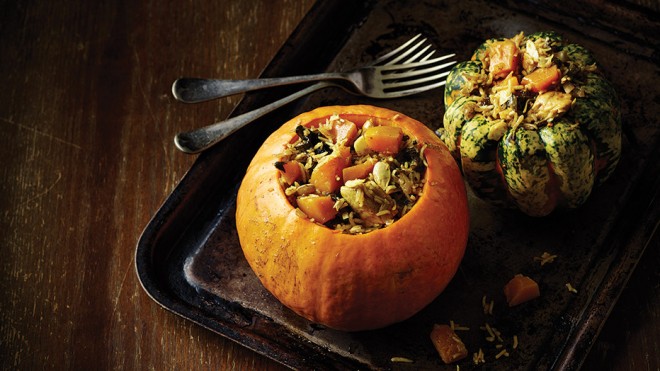 4 servings
1 hour 20 minutes to prepare
Ingredients
4 small pumpkins or squashes
2 tbsp olive oil
1 large onion, chopped
2 cloves garlic, chopped
1 cinnamon stick
1 bay leaf
4 cardamom pods, crushed
3 chicken breasts cut into 3cm cubes
250g fresh spinach
3 tbsp madras curry paste
300g basmati rice
70g raisins
900ml chicken stock
2 tbsp toasted flaked almonds
Instructions
1 Pre-heat the oven to 200°C / fan 180°C / gas mark 6. Using a sharp knife remove the tops from the pumpkins, (or squash) scoop out the flesh and chop to give about 300g of flesh, leaving a 1.5cm layer of pumpkin (approx). Place pumpkins on a large baking tray.
2 Heat the oil in a large saucepan and gently cook the onion for about 3 – 4 minutes, add the garlic, cinnamon, bay leaf and cardamom pods and continue to cook for a further minute.
3 Stir in the chicken pieces and cook for 3 minutes, add the pumpkin flesh & spinach and continue to cook for a further 3 minutes. Stir in the Madras curry paste and cook tossing all together well for about 3 minutes.
4 Half fill each scooped out pumpkin with the chicken mixture and then top with a layer of rice and a sprinkling of raisins and toasted flaked almonds. Repeat with another layer of the mixture and pour 225ml of the stock into each pumpkin. Cover with foil and place in the oven and bake for 40 – 45 minutes until the rice has absorbed the liquid and is cooked and fluffy.
Please ensure this recipe is served piping hot.