Lemon & Basil Roasted Chicken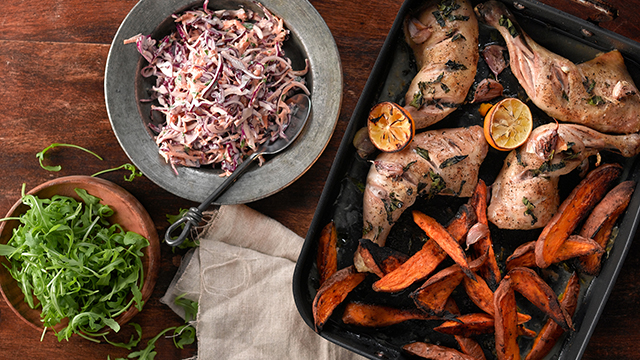 4 servings
60 minutes to prepare
Ingredients
Main Ingredients
4 chicken legs (if you wish use a drumstick and thigh)
1tbsp olive oil
1 lemon
10 basil leaves with the stalks, finely chopped
4 big cloves of garlic
200ml white wine
20g butter, chilled and cut into cubes
3 sweet potatoes
For the coleslaw
½ small red cabbage, finely shredded
2 medium carrots, coarsely grated
1 red onion, finely sliced
3tbsp mayonnaise
1tsp Dijon mustard
1tbsp flat leaf parsley, finely chopped
Instructions
Pre-heat your oven to 190*c / gas 5.
With a knife score the chicken legs and place into a roasting tray, cut the sweet potatoes into thick wedges and arrange around the chicken. Drizzle over a little olive oil and season with salt and milled pepper. Squash the garlic, keeping it in its skin and tuck amongst the chicken. Squeeze the lemon juice over and pop in the remaining lemon, bake for 25-30 minutes.
Meanwhile for the coleslaw, quite simply take a large mixing bowl and add the mayonnaise, mustard, parsley and season with salt and milled pepper then mix the ingredients together. Now add the vegetables and give it all a really good mix up then leave to one side.
After 25-30 minutes take the chicken and sweet potatoes out of the oven, scatter over the basil and pour the white wine into the tray, pop back into the oven for a further 10 minutes.
When ready remove the chicken and sweet potatoes from the tray and place onto your serving plates. Place the tray onto the hob and bring to the boil. Once boiling stir in the chilled butter, pour the mixture over the chicken and serve with the red cabbage coleslaw and some crisp salad.