Coronation Chicken Pasties with Curried Mayo and Mango Chutney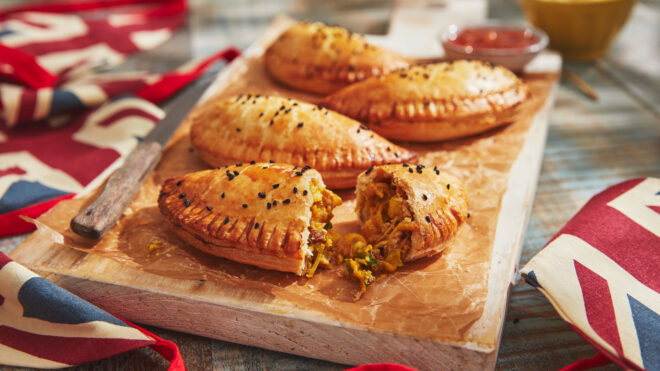 4 servings
30 minutes to prepare
Ingredients
4 boneless chicken thigh fillets
1tbsp curry powder
4 spring onions, sliced
15g sultanas
50g fresh pineapple, diced
125g korma sauce
Season to taste
1 pack short crust pastry
1 egg, beaten
1tsp nigella seeds
For The Curried Mayo
100g mayonnaise
1tsp curry powder mixed with 2tsp water or apple juice
Instructions
Method:
1. Preheat the oven to 200°C / 180°Fan / 400°F / Gas Mark 6.
2. Season the chicken thighs with curry powder and bake in the oven for 15 minutes. Ensure food is piping hot throughout before serving and the juices run clear when the thickest part is pierced with a skewer.
3. Allow to cool, then dice the chicken flesh and place into a bowl with the spring onions, sul-tanas, pineapple, korma sauce and season to taste.
4. Cut the short crust pastry in to 4 pieces and place a mound of the chicken filling onto each square. Fold into a pasty shape and brush with beaten egg.
5. Sprinkle with Nigella seeds and bake in the oven for 18-20 minutes until golden brown.
6. To make the curried mayo, mix together the curry powder mix and the mayo.
7. Serve the pasties with your favourite mango chutney and the curried mayo.
Chef's Tip:
Make this dish pescatarian friendly by swapping out the chicken for flakes of cooked or smoked salmon.