Butternut Squash, Aubergine & Chickpea Loaf – Vegan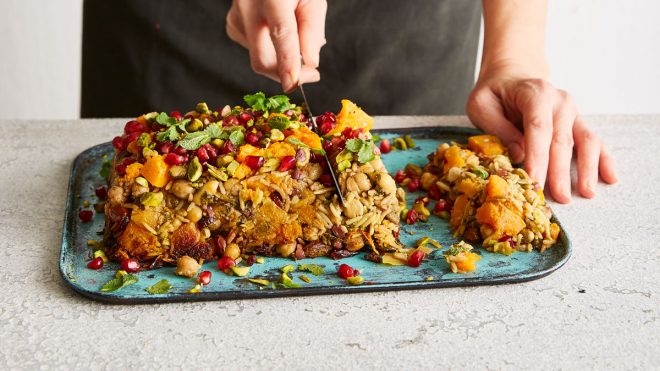 4 servings
1 hour 35 minutes to prepare
Ingredients
1 butternut squash, peeled, deseeded & large dice
2 aubergines, halves
Drizzle olive oil
250g packcooked pilau rice
4 spring onions, thinly sliced
2 garlic cloves, crushed
50g dried apricots, roughly chopped
50g pistachio nuts
50g blanched almonds
50g dried cranberries
400g tin chickpeas including juice
10g coriander
1 pack Booths pomegranate pearls, reserving some to garnish
1tsp ground coriander
1tsp ground cumin
Salt & pepper
GARNISH
25g pomegranate seeds
10g mint leaves
10g coriander leaves
25g pistachio nuts
Instructions
This gorgeous butternut squash, aubergine and chickpea loaf centrepiece is perfect as an alternative to meat for a roast dinner, suitable for vegans and vegetarians alike.
Method
Pre-heat the oven to 180°C (fan)/400°F/gas mark 6.
Line a 2lb loaf tin with baking paper.
Place the diced squash and aubergine halves onto a baking tray. Drizzle with olive oil and season with salt and pepper. Bake in a pre-heated oven for 25 minutes or until soft. Lightly mash the squash with a fork and set to one side to cool slightly.
Scoop the flesh from the roasted aubergine and place into a mixing bowl. Add the squash and the remaining ingredients to the mixing bowl, stir well to combine. Season to taste with salt and pepper.
Pack the mix into the lined loaf tin and bake in a pre-heated oven for 1 hour.
Remove and allow to set for 5 minutes before removing from the tin.
Place on a serving platter and garnish with extra pomegranate seeds, mint, coriander and pistachio nuts.
Chef's Tip
This dish is just as tasty eaten cold. Place in the fridge and use 2 tins to press the nut roast, this will help when slicing the roast.