Fricassee Of Pheasant, Apples With Cider Cream Sauce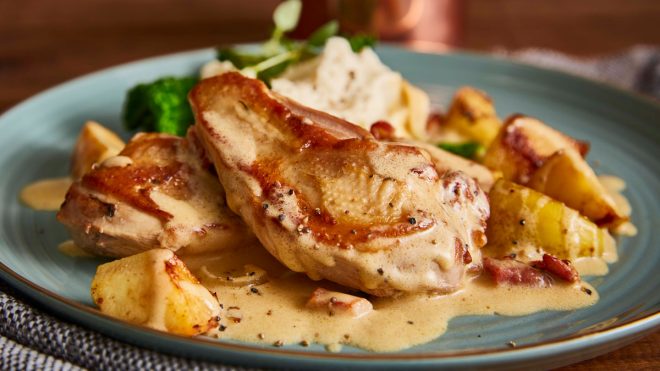 4 servings
30 minutes to cook, 15 minutes to prepare
Ingredients
8 pheasant breasts
4 apples, diced
200ml chicken stock
200ml double cream
350ml cider
1 onion, sliced
1tbsp olive oil
80g diced pancetta
1 savoy cabbage, leaves cut in half, tough stalk removed
For the Mash
1 celeriac, peeled & roughly chopped
80g unsalted butter
200ml double cream
200ml milk
Ground white pepper & sea salt
Instructions
Game doesn't need to be difficult, this pheasant recipe is very straightforward and simple to create as well as being tasty.
Place the olive oil into a frying pan over a medium heat and add the pancetta. Fry gently until coloured. Whilst this is happening, prepare a pan for the cabbage by placing a pan of salted water on to boil, once boiling lower the heat to a simmer.
Place the milk and cream into a separate saucepan, add the chopped celeriac and cook until the liquid has been absorbed, then mash or purée and keep warm.
Add the pheasant breasts to the frying pan skin side down for a couple of minutes then turn them over. Add the chopped apple, stock, cider and cream and continue to cook until the sauce has thickened slightly and the pheasant is just cooked through.
Blanch the Savoy cabbage in the prepared simmering water, drain and serve with celeriac purée, pheasant and cider sauce.
Chefs tip
Why not add a few chopped prunes to the sauce to give the dish extra richness.
The optimum time and temperature varies by individual ovens – these are guidelines only. Please ensure all cooked recipes are served piping hot. Keep raw meat separate from cooked food. Use separate kitchen utensils and surfaces for raw and cooked foods, or wash thoroughly in between use. Wash hands after handling raw meat. Some products may only be available in our larger stores. All content © Booths 2017.